Incubit nurturing deep tech startups for next generation of Elbit innovation
While Elbit operates in the military and defense sector its tech incubator is solely focused on startups that target civilian markets but are synergetic to the parent company's fields of interest
Space, sky, land or sea, wherever you might look, the portfolio of Incubit Technology Ventures seems to have a startup on hand. A subsidiary of the Nasdaq and Tel Aviv-listed Israeli defense contractor Elbit Systems Ltd., Incubit is a deep tech incubator that was founded eight years ago. It provides early-stage deep-tech entrepreneurs with a strategic investment as well as extensive services, including offices, and legal, marketing and business advisory. It has invested in 17 startups to date, including New Rocket, which is developing environmentally friendly rocket engines based on innovative gel-propellant technology, FlyWorks, which is working on a drone platform with a hybrid propulsion system, EchoCare, which created a sensor to monitor apartments for the elderly, and Sealartec which has created a solution for autonomous launch and recovery of unmanned vessels at sea.

Of the 17 companies, three have shut down, while eight have so far gone on to raise in the excess of $10 million according to a total valuation of $70 million. In addition, 10 of the companies have signed significant commercial agreements.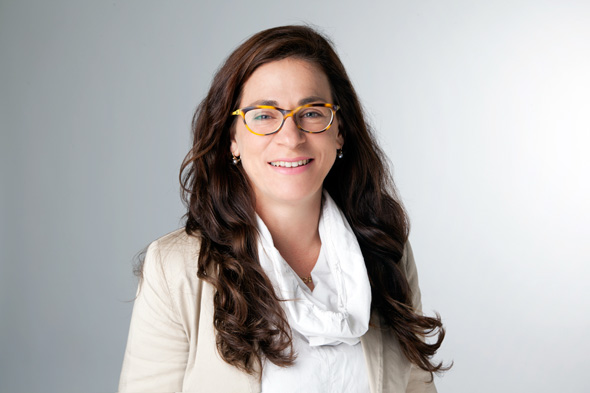 Ayelet Ben Arav, VP Business Development at Incubit Technology Ventures. Photo: Rony Pearl
While Elbit operates in the military and defense sector, Incubit is solely focused on startups that target civilian markets but are synergetic to the parent company's fields of interest.
"We mainly analyze two criteria, does the startup offer technological innovation and is there synergy with Elbit at the technological level," Ayelet Ben Arav, VP Business Development at Incubit told CTech. "We will not invest in a company that is developing a product for the defense industry. But we will always try and find synergy with its technology. EchoCare for example develops a sensor to be installed in apartments for the elderly that monitors their physiological condition and automatically detects and alerts a variety of emergency situations, such as falls. This is a product that is suitable for private homes of the elderly, retirement homes and hospitals. But ultimately, the tech here is a radar that penetrates walls. Anyone can imagine how this can be utilized in the defense sector."
Ben Arav explained that due to Elbit's resources and knowledge, Incubit is able to accompany startups from the initial concept stage through the Proof-of-Concept phase and eventually to market success.
"Elbit is a strategic investor and this is part of its open innovation strategy. Elbit is a cutting edge company and is very innovative, with 60% of its employees being engineers. But it understands that technology moves very fast, specifically in the civil sector and in order to remain competitive it must conduct research and development at the company and also stay in touch with what is happening in the civilian space," said Ben Arav. "Incubit is one of the tools through which Elbit achieves open innovation. All our companies have some sort of interaction with Elbit. Even prior to the entry to the incubator Elbit staff is helping them with their due diligence and escorts them. Elbit supports these companies throughout the entire process and in many ways, this is like a candy store for the startups. One of the startups focuses on UAVs so it receives advice from an Elbit engines expert. Another company needs to do tests at sea so it is given access to Elbit's private port in Haifa. Elbit's experts have an academic background, but also have hands-on experience which is very valuable in turning an idea into a product. Some of Elbit's facilities don't exist anywhere else in the country other than at academic institutes. For example, quantum computing, which is a sector that the Israeli Innovation Authority, the State of Israel and Elbit are placing a strategic focus on, Elbit can offer a very advanced optics laboratory which only the Weizmann Institute of Science has in Israel."
Ben Arav said that Incubit's entrepreneurs tend to come from a slightly different background than the average founder of an Israeli startup. She says they are usually older and have already worked in the tech industry, and all have advanced scientific academic degrees. Incubit is deeply involved with the academic world, with deep tech research very often starting at universities. Ben Arav says Incubit receives around 250 requests a year, a significant amount when considering there are in the region of 500-600 new startups set up every year in Israel, which is down from over 1,000 five years ago according to reports from the IVC Research Center and Start-Up Nation Central. Around 80%-85% are rejected almost immediately, usually due to the fact that they don't offer a technology that is synergetic with Elbit. The remaining 15%, which is around 40 companies, are invited to a meeting, with only 4-6 ultimately being offered a place in the incubator.
"It is important to remember that some of the companies arrive at Incubit at a very early stage. For example, NewRocket, all they had when they came to us was an abstract for an academic paper. Not even a prototype. I really believe that only a body like Incubit could have connected all these dots and understand how this technology can be developed into a rocket launcher and where this fits in the current space market," noted Ben Arav.
Similarly to Israel's other incubators, Incubit provides 15% of the financial investment with the Israel Innovation Authority (IIA) putting up 85%. As part of the program. the IIA asks for 20-50% equity in the incubated companies in return for a complementary investment of 15% of the R&D costs. The other 85% of R&D costs are funded for no equity. Elbit has the right of first refusal regarding negotiations with the startups on the use of their technology for defense purposes alone. Elbit has so far signed a license agreement with five of Incubit's portfolio companies. As this is a state-sponsored program it is also regulated in a few areas. The incubated startup must repay the grants received through royalty payments from revenues generated by the sale of the product or service that were developed while in the program. In addition, any transfer of know-how or manufacturing rights outside of Israel requires the pre-approval of an IIA designated committee and all know-how derived from the research and development performed under the IIA program and all the intellectual property rights must stay in possession of the funded startup.
"Our motto is that we are here to allow the companies to focus on what's important and lift the burden of all the operational aspects off their shoulders," said Ben Arav. "These markets are very competitive and this is the essence of the incubator. Because we are dealing with deep tech it is even tougher to raise money. The entire world understands that deep tech is a growth engine for tech, but in practice, these startups have a more difficult time finding investments as it takes them longer to create revenue.
"The fact that many of the startups already sign commercial agreements while at the incubator makes it easier for them to raise money while partnering with Elbit gives them stability. Elbit doesn't let its startups fall easily."