Israeli medtech startup RealView Imaging raises $10 million for medical holograms system
OurCrowd and Kobi Richter lead series C round in effort to put real time 3D images at physicians' fingertips
Israel-based startup RealView Imaging Ltd. announced on Wednesday the completion of its $10 million series C financing round. New investors in this round include OurCrowd, Judith and Kobi Richter, among the most prominent technology and medical Israeli entrepreneurs, as well as other notable investors and leading physicians. The majority of the company's existing shareholders have also participated in this round, including well-known investors such as Dr. Shimon Eckhouse, Zohar Gilon, and Uzia Galil.

Dr. Kobi Richter, Founder and Chairman of Medinol, and Prof. Michael Eldar, former Director of the Cardiology Institute at Sheba Medical Center, joined the company's Board of Directors as part of the round.

RealView Imaging developed a medical hologram system that creates 3D volumetric holograms from real time medical imaging data. The dynamic and hyper-realistic 3D holograms of the patient's actual anatomy float in free space at hands reach during interventional procedures. The system's interactive visualization tools enable physicians to view and virtually manipulate the hologram. The system empowers imaging-based minimally-invasive medical interventions, which is one of the most rapidly growing fields in medicine.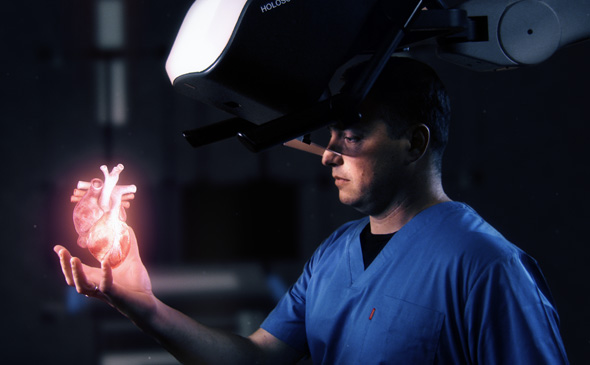 A person looking at a hologram of a human heart. Photo: RealView Imaging
RealView Imaging was founded by Aviad Kaufman, Shaul Gelman and Prof. Carmel Rotschild, with a seed investment led by Dr. Shimon Eckhouse, the Chairman of the Board of Directors. The company employs 13 people in its Yokenam office. So far it has revealed $20 million in total investments.
"We are now focused on the commercialization of the HOLOSCOPE™-i system, initially in North America and in Europe," said Eckhouse. "By incorporating medical holography into routine clinical workflow, we expect to revolutionize the way clinicians engage with 3D medical imaging."
"RealView has created a unique solution that will address fundamental usability requirements and a wide range of clinical needs for advanced imaging. Given the company's broad IP portfolio and technology maturity, I believe RealView can significantly impact the growing field of structural heart interventions, as well as additional future clinical fields such as electrophysiology and interventional oncology procedures," said newly appointed board member Richter. "All these fields strongly rely on advanced 3D imaging technologies that will guide physicians accurately and clearly in their intervention in procedures that are invisible to them."
"Spending most of my career in Medical Imaging, I envisioned that holography will become a major tool in therapeutic medical procedures, supporting the required accuracy and minimizing errors" explained Dr. Morry Blumenfeld, Venture Partner at OurCrowd and formerly Managing Director of GE Healthcare Israel. "We have recently seen significant M&A activities in our industry, predominantly around companies supporting minimally-invasive procedures. There is no doubt that RealView is well-positioned for great success in this market."