Medical data crowdsourcing startup StuffThatWorks launches in the U.S., raises $9 million
Founded by former Waze executive Yael Elish, StuffThatWorks offers an online platform where people suffering from chronic diseases can share information
Tel Aviv-based startup Stuff That Works Ltd., founded by former Waze Ltd. executive Yael Elish, announced Thursday the launch of its service in the U.S.

StuffThatWorks offers an online platform where people suffering from chronic diseases can share information to learn which treatments work best for their specific condition, based on the experience of their peers.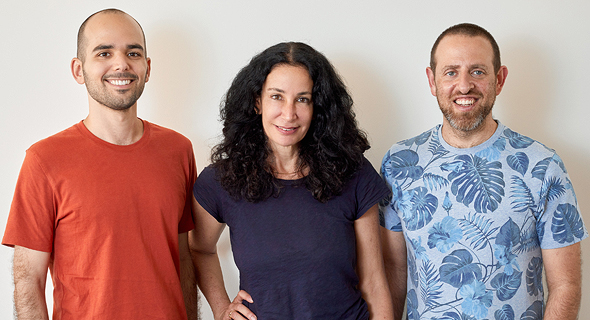 StuffThatWorks co-founders Ron Held (left), Yale Alish and Yossi Synett. Photo: Tarlan Ben-Avi

StuffThatWorks also announced it has raised $9 million in seed from investors including Bessemer Venture Partners, 83North, and Ofek Ventures. The company employs around 30 people in Tel Aviv.

The company was founded in 2018 by Elish, Ron Held, a mathematician and Israeli military tech unit veteran, and Yossi Synett, a data scientist and former vice president of research at automated marketing campaign management company Kenshoo Ltd.

Before founding StuffThatWorks, Elish, who serves as the company's CEO, was head of product for crowd-sourced navigation app Waze, from its early days up until its acquisition by Google in 2013.

The idea behind StuffThatWorks came to Elish when she assisted a family member dealing with a medical condition for a decade and saw how independent in-depth research led to the discovery of better treatments than those offered by the treating doctors.

StuffThatWorks' system analyzes the data provided by patients through an online questionnaire designed to accommodate advanced data analytics. Users' replies are organized into quantitative information regarding the level of effectiveness of various treatments.

As a crowd-sourced platform, StuffThatWorks improves the more users join and share their knowledge. The platform already has 180,000 registered users and more than 100 communities dedicated to different chronic conditions.

According to Elish, one thing that struck her was that information from different patients was never gathered and organized under a single roof. The patients themselves can testify better than anyone as to the treatments they tried, what worked for then, and what did not, Elish said in a statement.

"Collecting this knowledge in an organized and structured way across is the only way to compare effectiveness in scale," Elish said. "When that's done across all chronic conditions it creates a gold mine of data that can dramatically advance and facilitate research to the benefit of both the patient and the medical community," she added.

"With more than half of the world's populations suffering from at least one chronic condition, chronic illness is a rapidly growing global epidemic,'' Adam Fisher, a partner at Bessemer Venture Partners, said in a statement. "We believe that StuffThatWorks can not only help millions of people get access to valuable knowledge on treatment effectiveness but also disrupt and innovate the way data from patients in the real world is collected and analyzed today," he added. '

"Few companies manage to implement crowdsourcing in a way that significantly impacts the world - and applying it to such an important domain, in an elegant way that scales across so many conditions, has never been done," 83North Partner Arnon Dinur said in a statement. "StuffThatWorks has the potential to utterly transform the way the medical community and patients alike around the world approach treatments," he added.

"It's a growing consensus that the landscape of next-generation medicine and research will be heavily participatory and crowdsourced," Yahal Zilka, managing partner at Ofek Ventures and one of the early investors in Waze, said in a statement. "Being the only player implementing a structured cross condition approach to patient reported outcomes (PROs), we believe that StuffThatWorks will play a key role in this space facilitating cutting edge PRO research," he added.