ClimaCell announces $23 million series C to grow weather intelligence platform
The startup, founded by a team of Israeli entrepreneurs and based out of Boston, Massachusetts, develops a smart weather forecasting system, capable of predicting the weather on a minute-by-minute basis and within a 500-meter radius
Weather forecasting startup ClimaCell Inc., founded by a team of Israeli entrepreneurs, has announced it has raised $23 million in its series C funding round. The round was co-led by Pitango Growth in addition to existing investor Square Peg Capital.

ClimaCell, based out of Boston, Massachusetts, develops a smart weather forecasting system, capable of predicting the weather on a minute-by-minute basis and within a 500-meter radius. The company's product comes as a tech package for organizations and includes ClimaCell's SaaS products, the business dashboard, the weather API, historical weather for AI and its weather assistant for mobile. ClimaCell's product allows companies to efficiently prepare and plan their activities, saving expenditure as well as preventing damage. ClimaCell uses data from weather databases as well as from wireless networks, internet-of-things (IoT) devices, and cellular networks and analyzes it to determine real-time, on-ground weather conditions.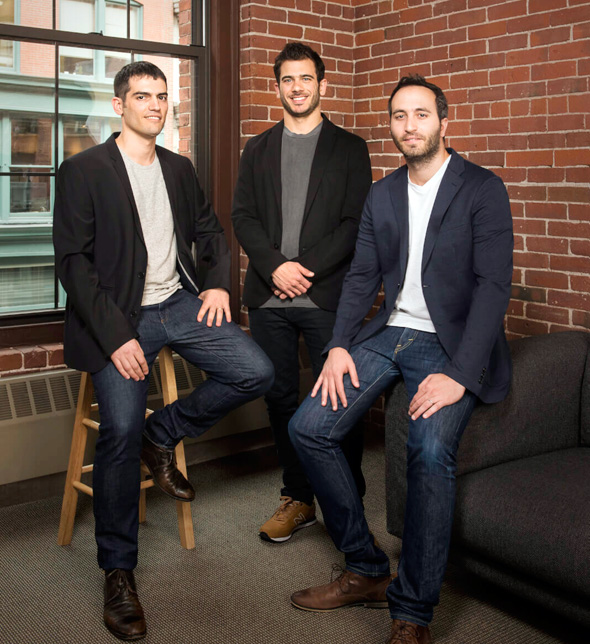 ClimaCell founders (from right) Shimon Elkabetz, Rei Gofer and Itai Zlotnik. Photo: Courtesy
ClimaCell said that it has experienced rapid growth over recent years and has more than doubled its employee headcount in 2019 to over 100 workers in its offices across the globe, including the R&D center in Tel Aviv. Its customers include Uber, Delta, Ford, Intact Insurance, National Grid, the U.S. Open, Rappi, Porsche, and more.
"65% of the world's GDP is being impacted by weather events. ClimaCell is the only SaaS company that enables actionable items ahead of weather events rather than reacting to them and their implications and ramifications," said Aaron Mankovski, Managing General Partner at Pitango Growth. "The opportunities coming to ClimaCell across industries including supply chain and logistics, railroads, trucking, shipping, on-demand, energy, insurance, and more represent a complete upending of the existing competitive landscape and is a testament to being laser-focused on customer value."