Israeli cyber company Ermetic completes $17 million series A round
Four veteran entrepreneurs came together to found the company and this time have no plans of selling it
Israeli cloud access risk security company Ermetic Ltd. announced on Wednesday that it has closed a $17.25 million series A round of financing led by Accel, together with Glilot Capital Partners, Norwest Venture Partners, and Target Global, the company's $10 million seed round investors. The new investment round brings the company's total funding to more than $27 million. Andrei Brasoveanu, partner at Accel, has joined the company's board of directors.

Ermetic was born from a partnership of four experienced cyber entrepreneurs, all had previously sold companies to giant corporations: the CEO Shai Morag (founder and CEO of Cyber Secdo Ltd., acquired by Palo Alto Networks), CTO Michael Dolinsky and CPO Sivan Krigsman (co-founders of Aorato, acquired by Microsoft) and CBO Arick Goomanovsky (co-founder of Sygnia, acquired by Temasek.)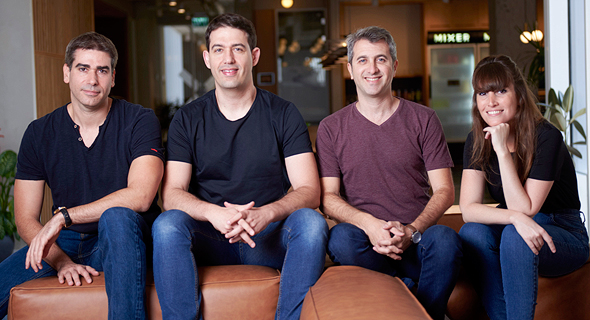 Ermetic co-founders Shai Morag (left) Michael Dolinsky, Arick Goomanovsky and Sivan Krigsman. Photo: Ben Yitzhaki

Ermetic provides risk protection solutions for accessing platforms in a cloud environment. According to research and advisory company Gartner, 99% of all cloud data breaches are the result of human error and 7% of them are the result of inadequate management of identities, access, and privileges. Ermetic helps organizations enforce tighter, least privilege access policies across both user and machine identities to help prevent data breaches in AWS, Microsoft Azure, and Google Cloud Platform.

Ermetic's solution prevents cloud data breaches by automating the detection of all human and machine identities in the cloud, and analyzes their entitlements, roles and policies using a continuous lifecycle approach. By combining analytics with granular, full-stack insight, Ermetic makes it possible to enforce least privilege access at scale.

Morag told Calcalist that the idea for the company came after a comprehensive survey conducted by the founders among security managers in organizations. "We met with 50 such managers and surveyed another 300 to ensure that this idea has validity and is needed in the real world," he said. "We already have dozens of customers in Israel, Europe and the U.S. who use the product, with some already paying for it. The market potential is also the reason we were able to raise capital so quickly— more than $27 million in less than a year since the launch."

What is the difference between the protection you provide and the protection the cloud providers offer customers themselves?

"The cloud companies offer a variety of security tools, but those that are meant to secure identity are currently inadequate and probably never will be. The reason is the division of responsibility between the supplier and the customers. The supplier manages the server farms and is responsible for their security, but the customer is the one who manages the data and identities. Vendors offer different tools, but they will never have a complete product and that's where we come in," Morag said.

You are four experienced entrepreneurs. Were things easier this time around?

"There is no doubt that the second and third time around are easier. We have more experience and have established trust with the customers. They trust you and the investors trust you," Morag added.

You sold your last company well before it reached $27 million in investments, do you want to go farther this time?

"Ermetic is a different ball game; the opportunity, the market, and our timing are all much better this time. In the previous company, we developed an excellent product but its timing was a bit late for the market," Morag said. "This time we have the right timing and have a chance to build a market-leading company. I'd like to think that with the experience we gained we will also be able to realize it. The market is becoming mature enough for large cyber companies."

So if you were to receive an offer tomorrow you'd turn it down?

"It's not a theoretical question. We have already refused such offers," Morag revealed. "Naturally, everything depends on the circumstances and there are many considerations, but we will definitely not sell the company for a low sum."

Ermetic said that following the funding round, it plans to recruit 30 new employees for its operations in Israel and will also increase the number of employees in the U.S.