As Covid-19 sees layoffs surge, app that offers short term jobs prospers
Nano developed an application that connects employees seeking a daily income with employers in need of temporary workers
It was during a honeymoon vacation with his wife in India, that Asaf Ben Shitrit was struck with the inspiration to found Nano Business, a startup that developed an application that connects employees seeking a daily income with employers in need of temporary workers. "We met a guy who sold us fruit at the beach. After a few days, he disappeared and we saw him again after a week. I asked him, where did you go? The guy answered that due to a shortage of jobs in India he and his friend are splitting the job week by week. And like in the cartoons, a light bulb turned on above my head and I sold all the businesses I owned and devoted myself wholly to the development of the solution called Nano," Ben Shitrit told CTech.

The application has been live since January of this year, but it wasn't until the Covid-19 pandemic struck that it really gathered pace. "Coronavirus suddenly transformed Nano into a hit," admitted Ben Shitrit. "The economic crisis sparked by Covid-19 caused layoffs of over one million employees in Israel, with many of them in urgent need to earn money to provide basic necessities for their families. On the other hand, many businesses that laid-off workers occasionally need daily employees for their ongoing activities. As a result, there is now a huge demand for one-off daily jobs and also a demand from businesses for daily employees."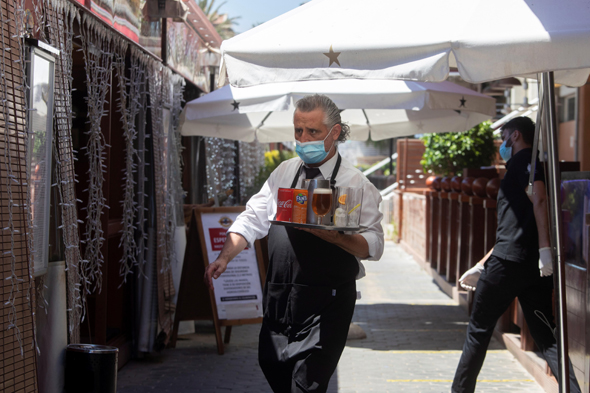 A waiter in Barcelona. Photo: EPA
The popular openings on Nano tell the story of the transformation the jobs market in Israel has undergone due to the pandemic. The demand for waiters at events, laborers to help erect stages and private house cleaners has all but disappeared, with the most wanted employees on the app during the month of July being in the removal (21%), plumbing (17%) and construction (14%) industries.
Ben Shitrit said that around 35,000 have already downloaded the app, with 15,000 currently being approved and onboarded and another 20,000 on standby.
"The approval process is necessary as we conduct an in-depth vetting of job seekers. We test every person and every business owner in order to maintain the quality and safety of our users. Due to coronavirus, the small business and events market is shut down. When these markets recover we believe there will be a balance between demand and supply," said Ben Shitrit.
Nano forces the employers to offer no less than NIS 35 per hour (approximately $10.30), around $1.50 more than the minimum wage in Israel. "We believe that if a business owner needs a one-time employee the official minimum wage per hour is not fair," stated Ben Shitrit.
Nano generates its revenue from the employers, who are required to pay in the range of $5 to $8 per employee once they have completed their job, regardless of how long the employee has been employed or how much they have been paid for their work.
"Our revenue comes from the business owner only, for job seekers access is completely free," said Ben Shitrit. "Business owners are given the option to pay employees through the app, but aren't obliged to. The usage price varies because the operation is more complex."
Nano is registered in the U.S. and operates out of headquarters in Tel Aviv. Ben Shitrit said that Nano is the only startup in the world that is focused on this aspect of the jobs market and it has big plans going forward, with its product to be launched in the U.S. later this year.
"The system is ready for the American market, but due to the Covid-19 pandemic we are delaying the launch until the next quarter," said Ben Shitrit. "Towards the end of the calendar year we are preparing for another launch in Spain and Portugal simultaneously. According to Nano's work plan, we currently focus, and will always focus on fast and quality growth."