Buildots raises $12.5 million to expand construction tech innovation
The startup develops technology that allows construction companies to keep a close eye on the processes at a construction site with computer vision and artificial intelligence
Israeli construction tech startup Buildots announced Thursday the completion of a $12.5 million series A financing round. The round was led by Tel Aviv-based venture capital firm TLV Partners and joined by Innogy Innovation Hub, Israeli construction company Tidhar Group, Ziv Aviram (founder of Mobileye and OrCam), Zvi Limon (partner at Magma VC), serial entrepreneurs Avigdor Willnez and Benny Schnieder, and the chairman of Tidhar Group, Gil Geva. Buildots, which also received support from the Israel Innovation Authority, has raised a total of $16 million to date.

Buildots was founded in 2018 by Roy Danon, Yakir Sudry and Aviv Leibovici. All three are alumni of the Israeli military intelligence Talpiot program and served together in the army for almost a decade. Buildots develops technology that allows construction companies to keep a close eye on the processes at a construction site with computer vision and artificial intelligence. Buildots has offices in Tel Aviv and London. It currently employs around 35 people and lists some of the biggest construction companies in Europe and Israel among its clients.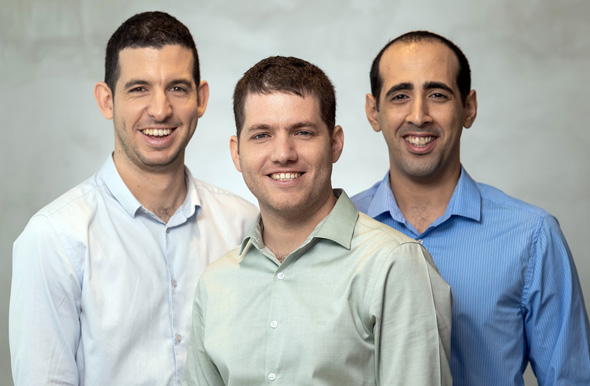 Fouders of Buildots (from right) Yakir Sudry, Roy Danon and Aviv Leibovici. Photo: Eyal Tuag

The Buildots system provides managers of construction companies with a full picture of their projects, including a visual image, fault detection, tracking of timetables and providing notice when there are expected delays. The system collects images from the construction site via cameras mounted on helmets being used by supervisors during their visits to the sites.

"We felt that setting up a company in the standard sectors wouldn't challenge us as much," CEO and co-founder Roy Danon told Calcalist. "We started examining more traditional industries. We met Ronen Barak, who was the innovation officer at Tidhar, and he convinced us that the construction sector is undergoing many changes.

"We spent six months touring construction sites and talking to employees to understand their needs and the problems in the industry, both in Israel and in London. Due to our engineering background, we realized that what is happening at these sites is for all intents and purposes a manufacturing process and that the main tool they currently use to manage it is an Excel spreadsheet. Factories have a very complex inspection process and complete control over it while at a construction site everything is manual and people report the information directly. There are 200,000 different tasks a week at these sites. The gap we are trying to bridge is in the inspection process; we believe that with this information we can significantly improve the process and do so at a stage when it is still cheap to fix and not after the project is two months behind schedule."

Buildots' technology creates a continuous link between reality, construction plans and the project's timetable and alerts if any discrepancy emerges. The system will identify any issue, whether a socket has been installed at the wrong spot or if there has been an out of the ordinary disruption in the contractors' work rate.

"Every big construction company has an innovation department and many also have R&D departments," said Danon, adding that Buildots is planning to use the new funds to expand its activity to the U.S.

Buildots created a virtual control room for construction sites that receives information from different parts of the project. It allows site managers to identify discrepancies early on and to react accordingly. The available information also supports the decision-making process in projects that is often based on out-of-date and inaccurate information.

One of the most acute problems in Israel is safety at construction sites. Do you also offer safety solutions?

"We are starting to deal with that aspect and we will increase the system's abilities in that area, ensuring that the site meets standards as well as alerting of any safety hazards."

How did Covid-19 affect the company? Were any construction projects stopped or canceled?

"The first thing that happened was that more sites started using the system as all the construction companies reduced their workforce on-site and some employees have shifted to working remotely, so they use the system as their main source of information. Secondly, the entire construction industry is getting used to working with Zoom and Skype and having meetings remotely and it seems that it is possible to move forward faster than it was before. For example, one month ago we started our first project in Poland and it was all done remotely. That made us realize that we could break into new territories even without being physically present.

"Construction was among the industries the government defined as vital and most projects will start on time. We may see less new projects being planned, but there is more interest in our product from companies."