Facebook says profile that called for Netanyahu to be murdered was fake
A threatening comment against the Israeli prime minister was posted on a night when protestors calling Netanyahu to resign were injured in Tel Aviv in violent clashes with right-wing activists who were allegedly armed with clubs, glass bottles, and knives
Facebook deleted on Thursday an account that posted a comment calling for the assassination of Israeli Prime Minister Benjamin Netanyahu because it has found it to be fake.

The account in question, calling itself "Dana Ron," a very common Israeli name, posted in the early hours of Wednesday, a comment stating that Netanyahu "should be taken down by force" and that "dictators can only be taken down with a bullet to the head."

On Wednesday, Netanyahu tweeted a screenshot of the comment claiming he plans to report the matter to the police. Netanyahu also referenced the arrest of a man outside his office in Jerusalem, who allegedly planned to assassinate him.
אתמול המשטרה עצרה ליד משרד ראש הממשלה אדם שאיים לרצוח אותי ובכליו נמצאו סכינים. היום אגיש תלונה במשטרה נגד איום ההסתה המצורף כאן, שקורא לרצוח אותי ״עם כדור בראש״. pic.twitter.com/t2nUmATVwE

— Benjamin Netanyahu (@netanyahu) July 29, 2020
According to the police, the man, who was later revealed to be homeless and likely mentally unstable, arrived Tuesday at the premises and started spewing defamatory language against the prime minister and his wife. Two knives and a toy gun were found in his possession at the time of his arrest.

Facebook's probe into the account came following Calcalilst's request for comment on concerns that the account was fake and hastily set up to appear to belong to an anti-Netanyahu activist.

The violent comment came on a night when protestors calling Netanyahu to resign were injured in Tel Aviv in violent clashes with right-wing activists who were allegedly armed with clubs, glass bottles, and knives.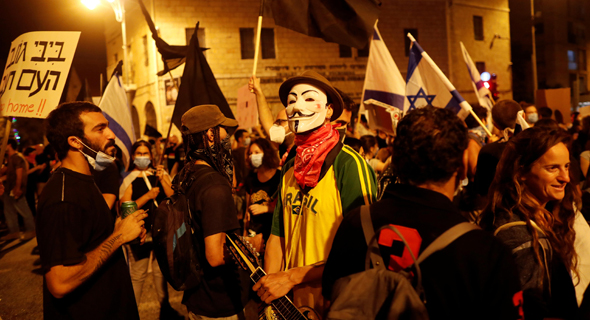 An anti-Netanyahu rally outside the Prime Minister's Residence in Jerusalem. Photo: Reuters

Protests against Netanyahu have been held regularly in Tel Aviv, Jerusalem, and other locations across the country for over a year but have gained further momentum in recent months, ever since the coronavirus (Covid-19) pandemic broke out.

The protests focus on two main aspects: Netanyahu's handling of the crisis, especially its economic impact, and the fact that he is currently facing trial on counts of bribery, fraud, and breach of trust in three separate cases. Claims of police brutality and violence by Netanyahu supporters have often been voiced by the protestors, many reporting injuries that landed them in hospitals.

Netanyahu and his supporters, including members of the government and the Israeli parliament (the Knesset), have voiced, on several occasions, allegations that the protest against the prime minister is in itself a form of violence and that Netanyahu and his family fear for their lives.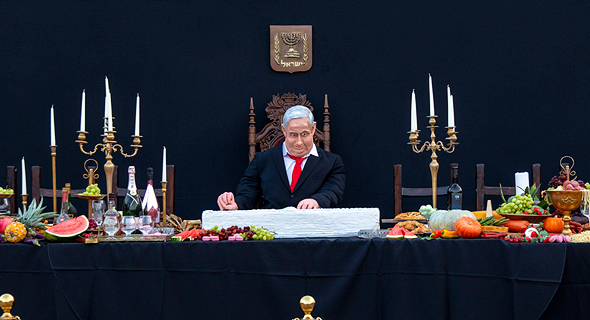 an anti-Netanyhau art installation set up in Tel Aviv. Photo: AP

In a Facebook post published Wednesday, Netanyahu referred to an art installation titled "The Last Supper," which depicted him feasting alone at a table covered with delicacies, as a "disgraceful threat of crucifixion." Also on Wednesday, Dudi Amsalem, Israel's Minister for Cyber and National Digital Matters, accused protestors of spreading disease and attacking police. Amsalem also claimed that should Netanyahu go down to the street he would be shot.

In addition to a peculiar use of Hebrew grammar that could suggest the Facebook comment against Netanyahu was written by someone unfamiliar with the language, the "Dana Ron" profile raised many additional flags in terms of credibility.

In a series of tweets on the night between Wednesday and Thursday, activist and independent journalist Yossi Dorfman noted that the profile called "Dana Ron" was inactive for some time until shortly before the violent comment was made.

In the hour or so preceding the comment, Dorfman found that several outdated links criticizing Netanyahu were posted one after the other, minutes apart. Dorfman also noticed that the profile had no personal images, that its friends' list was secret, that friend requests have been disabled, and that the name of the account, which appears in its URL address and cannot be changed after set up, is Dana Levi. Though it is not uncommon for people to change their last name, it does look suspicious for an account set up just four months ago, ahead of the country's general election.

According to Facebook, a probe conducted by the company's global teams suggested the account was fake and it was immediately deleted from the platform. "In addition," the company stated in its response, "the comment in question also violated our policy concerning calls for violence and was subsequently deleted along with the account used to publish it."

One can only hope that the police investigation instigated by Netanyahu's report, should it in fact be made, will uncover who was behind the account and what their true purpose was.

The Israeli Prime Minister's Office has yet to reply to Calcalist's request for comment.