Sweden, Israel launch joint platform to drive innovative R&D projects
Vinnova, The Swedish Trade and Invest Council and the Swedish Embassy in Israel have joined forces with Start-Up Nation Central to establish "The Connector," a platform for cultivating joint R&D projects between Swedish corporations and Israeli innovation
Vinnova, Sweden's Innovation Agency; Business Sweden, the Swedish Trade and Invest Council; and the Swedish Embassy in Israel have launched a collaborative platform to drive innovative research and development projects with Israel. The organizations have partnered with Start-Up Nation Central to establish The Connector, a platform aimed at catalyzing joint, market-oriented innovative R&D projects between the two nations, and allow companies and academic institutions from Israel and Sweden to engage in co-development, data sharing and to form partnerships.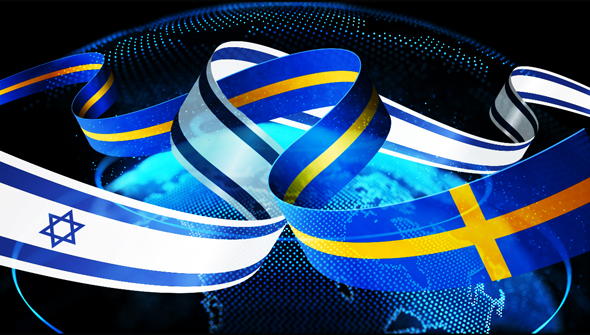 The flags of Israel and Sweden. Photo: Shutterstock
The Connector's goal is to spur synergetic cooperation between large and small companies, government organizations and academic researchers from Israel and Sweden. "Innovation has never been more important as key to address global challenges," Ibrahim Baylan, Sweden's Minister for Enterprise, said in a statement. "Israel and Sweden represent the strongest startup hubs in our respective regions and can offer competitive solutions in the global markets, solutions that are sorely needed in a world that will face the economic comeback after combatting the pandemic and saving human lives."
Prof. Eugene Kandel, CEO of Start-Up Nation Central, said: "This partnership is a vote of confidence in Israel's tech ecosystem, and serves as another example of the great impact innovation has on global partnerships."
The world's top innovators
Both Sweden and Israel are continuously ranked as top innovation leaders globally and are placed among the top 10 in rankings, such as the Global Innovation Index (GII), the Global Competitiveness Index (GCI) and the Bloomberg Innovation Index (BII). Together, they account for a substantial portion of the world's patents, with Sweden currently ranked at No. 2 in patents per capita and Israel at No. 5.
At the same time, the two innovation ecosystems complement each other, as Sweden is primarily driven by the manufacturing industry and by large multinational corporations, while Israel is harnessing the power of startups to strengthen its economy. Teaming up will allow large companies and startups from both countries to efficiently solve real life innovation challenges, and further develop their high-tech industries.
To read more about innovative solutions to the world's most pressing problems, visit our
blog
.