Jerusalem tech beyond COVID-19: five facts about the diverse ecosystem that has doubled in size
Startups in Israel's capital have joined the global battle against the COVID-19 pandemic, and have taken up the search for innovative solutions for the post-coronavirus era
Alongside its history and culture, Jerusalem has evolved in recent years into a highly accomplished center of innovation. Over the past couple of months, startups in Israel's capital have joined the global battle against the COVID-19 pandemic, and have taken up the search for innovative solutions for the 'new normal' – the post-coronavirus era.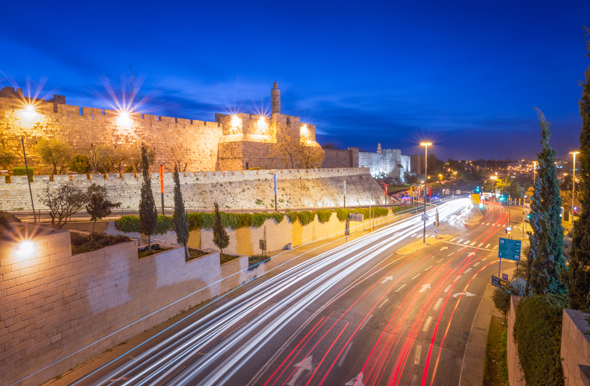 Jerusalem at night. Photo: Shutterstock
Here are five fast facts about Jerusalem's incredibly vibrant ecosystem:
Investors have poured $1.6 billion into the city's high-tech companies
There are currently 405 active tech companies in the Jerusalem ecosystem, a 102% increase over 2012. In 2019 alone, $233.5 million were invested in Jerusalem-based companies and startups, a 21% increase from the prior year. Over the years, Jerusalem-based companies have seen 22 exits and total investments of $1.6 billion, according to Start-Up Nation Central's Finder.
The capital of Israel also boasts the largest tech exit in Israel's history: Intel's acquisition of Jerusalem-based Mobileye for $15.3 billion. Jerusalem is home to additional tech unicorns (companies worth $1 billion or more): visual editing app developer Lightricks; and OrCam, which has developed assistive tech for the visually impaired.
Jerusalem-based companies are instrumental in the fight against COVID-19
Jerusalem's life sciences and biotech sectors actively partake in the global fight against the coronavirus pandemic. Roughly 33% (130 companies) of the city's high-tech companies are in the life-sciences category: in digital health, medical devices and pharma.
Several companies have developed solutions that are highly relevant to the current outbreak. One example is Pepticom, which uses artificial intelligence to discover peptide-based drugs. Since the outbreak of the virus, the startup has identified peptides with a likelihood to suppress the COVID-19 virus. Another example is Bio-fence, which produces an anti-viral shielding for the food industry; the shielding was already found to be effective on the SARS-CoV-2 virus.
Other local coronavirus-fighting startups include EyeControl, whose solution preserves lines of communication between ventilated COVID-19 patients (and others) and nurse stations outside quarantine; and uLabs, which uses ultrasonic technology to detect COVID-19. This is just a partial list.
To read the full story, visit Start-Up Nation Central's blog.
Wendy Singer is the Executive Director of Start-Up Nation Central