Place your bets: Which company will reach a Covid-19 vaccine first?
Moderna may be creating all the buzz, but it is the youngest and least experienced of the contestants, playing an all or nothing game
The global vaccine market has never been hotter. It is a sector that pharmaceutical companies have historically tried to avoid in favor of the drug market, both because their development takes a long time and the side effects can be severe and because vaccines that become a public product, given to everyone, do not guarantee high profits as drugs do. Covid-19, however, has changed all that and today no fewer than 160 companies are working hard to reach the 'Holy Grail.' So far only five have reached advanced clinical trials and seek to introduce a vaccine as early as the end of the year, or early 2021.

Cambridge-based Moderna is creating most of the buzz, but it is the youngest and most inexperienced among its competitors playing an all or nothing game. Even though Moderna was the first to enter the final stages of trials, there is no certainty it will be the one to deliver the goods. It is up against Pfizer, AstraZeneca, and Johnson & Johnson, three veteran and powerful players with years of experience in developing and mass-producing drugs and vaccines. The fifth contestant, also with a product on the horizon is China's Sinovac, which like Moderna in the case of the U.S., is receiving major funding from the government.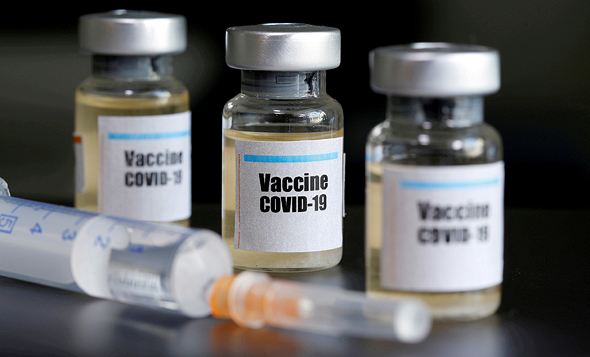 Who will reach a vaccine first? Photo: Reuters

Apart from Johnson & Johnson, all the companies are receiving assistance from an additional external source. In the case of AstraZeneca and Sinovac, it is Oxford University, Bethesda, Maryland.-based NIH is helping out Moderna, and German Biomed company BioNTech is providing Pfizer with a boost of innovation.

Beyond the obvious medical benefits of developing a vaccine, what is the best bet for someone who wants to enjoy the financial rewards of the development?

Judging by the stock market, Moderna is the smart wager, its stock having already quadrupled since the start of the year. Its impressive performance made everyone forget that at the end of the day, it is a young and inexperienced Biomed company compared to the others on the list, and though it develops interesting and promising vaccines, in its ten years of operation, none have been approved yet. Some of the solutions it has invested heavily in have even failed miserably.

Up until the Covid-19 outbreak, there were many question marks surrounding Moderna's ability to realize its vast potential, especially in the field of cancer vaccines, which had led to it becoming the largest biotech IPO in history, with a valuation of $7.5 billion.

Moreover, Moderna's share value was based entirely on expectations that it would be able to develop the vaccine and expectations for how such a product would influence the company's results, which to date has not recorded any revenue. Although its vaccine, if successful, will be more expensive than that of its competitors—$60 for the two required doses compared to $40-20 for one dose offered by the others, the company's current value of $30 billion already embodies these figures.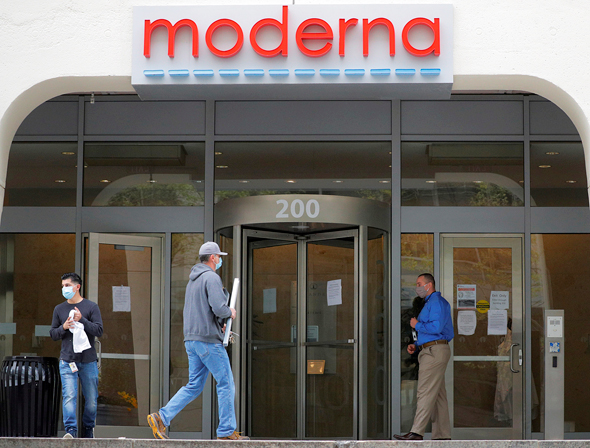 Moderna's offices in Cambridge, Massachusetts. Photo: Reutes

Moderna's delivery of an approved product may even see a drop in the price of its stock since it would mean it had reached its goal. Among those who have figured this out are the company's senior executives, who have been drawing quite a few headlines and much criticism in the U.S. in recent months against the background of a massive sale of its shares that reached a cumulative $200 million. Tal Zacks, an Israeli who is Moderna's Chief Medical Officer, for example, has already realized options worth $40 million, with his last $1.5 million sale recorded just the day before Moderna announced the start of the third phase of clinical trials.

The actions of Moderna's executives do not necessarily indicate their lack of confidence in the company's ability to fulfill the promise of a vaccine, but rather an intent to disperse the risks and the human desire to take advantage of the phenomenal leap in the stock's value. This is based on the understanding that Moderna has no other products and therefore a failure on its part to develop the vaccine may prove catastrophic.

As opposed to Moderna, for the rest of the contestants, it is not a case of all or nothing, but rather a neat bonus and a credibility boost to go along with an existing basket of products. The stock of Pfizer, AstraZeneca and Johnson & Johnson has barely risen since the start of the year, making them a bargain compared to Moderna. Johnson & Johnson may be a bit behind the rest in terms of development, but it is also the one whose vaccine for Ebola, which many consider similar to Covid-19, was recently approved and can use the same bio-reactor for the production of both.

In any scenario, it is likely that the regulators will prefer not to put all their eggs in one basket and as a result, several vaccines that are proven effective and with the fewest side effects will eventually reach the market. It is also important to remember that the mass production and logistical distribution chain of a vaccine is not simple as vaccines are often very sensitive to heat, especially RNA vaccines that require deep freezing and lose their effectiveness if not stored under precise conditions.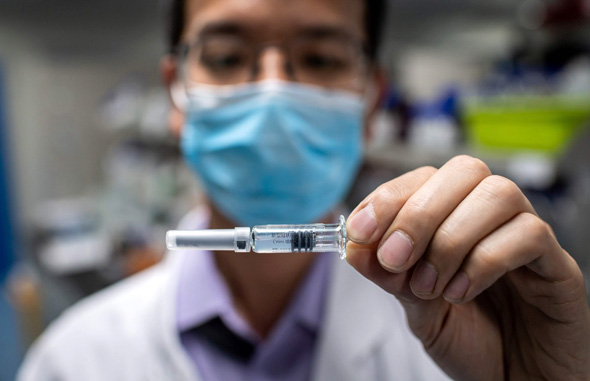 A lab researcher holding up a possible vaccine for Covid-19. Photo: AFP

The scenario in which several companies will be approved is gaining traction in light of recent reports that coronavirus can be contracted even after antibody development, which means the world population will have to be vaccinated against Covid-19 on an annual basis similar to the flu.

The process of vaccine development up until the stage of gaining FDA approval is similar to the drug approval process. In the pre-clinical trials, the vaccine is tested on animals and after it is proven to be safe, human trials get started. Human trials are made of three stages: the first, which is conducted on a small sample of people is mainly done to prove its safety, the second, which also usually includes hundreds of people at most, tests for effectiveness, and the third and most crucial, which includes thousands of subjects, tests the ability to create antibodies to prevent contagion.

What is taking place now is an expedition of the development process, with the companies receiving emergency permits to carry out several clinical trials in tandem. Some of them have even started manufacturing the vaccine even though it is unclear whether it is safe and effective. Under pressure from governments, such as the U.S., U.K., and Israel, that are already signing purchase agreements, the companies prefer to build up their stockpiles out of the realization that they will require an immense amount of doses to eliminate or at least minimize the pandemic.

Existing vaccines rely on dead or attenuated viruses, or in more innovative cases on synthetic versions of it. Accelerated development is also made possible by RNA-producing technology, with RNA being a molecule that plays an important role in DNA construction. Once inserted into the human body, the RNA will be used to build viral cells. Once the body produces these cells, its immediate response is the production of antibodies, and thus the person is inoculated.

To date, no vaccine based on RNA technology has been approved for use, since no such vaccine had proved effective. Covid-19 however, seems to have lowered the bar for success, American 'Coronavirus Czar' Dr. Anthony Fauci has already said that he would even be satisfied with 50% success rate compared to a placebo.

For now Moderna is winning the race after it broke historic records by developing a vaccine within 63 days and having already started with human trials with volunteers in Seattle. Their early success led to an incredible billion dollar infusion, half of it by the U.S. administration to help it bypass any logistical hurdle it encounters. Pfizer is also betting on RNA technology and announced its move to stage three clinical trials on the same day Moderna did. The other companies rely on the traditional vaccine-producing process.

Either way, it is a race much of humanity will be following closely in the coming months.