Energy ministry urges Israeli cities to prepare for a massive influx of electric cars
A document sent to municipalities instructs them to ensure they have sufficient charging stations since they forecast half of all cars sold in 2030 will be electric
The increase in the supply of electric vehicle models to Israel has led the Ministry of Energy to release a guidebook directing big cities on how to upgrade their car charging systems. The guide indicates that every city will be required to build hundreds of additional charging stations over the next five years. The guide, formulated by the Samuel Neaman Institute for national policy research and the Alternative Fuels Administration in the Prime Minister's Office, was signed last week and is scheduled to be released to all the municipalities this week.

An examination of the guide by Calcalist revealed that one of its goals is to break the vicious cycle that has existed in which car importers refrained from importing electric vehicles due to a shortage in charging stations, while at the same time no stations were installed due to lack of demand.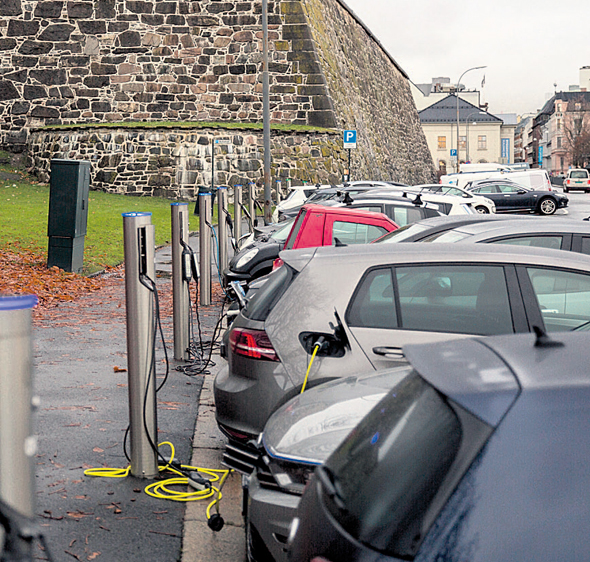 Electric vehicle charging station in Norway. Photo: Bloomberg

"According to the forecast, in less than five years, there will be a demand for tens of thousands of charging stations in Israel, thousands of which will be public. And in less than a decade hundreds of thousands of charging stations will be required, according to conservative estimates. As a result, in the coming years local governments should anticipate the addition of hundreds to thousands of charging stations within their borders. In Tel Aviv, Haifa, Jerusalem and Rishon Lezion, demand is expected for more than 100 public charging stations by 2020," the guide says.

According to Ministry of Energy figures, out of three million private vehicles currently on the road in Israel, 1,000 are electrical and 12,000 more are chargeable hybrids. Currently, there are only several dozen public charging stations in each large city. The ministry noted that a majority of "pure" electric vehicles have gone so far into private hands, though there are several company fleets, with the largest being 150 vehicles operated by the electric car ride-share program operated in Haifa and Netanya.

"The supply of electric vehicle models is set to grow substantially in 2020. In light of global trends and announcements by vehicle manufacturers, we can say with a great deal of certainty that the electric car market is expected to gain dominance in the upcoming decade. According to our forecasts, the market share of electric vehicles will hit 3% in 2020, climb to 16% in 2025 and reach up to 51% of all new vehicle sales in 2030," stated the ministry's guide.