Covid-19 puts autonomous vehicle vision on hold
The outbreak of coronavirus has caused most big car manufacturers to desert autonomous vehicle projects, a decision that will postpone the realization of the vision for at least several years
The joint announcement made by Mobileye and Ford two weeks ago sounded as if they were on the verge of a technological breakthrough. Mobileye would provide its know-how to Ford who would then use it to enhance and upgrade its driving assistance technologies. In fact, this announcement mainly illustrated that Mobileye is entering into a project that is well beneath its capabilities. Mobileye had promised us autonomous BMWs in 2021, but instead is selling Ford knowledge that will allow it to upgrade its active safety systems. Most new cars being sold in Israel today, including by Ford, come with an active safety system. With the help of Mobileye, Ford's systems will react better, allow the car to brake more efficiently and identify pedestrians better.

Mobileye is already operating autonomous Ford cars in Jerusalem. For a company of Mobileye's size, this partnership with Ford is beneath its capabilities. Nevertheless, this isn't an exceptional move, with the outbreak of Covid-19 causing most big car manufacturers to desert autonomous vehicles projects, a decision that will postpone the realization of the vision for at least several years.

The move by Ford and Mobileye is part of the process that is being experienced by almost all car manufacturers. According to a report by one of the biggest investment companies in the world, five of the world's 10 most indebted companies are car manufacturers. Volkswagen, Mercedes, Ford, BMW and Toyota have combined debts of hundreds of billions of dollars. That means that any money they may have previously had to invest in autonomous vehicles is long gone. The recovery in the industry isn't expected until 2025 and until then they are expected to postpone most of the autonomous vehicle programs and focus on what brings in money.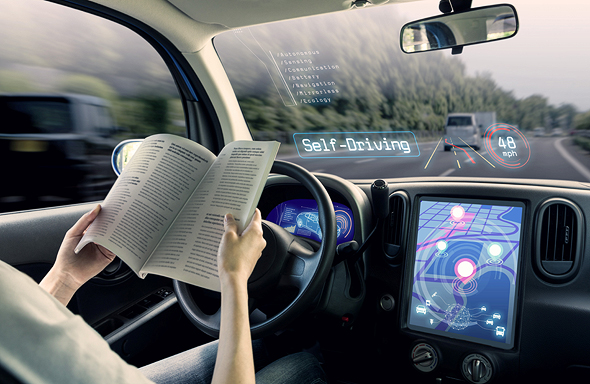 The autonomous vehicle vision will have to wait a few more years. Photo: Shutterstock
The case of Ford and Mobileye demonstrates this well. The reason the car manufacturer chose Mobileye to upgrade its systems is a direct result of Ford's balance sheet. A study by J.D. Power, an American-based marketing research company, found that 70% of Americans would prefer to buy a car with an active safety system compared to one that only knows how to warn of an upcoming danger rather than automatically brake or swerve the steering wheel. A car manufacturer that will prove that it has superior safety technologies could sell more vehicles and create more income. But this is still a very minuscule and pale version of autonomous driving compared to the announcements of three years ago.
Car manufacturers aren't quick to reveal their future plans for the development of autonomous cars. After all, a manufacturer that officially announces that it is dropping the project will lose the trust of its investors, which was already flailing as investors know all too well that the words "autonomous vehicles" don't create income.
Mobileye's reports are public and they show how badly Covid-19 has damaged autonomous vehicle development. In the second quarter of this year, Mobileye's income amassed to $146 million, a drop of 27% from the $200 million it generated in the same quarter in 2019.
But while manufacturers are doing their best to keep a low profile when it comes to their progress in autonomous vehicles, it was impossible to hide the collapse of the historical partnership between BMW and Mercedes. The two German companies announced last month that they have halted their partnership to develop autonomous car technology, which was initially unveiled in February 2019.
The thinking behind the partnership was clear. If you can't beat them, you are better off joining them. The German manufacturers invested a combined one billion dollars in the project, only to end it a mere 18 months later. BMW has announced it will partner with Mobileye and is expected to unveil the iNEXT model, with its relatively low autonomous capabilities, next year. It will likely be classified as a Level 3 autonomous car, in which the driver must remain alert and ready to take control if the system is unable to execute the task. For its part, Mercedes has announced a partnership with Nvidia, although they are only targeting a Level 2 autonomous vehicle, which includes advanced driver assistance systems.
Considering all the above, it is hard not to wonder regarding the slightly strange timing in which Israel decided to unveil its plan to open an autonomous car center in Israel. The center, which will be set up in Ashdod by state-owned company Ayalon Highways will be smaller than a football field and will include a perimeter road and probably a tunnel. This, compared to entire neighborhoods built by car manufacturers in the U.S. looking to test autonomous vehicles. However, in the current circumstances in which the big car manufacturers are significantly slowing down their development of autonomous vehicles, the center in Ashdod, set to open next year, could well end up being suitable for the reduced work rate and budget with which Israeli tech companies will have to cope during this drought.