Israeli cyber company Silverfort completes $30 million round led by Aspect Ventures
"The funds that invested realized that the pandemic forced many organizations to shift to a work from home model and to do that, you need to be able to validate the remote access of workers," said the company's CEO
Israeli startup Silverfort Inc. announced on Tuesday its completion of a $30 million second financing round led by U.S. venture capital firm Aspect Ventures and participated by Citi Ventures and Maor Investments. Existing backers Stage One Ventures, TLV Partners, and Singtel Innov8 also took part in the round.

The new funding brings total investment in the multi-factor authentication technology company to $41.5 million. The round began in the early Covid-19 days earlier this year, with the company receiving several acquisition offers along the way that failed to reach fruition. The company was founded in 2016 by Hed Kovetz, Matan Fattal, Yaron Kassner, all graduates of the Israeli military's 8200 intelligence unit, often referred to as Israel's NSA.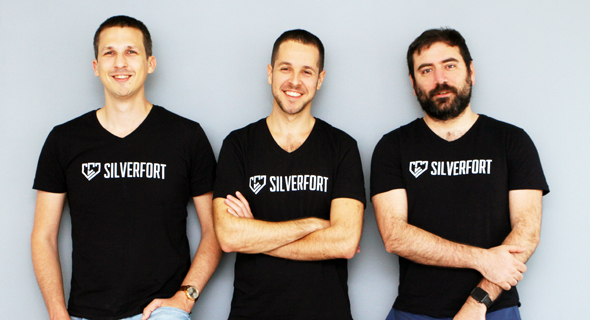 Silverfort co-founders Yaron Kassner (left), Hed Kovetz, Matan Fattal. Photo: PR

In an interview with Calcalist, Kovetz, who is Silverfort's CEO, described the effort to recruit investments at this time. "This is our second round, the first was two years ago, it was led by Aspect Ventures, which invests in many Israeli companies and all of our previous investors and some new ones also joined. We started the round amid the pandemic outbreak. What aided us in closing investments relatively easily was the fact that we had established relationships with the organizations a year ago, so they already knew who we were. It was a competitive round of fundraising and there were a lot of American funds that wanted to invest in us so even though there were attempts to take advantage of the circumstances and lower the value, we were still able to raise at a high valuation. The funds that invested realized that the pandemic forced many organizations to shift to a work from home model and to do that, you need to be able to validate the remote access of workers."

The growing variety of devices and networks exposes many companies to cyberattacks, particularly the theft of identities and passwords that allow hackers to connect to the organization's systems while impersonating real users. To neutralize the threat, it is necessary to authenticate the identities of users using additional means beyond the standard password protection. This is called Multi-Factor Authentication, but many sensitive systems do not support this technology.

"In the past, we always said the world would eventually move to work from home and we tried to explain it to clients and investors. That message is now becoming clearer and the market is more ready for us," said Kovetz. "Covid-19 will have a lot of negative effects. We are preparing our business for them. We shifted to focus on sales through affiliates and distributors and less directly to the customer. When it is impossible to travel it is better to sell through a local partner. Using distributors has helped us a lot."

"We completed a major round and our market is hot right now. We will be recruiting many employees for lots of roles. At the moment we are 60 team members, mostly in Israel. We plan to split our time between the office and home, currently, anyone can work from wherever they like," Kovetz said. "We hope to reach 80-90 employees by the end of the year. Most of the new recruits are for positions in research and development. Most of our sales are in the U.S. so we will be looking for employees there too."

"We observe that hackers are using passwords as an easy way to enter networks. Especially during these days of remote work, when you don't trust the worker's computer, you have to make sure that it is truly them who are accessing the network from various locations. Multi-stage authentication technology is old and needs to be installed on every computer and every phone. In the past it was easy. Now, when everyone can connect from anywhere, you need to add secure authentication from everywhere. We add secure authentication using an all in one simple process without installing software. We augment the identity confirmation with an additional transparent layer of validation and have built a mechanism for detecting suspicious behaviors," Kovetz said, describing the company's technology.

"The transition to hybrid and cloud-based networks, combined with the need to enable large-scale remote work, requires companies to verify the identities of their employees in every approach to the organization's systems," said Mark Kraynak, a partner in Aspect Ventures, who following the round is joining Silverfort's board of directors. "However, due to the multiplicity and variety of existing systems in organizations, implementing secure authentication solutions for each individual system is unrealistic. Silverfort's innovative technology is uniquely adapted to this new reality, where it is necessary to protect employees' access to all networks, both native and cloud-based, regardless of the employee's location or the type of networks they access."

"We are proud to invest in a company that is becoming a world leader in its field after completing Citi's accelerator program. Silverfort's solution has proven itself as not only valuable but in many cases critical," said Ornit Shinar, head of venture investing in Israel for Citi.