Survey: Digital banking and payments on the rise as Israelis flock online during pandemic
Around 80% of the 808 people surveyed said that they use digital banking services, with an additional 8% only beginning to do so since the arrival of Covid-19
The Covid-19 pandemic has significantly increased internet usage among Israelis, with a new study by the Israel Internet Association, a non-profit advocacy organization, finding that a majority of Israelis now go online for banking and payment services.

E-commerce was prevalent among Israelis well before the arrival of the coronavirus pandemic, but while a similar survey conducted by the Israel Internet Association in 2017 revealed that 63% of internet users go online to shop, that number increased to 85% in 2020.

Even prior to the pandemic, 89% of Israeli internet users said they make payments online, an increase of 23% from three years earlier.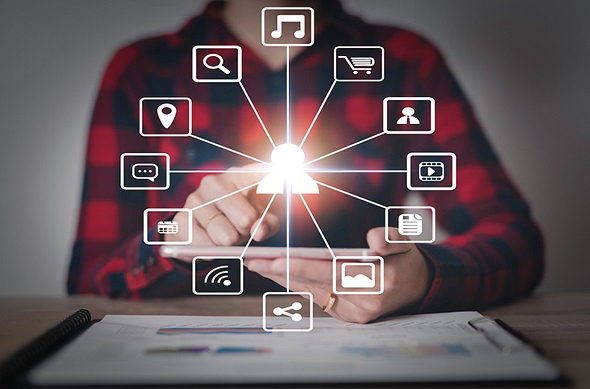 More and more Israelis are using the internet for e-commerce and payments. Photo: Shutterstock
Around 80% of the 808 people surveyed said that they use digital banking services, with an additional 8% only beginning to do so since the arrival of Covid-19. Some 75% said they use the internet to book appointments, a figure which increased by another 9% in recent months.
However, the increased usage doesn't necessarily mean Israelis are happy with their internet connection, with only 15% of those surveyed saying they are very pleased. 38% said they are reasonably pleased.
The survey showed that many Israelis are delighted with the digital service they receive from HMOs and banks, with 46% and 43%, respectively, deeming them excellent.
Government sites received the lowest score, with only 10% saying that the tax authority's digital services were excellent.
The survey also showed that the gap in internet usage between the Jewish and Arab sectors in Israel remains significant. For example, only 62% of Arabs surveyed said they make payments online, compared to 89% among the entire population. However, some 73% of Israeli-Arabs use social media several times a day, a much larger percentage than the entire population.
Israelis are nevertheless spending more time on social networks according to the survey, with 51% saying that they do so at least once a day, compared to 36% in 2017. Only 11% of those surveyed said they don't use social media at all, a significant drop from 30% three years ago.
"The ongoing crisis has illustrated in the clearest way possible that the internet is a critical resource in order for the society and economy to function," said Yoram Hacohen, CEO of the Israel Internet Association. "Due to coronavirus, the Israeli public has adopted digital usage patterns that can be seen in the quality and quantity of its usage, including utilizing the internet for remote learning, remote work, and completing routine activities in a more efficient way."