Zencity raises $13.5 million to expand city management platform beyond U.S. and Israel
Covid-19 outbreak and U.S. social justice protests see the use of the company's services by local authorities spike
Tel Aviv-based city management company Zencity Technologies Ltd. announced Wednesday that it has completed a $13.5 million series B funding round led by VC firm TLV Partners. Salesforce Ventures also participated in the round as a strategic partner alongside previous backers Canaan Partners Israel, Vertex Ventures, Microsoft's venture arm M12, and i3 Equity Partners.

Founded in 2015, by CEO Eyal Feder-Levy and CTO Ido Ivry, Zencity provides municipalities and other local authorities data-based insights enabling them to make better decisions with a deeper understanding of their resident's needs and desires. The company makes use of artificial intelligence to analyze data aggregated from resident-generated data from sources including social media, mobile applications, and city hotlines and create actionable insights for mayors, municipal department heads, and other decision-makers. The insights help the local authorities better understand the wide scope of their residents' needs.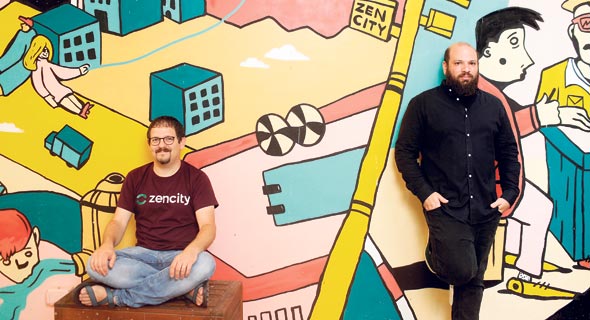 Zencity co-founders Eyal Feder-Levy and Ido Ivry. Photo: Amit Shaal

"The Covid-19 pandemic produced a major spike in the use of the system, both by existing users and from 50 new clients we added during recent months," Eyal Feder-Levy, Zencity's co-founder and CEO told Calcalist in an interview. "The reason for the increase is that this crisis is being managed, particularly in the U.S., by local governments. Questions concerning the operation of schools, businesses, and restaurants are often addressed at the municipal level. We are also seeing numerous initiatives led by municipalities, such as the city of Ramat Gan in Israel that has allocated a section of its park to conduct open-air weddings. All of these decisions are greatly influenced by the residents' pressing needs. If in the past it was enough to receive an update once a week or before making big decisions, nowadays these decisions are happening daily," he said.

Currently, Zencity is nearly exclusively active in Israel and the U.S. and the goal of the financing round is to extend its activity to other regions of the world. According to the company's figures, it has clients in more than 150 cities, across four countries, including in 28 U.S. states. Over the past year, the company has signed agreements with key customers including the municipalities of Los Angeles, Chicago, and Houston (the second, third and fourth-largest cities in the U.S.), as well as many other major urban centers including Pittsburgh, Austin, and New Orleans among others.

Alongside the Covid-19 crisis, U.S. cities are also experiencing heated civil protests, which are also being dealt with on the local level. Does that register in your activity?

"During the two weeks of intense protests (following the killing of George Floyd in Minneapolis) we witnessed an increase in queries relating to public security. Interestingly, these protests have a national agenda, but local characteristics, and we see that what the clients care most about is increasing trust between local authorities and the protesters. When it comes down to it, we are dealing with a crisis of trust: the public is saying that something is broken and not working right. A lot of our clients are concerned with where the breaches of trust lie and how to go about fixing them," Feder-Levy said. "We saw places where local authorities' actions resulted in building up trust and places where their actions caused the opposite effect. I hope that the public sector receives higher prioritization in terms of companies, technologies, and dedicated resources," he concluded.

"This is our first investment in a company focused on government bodies, and we see the tremendous potential in supporting the needs of this sector. It tends to be a market that is difficult to penetrate, and even harder to grow in. We are inspired by the work and achievements of Eyal, Ido, and all their staff who are dedicated to supporting the needs of local authorities," Eitan Bek, managing partner of TLV Partners said in a statement.