Gett to expand U.K. presence signing new partnership with Ola ride-sharing platform
The company's SaaS solution for the business sector enables the company's business clients to enjoy access to a wide range of automotive services worldwide through strategic partnerships with leading companies
Global corporate ground travel company Gett Inc. has signed a strategic partnership agreement with U.K. ride-sharing company Ola Cabs. The partnership between the two companies will enable Gett's business clients to receive service from Ola drivers around the world through the Gett SaaS platform. Ola drivers will meanwhile enjoy a boost in orders from Gett's business clients.

Ola, incorporated as ANI Technologies Pvt. Ltd., was founded in 2011 and is the leading mobility platform in India and one of the biggest in the world, servicing 250 cities across India, the U.K., Australia, and New Zealand. Ola's app offers transportation solutions using a wide range of vehicles with more than two million drivers around the globe. Since its founding, Ola has expanded also to 26 U.K. cities including Birmingham, Cardiff, Coventry, and Liverpool.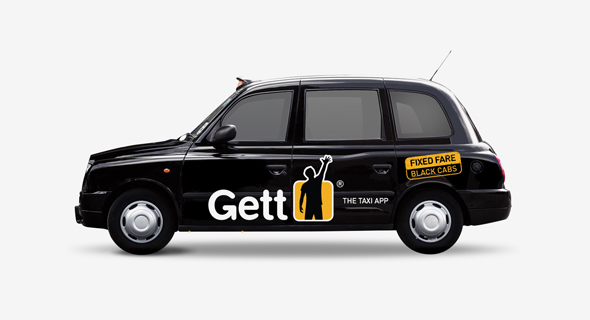 A London Cab featuring the Gett logo. Photo: PR

Gett's SaaS solution for the business sector enables the company's business clients to enjoy access to a wide range of automotive services worldwide through strategic partnerships with leading companies in the field, Ola being just the latest to sign a cooperation agreement.

Last month, Gett announced it had completed a $100 million financing round that it said it planned to use to expand its enterprise services globally and deploy its SaaS solution through strategic partnerships with industry leaders such as Lyft, Via and Ola. Gett already provides services to thousands of companies around the world, with about a third of the Fortune 500 companies already among Gett's customers, and it is expected that the list will grow in the coming months due to growing interest from other companies.

Gett was founded in 2010 by Dave Waiser and Roi More. To date, the company has raised over $ 750 million.