Workplace morale booster Thriver raises $33 million in series B funding round led by Viola Growth
Thriver, formerly Platterz, develops a technological platform that assists companies in improving and strengthening their organizational culture
Israeli growth-stage venture capital firm Viola Growth is leading a $33 million series B funding round in Canadian company Thriver, founded by former Israelis Eran Henig and Yishay Waxman.

Union Tech Venture, FJ Lab, Journey Ventures and Vertex Ventures Israel also participated in the round, as well as Aleph and Altair Capital, who had also invested in the company's previous financing rounds.

Thriver, formerly Platterz, develops a technological platform that assists companies in improving and strengthening their organizational culture with a particular focus on food at the office. The company said that since it was founded in 2016 its platform has accommodated orders totaling more than $100 million through partnerships with hundreds of food suppliers and restaurants being used by over 2,000 customers.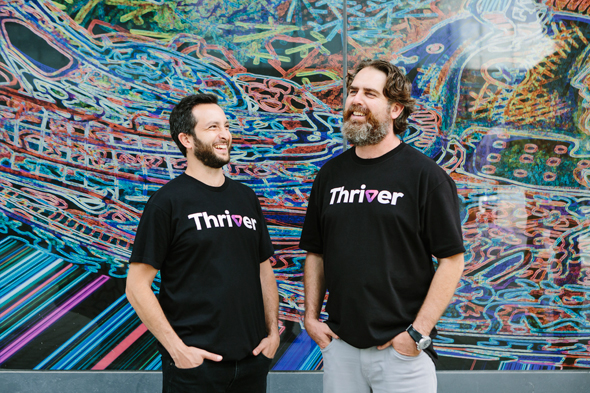 Thriver co-founders Eran Henig and Yishay Waxman. Photo: Courtesy
Thriver is launching an expanded platform that will include services from the health sector, virtual activities, and professional development that will bring employees together, virtually or physically, in order to provide them with support at the personal, team and organizational levels, even while working remotely.
"One of the challenges big organizations are facing is the need to create and preserve the authentic organizational culture that allows for interaction between the employees and also answers their personal needs," said co-founder and CEO, Eran Henig. "We took on ourselves the mission to help organizations meet this challenge with our platform's unique technology which overcomes obstacles and increases the opportunity to create culture-building experiences that are personalized to the employee's and organization's needs and allows to maintain the sense of togetherness even in big and decentralized organizations."
Natalie Refua, partner at Viola Growth, said: "The coronavirus pandemic and the growth in the work from home model strengthens employers' desire to find innovative solutions that help retain the workforce and improve the quality of the working experience. Thriver offers the ideal platform to allow them to do this in this new employment era."