Interview
Investment strategist maps out the post-Covid tech landscape
There are two motifs that have been pushed to the forefront due to the coronavirus pandemic, the stay at home economy and the reopening economy, says Jay Jacobs, a Senior Vice President and head of Research & Strategy at Global X ETFs
With global markets still searching for their footing in the era of Covid-19, attempting to predict what the pandemic will bring next and how the economy will be affected is an undertaking even fairground fortune tellers are currently avoiding. Jay Jacobs, a Senior Vice President and head of Research & Strategy at Global X ETFs, a New York-based provider of global exchange-traded funds with $13.5 billion in assets under management, does not claim to foresee the future either. But as someone who guides the planning and development of his firm's strategic direction, he knows where investors have put their money in the past, where they are placing it at the moment, and what could appeal to them next.

There are two motifs that have been pushed to the forefront due to the coronavirus pandemic, according to Jacobs, the stay at home economy and the reopening economy. Jacobs said that Global X had an interest in themes like cloud computing and gaming even prior to Covid-19, launching ETFs in almost all of these themes before March of this year. But he admitted that Covid-19 has accelerated the rate of adoption in a manner that would probably have not happened organically.

Jacobs listed four themes for the stay at home economy, firstly highlighting the significance of cloud computing. "This is the digital infrastructure that is powering the ability to work from anywhere. The fact that I can log from my laptop into all the software I use and access all my data, all of that is enabled by cloud computing," Jacobs told CTech. "Prior to Covid-19 there was already a shift towards the cloud. But many businesses are slow to make change and slow to make investments. Cloud computing is a process and often it means getting rid of an IT department at your company. It might mean changing your hardware and signing pretty high contracts with providers. It has obviously been happening in the last 10-15 years, but the day after the stay at home order hit everyone had to be connected in service jobs. So we saw a huge acceleration in things like video conferencing, internal messaging software, and client communication software. A lot of these software and service companies that run purely on the cloud are really well positioned in this environment to make sure companies don't miss a beat."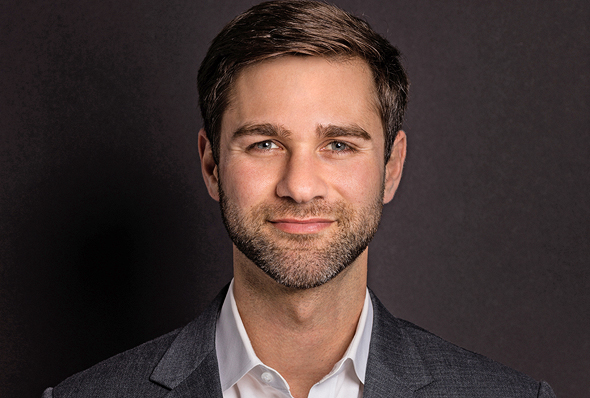 Jay Jacobs, a Senior Vice President and head of Research & Strategy at Global X ETFs. Photo: Global X
Another theme highlighted by Jacobs was e-commerce. "People couldn't go to the grocery store so they had to order everything online. What's relevant about that is that as much as we think everyone is comfortable ordering on Amazon and online, less than 12% of U.S. retail sales actually happen online. The bulk of the other 88% that still happens in stores is groceries and automobiles. People still like to test drive their cars and that may not change, but groceries is really just a habit that consumers have had a hard time shaking. But because of Covid-19, many people had to do that and have become accustomed to ordering groceries online and that is a huge market for e-commerce that has not been penetrated whatsoever. The biggest hurdle is getting people signed on, setting up the card and doing that first purchase, but once you've done that it is much easier making that person a repeat customer."
Video games and esports are additional categories that are benefitting from the new normal, with the likes of Nintendo and Playstation registering phenomenal growth thanks to the fact people had very few things to do to entertain themselves during the pandemic.
Jacobs said geopolitics is playing a part in the rise of robotics and artificial intelligence, with many companies bringing manufacturing back to the U.S. due to the crisis the global supply chain has faced with Covid-19, and beforehand following geopolitical developments like the U.S.-China trade tensions.
"Companies are bringing manufacturing back to the U.S., but they are not going to do so in a way that is very expensive. They are going to try and limit those costs and the way to limit those costs is to invest in robotics," explained Jacobs. "Technology tends to get cheaper over time, while labor tends to get more expensive. When corporate issuers can borrow at 2% these days it is very cheap to invest in automation and invest in robotics for the next 10 years."
Despite the pandemic, the S&P 500 is currently higher than it was at the beginning of the year, but Jacobs says that is misleading.
"What is interesting is that you see a huge divergence in the U.S. between the performance of technology stocks and non-technology stocks. Travel stocks are down 40-50% percent. We've seen 23 bankruptcies of major retail companies in the U.S. The companies that are poorly positioned in this market are getting absolutely punished in the equity markets whereas technology companies that are very well positioned have been extremely well rewarded," said Jacobs. "If you just look at the performance of the S&P 500, it seems to imply that U.S. stocks are doing well, but it is a tale of two different parts of the market.
"Within technology, we often get asked are the valuations too high, but going back to cloud computing for example, these are effectively defensive companies now. The reality is that if you are a business and you are deciding where you can spend money and where you can't spend money it is really hard to cut your budget to cloud computing right now. Zoom, Slack, or Amazon Web Services are going to be the last thing companies cut because without them they are not going to be able to conduct business. Cloud computing companies are extremely integrated into enterprises right now which protects them even in a challenging economic environment. It's a defensive sector that also has really high growth and that drives some of the strong performances we have seen from their stocks so far."
Global X's newest ETF is focused on telemedicine & digital health and has become the company's fastest-growing ETF of all time. The firm now offers 19 individual themes and Jacobs said it is going to taper the speed of new launches, with maybe 1-2 more planned for the rest of 2020.
Two other themes that Jacobs believes are well-positioned in the reopening of the economy are IoT (Internet of Things) and genomics. However, one of Global X's newest ETF's is actually dedicated to education, making it the first of its kind in the market.
"I think of healthcare and education as very similar in the sense that people think of them as basic human rights and historically they tend to be largely public sectors," said Jacobs. "Tons of spending in healthcare and education is subsidized by governments rather than coming from the private space. But there are 50 healthcare ETFs in the U.S. It is a roughly 50-50 split between public spending and private spending in the healthcare space in the U.S. And then you look at education, we have the only education ETF and the split is 25-75. So we think that this is increasingly going to move towards that 50-50 model as people look to supplement public education with these other technologies and these other supplementary forms of education. We believe we are at the beginning of what is going to be a pretty disruptive time in education."