Post-Covid, DAG Wireless plans 4G and 5G infrastructure for air travel
The new aerial broadband network will help passengers and airlines once the skies open up again
Israel-based wireless broadband provider DAG Wireless has announced the launch of its VelocityXG System, a new solution that is set to improve in-flight connectivity for commercial, private, and military aircraft in the U.S. The system, which is FCC and DO-160 certified, offers reduced latency and higher bandwidth than existing solutions.

While many commercial flights have been grounded for the foreseeable future, DAG Wireless believes that business and private air travel is currently "exploding". Here, the system can serve passengers who will be able to participate in live-streamed video conferencing (like Zoom), real-time gaming, and upload or download gigabytes of HD video and data in seconds - just like they would be able to on the ground.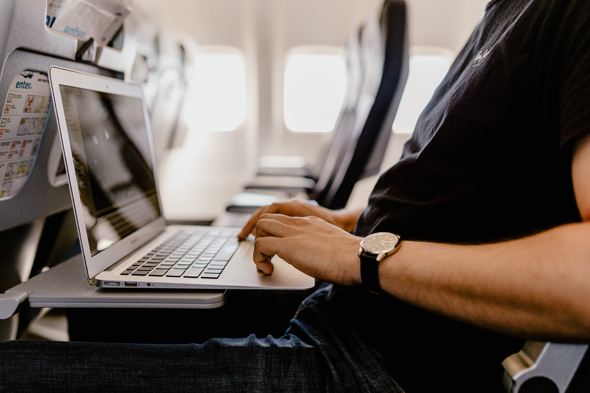 Passenger on Aircraft. Photo: DAG Wireless

Eventually, the company predicts that commercial airlines will catch up and open post-Covid-19 in six to nine months. Once they do, airlines will be able to use the 5G network to better monetize their content, inflight shopping, or other services through their own portal.

"The ability to take the same type of connection that we have on the ground, up in the air, and running it at that level of speed," said Rob Johnson, a member of the team dedicated to product and marketing efforts. "That is somewhat of a game-changer in the aviation sector." While he would not reveal the names of future customers, Johnson said that DAG Wireless will be partnering with commercial airlines "by the end" of the year.

The system is aimed at different markets, including defense, aviation (both commercial and private), large private networks, and space-based networks. It combines three existing DAG Wireless products: the Advanced Remote Radiohead, Base Station, and Mobile-End User Device. When combined, the solution makes a network offering high-quality, end-to-end/ground-to-air, and communication in the skies among aircraft.

As well as the new infrastructure, VelocityXG also offers additional features, such as centralized management to the endpoints and smart data routing. This is what, SAG Wireless claims, allows seamless and latency-free experiences.

"Now that we obtained certification, we are ready to offer a unique capability to customers," said David Gross, DAG VP of Operations. "By marrying next-generation wireless capability and advanced network management for flexible routing, we truly have a superior solution for a variety of industries and use-cases."

DAG Wireless helps customers deliver products and services that enable high-end solutions to problems. It offers its services in a variety of sectors, such as aviation, oil and gas, telecoms and mobile, and defense. It is based in Tel Aviv, Israel, with an office in "the state that's first in flight", North Carolina, USA.