Hatzerim-based Picodya raises $10 million for rapid diagnostics innovation
Picodya develops an in vitro diagnostics (IVD) platform named B-Matrix and is valued at between $80 and $100 million
After making a fortune from the sale of drip-irrigation company Netafim Ltd. in 2018, Israeli Kibbutz Hatzerim is at it again, with local company Picodya on the verge of completing a $10 million funding round led by SIBF (Southern Israel Bridging Fund) at a valuation of between $80 and $100 million.

Hatzerim has invested several million dollars in Picodya, which has developed an in vitro diagnostics (IVD) platform named B-Matrix. The innovative product is able to conduct a panel of tests and analyses by creating thousands of picoliter (10-12) marker droplets for multiple patients in parallel. According to Picodya, results are delivered within 15-20 minutes and the system is able to help diagnose and treat cancer, cardiac dysfunction, and infectious diseases, including Covid-19, flu and SARS.

The company's goal is to deploy its product at the point of care, from ICUs and hospital departments to field hospitals, clinics, and home care uses. Picodya's product can significantly reduce the time and manpower required to diagnose blood tests, which currently takes around 10 hours. B-Matrix isn't expected to receive regulatory approval for at least two more years.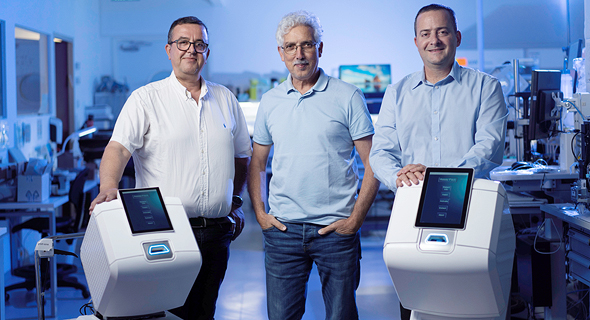 Picodya founders (from right) Tzvika Barkai, Yehuda Yavets-Chen and Eli Ben Simon. Photo: Bee Productions
Picodya was founded in early 2018 by Yehuda Yavets-Chen and Hatzerim. Yavets-Chen serves as the company's CTO, with Tzvika Barkai the CEO and Eli Ben Simon the chairman. Hatzerim and Yavets-Chen each owned 50% of the company prior to the funding round.
"Hatzerim has focused over the past 4 or 5 years on learning how startups work," said Barkai. "We understood that it would be difficult to create another Netafim. Hatzerim gives Picodya everything it needs from an administrative standpoint like information systems and accounting. Anything that isn't at the core of the business is outsourced."
Picodya has received three different grants from the Israel Innovation Authority, with its prototype already completed and to be tested by The Israel Institute for Biological Research in Ness Ziona. SIBF was set up this year and is run by Or Ben Shoshan, Eli Ben Simon, Aviv Cohen and Boaz Or-Shraga. Tamir Pardo, the former head of Mossad, is a venture partner at SIBF. The fund has raised $100 million to date and has invested in 20 different companies.
"SIBF will help us bring in additional strategic investors," said Ben Simon. "This round was held as part of our preparations for a more significant round aimed at raising tens of millions of dollars in the next year to 18 months."
Founded in 1965 in Hatzerim, Netafim has made a name for itself developing water-efficient irrigation systems that deliver water directly to the plant instead of the soil. Today, Netafim employs around 5,000 people in 17 manufacturing plants and operates in over 110 markets through 33 subsidiaries.
Netafim itself is a subsidiary of Mexico-based pipes and chemicals company Mexichem SAB de CV, which bought an 80% stake in the company in 2018 at a $1.9 billion company valuation.