Insight Partners leads $40 million series B in network safety company Perimeter 81
The company completed three financing rounds in eight months to support its rapid growth
Tel Aviv-based Secure Access Service Edge and Network as a Service company Perimeter 81 has completed a $40 series B financing round led by Insight Partners and participated by Toba Capital and other existing backers. The round was raised at a $160 company valuation.

The new financing is meant to support the company's rapid growth, accelerate employee recruitment and expedite product development activities with the goal of offering advanced cloud solutions as a substitute for the traditional firewall and VPN options.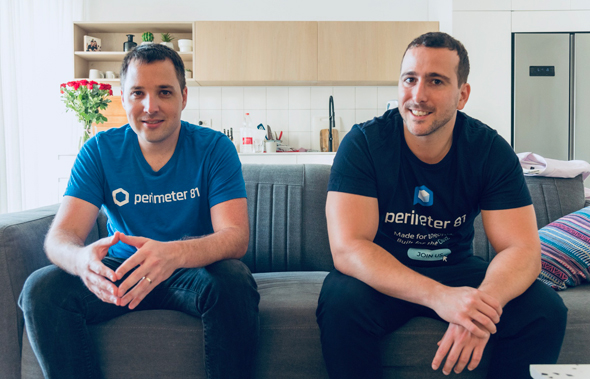 Perimeter 81 co-founders Sagi Gidali (right) and Amit Bareket. Photo Danny Katari

"We completed three financing rounds in eight months. Last May we raised $5 million at a $100 million valuation and now Insight led a $40 million round at a $160 million valuation," Perimeter81 chief product officer Sagi Gidali said. "We have been in contact with Insight for two years and it was a very fast financing round. We had wanted to raise capital late in the year, but we are experiencing incredible growth and seeing high demand. We wanted to conquer the market and Insight is supporting us."

"We are replacing the old firewall hardware with a cloud-based product. Many companies, particularly nowadays, are moving to dispersed operations. It requires a conceptual shift as well as a physical one. We created a platform that enables the creation of a cross-organizational protection network to replace the firewall," he added.

Perimeter 81, incorporated as Safer Social Ltd., was founded by Gidali and Amit Bareket in 2018 and currently serves 1,000 enterprises, including Fortune 500 companies, around the world.

The company employs 85 workers in Tel Aviv and New York and is currently establishing a new office in California. "We will be hiring 85 new employees in the near future, 15 in Israel and the rest in the U.S. All of our sales are conducted online and we have gained significant experience in building and incorporating network infrastructure," said Gidali.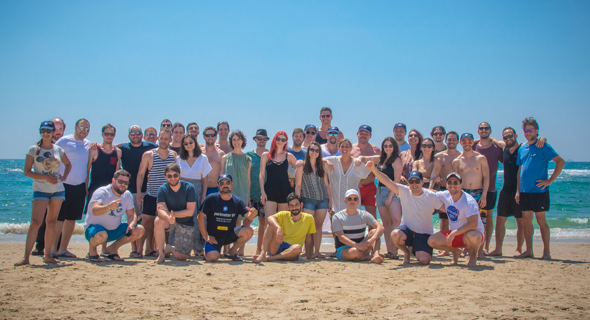 The Perimeter 81 team. Photo: PR

Perimeter 81's user-centric and highly intuitive Secure Network as a Service enables businesses to more easily secure access to local network resources, cloud environments, and business applications. It also offers user and branch internet security, branch interconnectivity, and endpoint security all without the use of a physical firewall.

"With COVID-19, we witnessed an incredible surge in the demand for our services as the transition to remote work -- which occurred virtually overnight -- illuminated the need for

companies worldwide to depart from their legacy hardware-based security and fully embrace a holistic, cloud edge network," Perimeter 81 co-founder and CEO, Amit Bareket said.

"Over the last few months, companies globally have been forced to initiate a distributed workforce model with the need for employees to securely connect to their company's network and online resources," Thomas Krane, Principal at Insight Partners who will be joining the Perimeter 81 board said in a statement. "Perimeter 81 has successfully solved this challenge by bringing the security requirements of Fortune 500 companies into an accessible cloud-based platform suited for the remote workforce. We are thrilled to continue our commitment to the Israeli cyber ecosystem and partner with Amit, Sagi, and the rest of the team on the next phase of their ScaleUp journey."