Tips
5 strategies to help small businesses to adjust to the new normal of the Covid-19 era
Many small businesses are suffering from the economic or even the social impacts of the coronavirus crisis and adjusting business models and strategies to accommodate the new reality could be the key to survival
Many small businesses are suffering from the economic or even the social impacts of the coronavirus (Covid-19) crisis. According to a survey by the U.S. Chamber of Commerce published in June, one out of five small businesses surveyed had closed, either temporarily (19%) or permanently (1%) during the crisis.

Israel has not escaped this trend. Analytics company Dun & Bradstreet issued a report recently claiming that for the first time in a decade, the number of businesses in the country is expected to shrink by 40,000-50,000 or 8%-7%.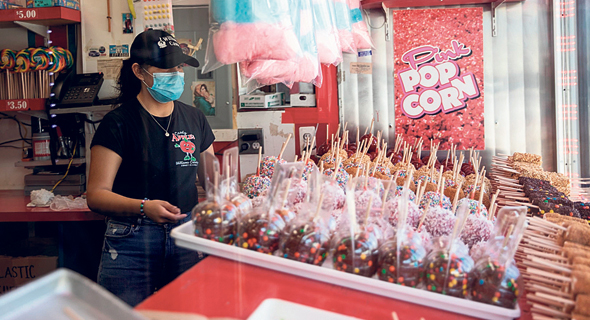 A small business in New York. Photo: IPA

A key to survival in these challenging times may lie in adjusting your business practices, channels, or models. According to the survey by the Chamber of Commerce, more than 80% of small businesses, have made, were in the process of making, or were planning to make changes in response to the pandemic.

Below are some suggestions on ways small businesses can adapt their models to better function in the new reality currently unfolding before us.

Create an online presence to accommodate e-commerce (or ease commerce)

Businesses that have an online presence, especially those that already conduct operations digitally, have an advantage when it comes to staying in business during times of crisis. However, even if your business is a local brick-and-mortar store with just a basic or underutilized website, there are ways to do more and upgrade quickly.

The first thing you need to do is to set up a virtual store. If your website does not already accommodate online orders, there are numerous e-commerce platforms available from third-party vendors.

Chinese e-commerce giant Alibaba Group recently launched a new set of e-commerce resources to help American small businesses who are struggling through the coronavirus outbreak, including the Super Consumer Growth Accelerator program by subsidiary Tmall.

Shopify Inc., WayFair Inc., BigCommerce Inc., and other major platforms also make it easy to sell your wares online.

Smaller online marketplaces, like Bonanza and Etsy, are popular with artists, designers, and crafters looking for alternative or additional revenue sources.

Another important aspect is to localize your online presence. If you are new to e-commerce, rather than trying to do business on a global scale or competing with other vendors on Amazon and eBay, think local, instead.

Consider ways to focus on customers within a 30-kilometer radius, for example by offering free local delivery within this radius.

You can also consider allowing scheduled curbside pick-ups of online orders; embrace window shopping by showing clear product codes and prices and encouraging passers-by to make online purchases, without having to enter the store; add or highlight locally-sourced products of interest to your community, from small-batch local food and beverage producers to hometown athletic or community-branded apparel; use signage and social media to promote your small business in a way that appeals to your neighborhood's sense of pride in supporting local shops; or set up a virtual tip jar to help support furloughed or laid-off waitstaff, bartenders, or other service staff.

Listen to your customers and accommodate their needs

Now more than ever, it is essential to strengthen the sense of loyalty of your existing customers. To do so, it is important to actively listen to them and adapt to their needs.

Use customer feedback surveys, conducted on your website, through your mailing list, or social media channels. Your customers can give you invaluable insights on your business and products which you may not have been able to come to yourself.

Dig in and inspect your data, including what you know about your customers, your sales, and your marketing. Be honest with yourself about what you learn, figure out which initiatives worked and which failed, and profile your best customers.

Seek out customer-generated content, photos, and stories that you can share on your social media pages to grow trust, audience, and engagement.

Offer new services or products that are likely to peak in demand, such as niche products that have gone viral or services that answer to newly-passed regulations.

Talk to your team

Your employees are more than just staff and they can be a great resource for business ideas. Be upfront with them about the challenges you are facing, any necessary staff changes, and the plans you have. This is especially important when it comes to safety precautions, immediate changes (such as social distancing requirements), or plans for a pivot.

Your employees have hands-on knowledge of your business operations and can suggest new strategies, products, or business opportunities. They may also have hidden auxiliary expertise or talents, such as art, marketing, or music, which they may use to help your business adjust or differentiate itself. They may also be able to offer flexibility, taking on new roles—for example, making local deliveries—or working in shifts to extend business hours.

Partner or brainstorm with other businesses

Not only are you and your fellow small businesses in this together, but you probably have other business partners (existing or potential) who may be able to help you and themselves through the sharing of primary or secondary skills and resources.

Among the steps to consider here is finding ways to use your supply chain or partners to fill shortages of hard-to-find items or services in your area. You should also negotiate with local delivery services, couriers, and even taxi companies to help you meet the demand for home deliveries.

Ask your larger partners, for example, tech companies, if they could help you navigate the new normal by acting as consultants on your business and marketing strategies or even by helping to analyze customer data. Some organizations who won't be able to help financially may still be able to offer free advice or even mentoring sessions.

You should also collaborate with other small business owners in your area to develop added-value bundles, co-op marketing, or cross-promotion plans.

If you are in the hospitality sector and need more space, for example for outdoor socially distant dining, talk to the owners of locked-down neighboring shops or parking lots to see if you could use their properties.

Diversify, adapt, and add business models

Sometimes, adjusting your business model may actually necessitate doing something you had never previously considered, namely, by broadening the scope of the services or products you offer.

While foot traffic to your establishment may be down or even restricted by local ordinances due to Covid-19, there may be other ways to utilize your space and staff to generate revenue.

You can, for example, turn your restaurant into a makeshift marketplace, like some restaurants in Atlanta have done, by repackaging bulk items like rice and flour, dry goods, or even paper towels and toilet paper. These items can be ordered online, with car-side delivery.

You can also offer live online classes or produce videos that teach the skills your business prides itself on, whether it is cooking lessons, kickboxing workouts, self-styling hair and beauty tips, or even virtual professional services ranging from accounting to counseling.

You might consider expanding your operating hours, for dining or shopping or providing 24/7 customer service by phone or website. Greater availability is a competitive way to build loyalty and serve more customers even when physical space is limited.

You can also partner with Amazon to become an Amazon Hub, housing Amazon lockers for self-service pickup or utilizing your own kiosk and staff to become a convenient place for your community to accept deliveries. This increases foot traffic to your store while also providing you with some extra cash.

Use this time to evolve

Many businesses are now faced with the choice to either shut down or change and many of these changes may turn out to be more than temporary. However, the agility by which you are able to respond to this crisis, as unexpected as it was, can help arm you with the skills and strategies to remain resilient against whatever comes next.

Dan Biewener, senior content manager and strategist at fintech startup Fundbox Inc.