EyeControl raises $7.5 million for its AI-powered communication solution for ventilated patients
Israeli company also received $2.5 million from the Enhanced European Innovation Council's Covid-19 pilot program
Israeli startup EyeControl, which developed an AI tool to help patients connected to ventilators communicate with their medical staff and family, announced Wednesday that it has raised $7.5 million in funding. The company, incorporated as EyeFree Assisting Communication Ltd., also received a $2.5 million grant from the European Union's Enhanced European Innovation Council's (EIC) Covid-19 Pilot Program, where it was chosen for its critical contribution for the care of gravely sick coronavirus patients.

The funding round was led by Connecticut Innovations, Benslie International Ltd, Clive Barret and Menomadin Foundation. Existing backers including Benny Levin, Itsik Danziger, Jim Elkind, Avi Kornreich, Zora Ventures, Impact First, and Rimonci Capital also participated.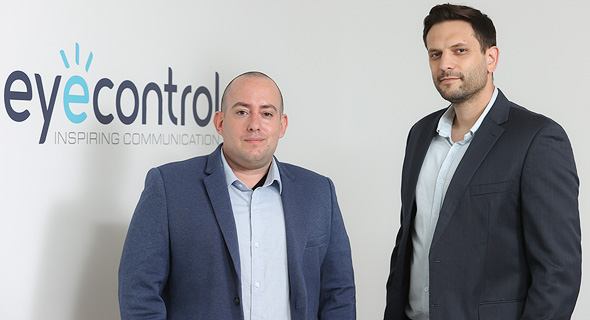 EyeControl co-founders Or Retzkin (right) and Itai Kornberg. Photo: PR

The new capital is meant to increase the company's activities in hospitals, promote future collaborations, and support the company's employee recruitment efforts. EyeControl also announced that digital health entrepreneur Avner Halperin, the former CEO of EarlySense has been appointed as chairman of its newly expanded board of directors.

The Israeli startup was founded in 2016 by Or Retzkin, Itai Kornberg, and Shay Rishoni. The company employs 20 people in offices in Israel and the UK and is setting up an office in the U.S.

EyeControl developed a wearable, screenless assistive communication device. AI-powered eye-tracking technology enables remote communication between ventilated ICU patients, their families, and medical care teams. The EyeControl also improves quality of life for ventilated and locked-in home care patients, by providing round-the-clock communication with family members and caregivers. The EyeControl is CE marked, FDA listed and ISO certified. It is reimbursed by the U.S. Centers for Medicare and Medicaid Services, UK National Health Service and the Israeli Ministry of Health.