Chelsea FC unveils Perfect Play training app developed by Israel's Coach-AI
The virtual coach in the heart of the application enables users to improve their football skills based on professional knowledge provided by the Chelsea FC Academy
English Premier League club Chelsea launched on Wednesday the Perfect Play application, the club's official football training application developed by Coach-AI, a company owned by Israeli media and technology entrepreneur, Mati Kochavi. Coach-AI developed the virtual coach in the heart of the application in labs in Germany and Israel, with the technology enabling users to improve their football skills based on professional knowledge provided by the Chelsea FC Academy.

Perfect Play is based on a combination of computer vision and augmented reality (AR) technologies and is aimed at improving performance by training like professional football players. The users are assigned a series of exercises and challenges to perform in front of the smartphone camera and the virtual coach studies their moves, analyzes them and provides accurate and professional feedback in real-time, all based on the professional knowledge developed by senior coaches of the Chelsea FC Academy. The app's interface combines AR technology developed by Coach-AI, transforming any space into an advanced training ground.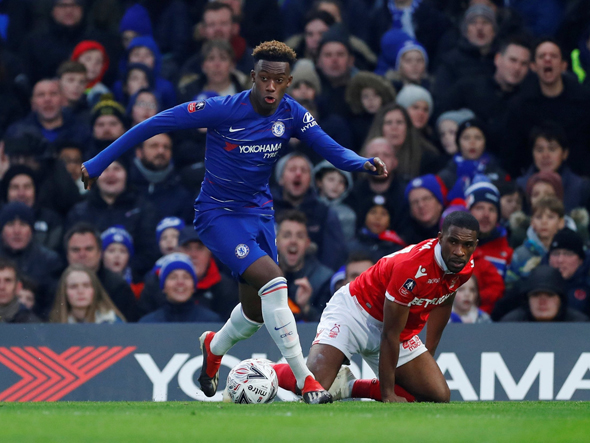 Chelsea player Callum Hudson-Odoi. Photo: Reuters
"Our collaboration with Coach-AI began several years ago when we identified the potential of their virtual coach technology", says David Rose, Director, Chelsea Digital Ventures. "It was crucial for us to deliver a system that can accurately measure users' performance, provide them with real-time feedback, and help them improve. Coach-AI answered our demands. In the future, we will see more such technologies implemented in sports and we are proud to be the pioneers in the field".
Perfect Play can create a personal training plan, with core focus areas including technical and mental skills, physical development and football intelligence. Training games have been designed to develop players' abilities across agility, ball mastery, dribbling, focus, passing, receiving, shooting, speed, strength, resilience and more.
"Coach-AI's unique technology is based on AI, computer vision and advanced machine learning capabilities", explained Dr. Thomas Bader, CTO of Coach-AI's AI labs. "It allows us to perceive comprehensive human-centered scenes and grasps their physical, cognitive, and emotional aspects. By combining those capabilities with professional knowledge of teachers, it allows building AI teachers that analyze students and provide personalized feedback on how to improve in real-time. The technology allows us to understand complex human actions and activities, interactions with dynamic objects and environments as well as interactions with virtual objects in Augmented Reality environments. This combined with a powerful mobile processing engine allows us to create virtual and real training grounds everywhere."
Perfect Play offers the ability to start training for free, with access to a limited number of training games. Perfect Play Premium offers unlimited access to the full program and masterclass content, enabling players to create a personal training plan based on their individual needs. The Perfect Play app is currently available to iOS users in the U.K. and the U.S. Next month it will be launched for Android systems as well.
"Perfect Play truly is unique, allowing kids across the globe to access professional-level coaching developed by one of the best academies in the world," added Christian Pulisic, Chelsea and U.S. national team star.