Future Meat wins Calcalist's FoodTech innovation startup contest
The sectors the competition focused on included food technology, agriculture technology, health, supply chain optimization, consumer experience, direct sales, and marketing innovation
Future Meat Technologies Ltd. was crowned Wednesday as the winner of Calcalist's startup contest, in partnership with Tnuva, aimed at finding the next great FoodTech innovation.

The biotechnology company that develops tech for the GMO-free production of meat directly from animal cells, without the need to raise or slaughter animals, beat out Amai Proteins Ltd., which produces sweet proteins as sweeteners and sugar substitutes for the first place. NextFerm finished in third place with its active ingredients products for the food industry.

The team of judges together with accounting firm Somekh Chaikin, KPMG's member firm in Israel, had previously selected 11 leading companies among dozens of entries to take part in the final event.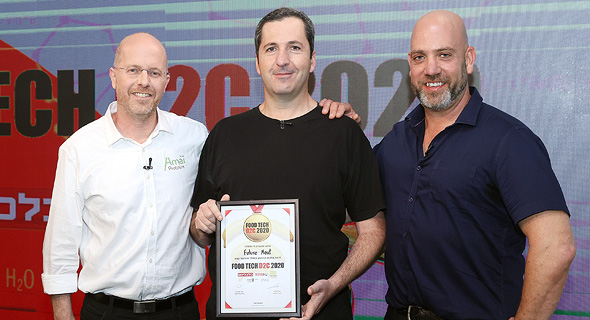 The top three winners in Calcalist's FoodTech innovation contest, (from right) Boaz Noy (NextFerm), Yaakov Nahmias (Future Meat) and Ilan Samish (Amai Proteins). Photo: Orel Cohen

The sectors the competition focused on included food technology, agriculture technology, health, supply chain optimization, consumer experience, direct sales, and marketing innovation.

The judges who determined the winners were Prof. Marcelle Machluf the Dean of the Faculty of Biotechnology and Food Engineering at the Technion - Israel Institute of Technology, Calcalist publisher Yoel Esteron, Tnuva CEO Eyal Melis, OurCrowd partner Liat Sverdlov, Yanai Oron a managing partner at Vertex Ventures, Tami Miron the CTO of the Fresh Start FoodTech incubator, Eyal Rosenthal a partner at Finistere Ventures, Shai Cohen CINO & Head of the Corporate Innovation Unit at Tnuva, Oren Avrashi CSR and Innovation manager at Tempo beverages, and Ron Tzadok, representing Dina Pasca-Raz, partner and Head of Technology at Somekh Chaikin as the accompanying accountant.

"While we at Tnuva are making the necessary short-term adjustments due to the Covid-19 pandemic, we also continue to look forward into the future," said Tnuva CEO Eyal Melis. "Tnuva is a leader in two of the main revolutions in the food industry in Israel: the fourth industrial revolution, meaning smart factories that use Big Data and AI in the manufacturing process, and the alternative protein revolution which is the result of trends like animal welfare, sustainability and health. There are over 1,000 companies currently operating in the alternative protein market. The sales of this market have jumped by 600% during the pandemic compared to the animal protein market. Almost 60% of Israeli consumers include alternative protein in their weekly diet."

Future Meat CEO Yaakov Nahmias, founder of the Center for Bioengineering at the Hebrew University of Jerusalem, spoke of the reasons behind the incredible growth of alternative protein consumption.

"Meat is a fundamental part of human culture. But meat consumption has reached a peak that we no longer have enough space, water, and even food to grow the cows we want to eat. In addition, growing livestock creates 16% of the world's greenhouse gases and that is the reason that the market of meat alternatives is growing massively," said Nahmias.