Israeli tourist agency seals exclusive deal with Emirati luxury hotel chain
The price for a five-day family package, which includes return flights from Tel Aviv to Abu Dhabi or Dubai, will stand at $1,389-$1,639 per person
The diplomatic agreement between Israel and the United Arab Emirates (UAE), announced last week by U.S. President Donald Trump , has not yet been signed, but some are already trying to monetize it.

Tel Aviv-based tourism agency Aviation Links Ltd. announced Tuesday it was the first Israeli company to secure an exclusive deal with a chain of luxury hotels in the UAE. The deal was signed with five-star chain Rixos Hotels, which operates four hotels in the UAE—two in Dubai and an additional two in Abu Dhabi. The chain is currently setting up three additional hotels in the country.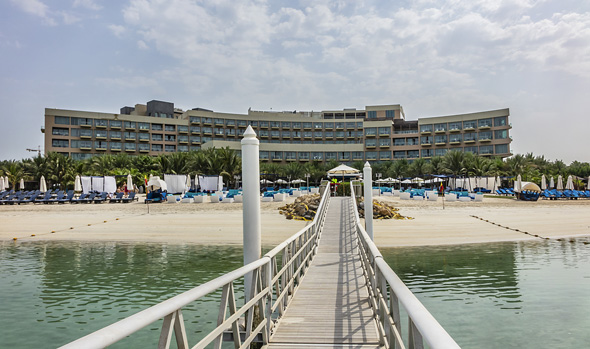 A Rixos-owned hotel in Abu Dhabi. Photo: Shutterstock
The planned peace treaty gives a shot of optimism to the tourism industry at its toughest hour, Aviation Links' Chief Marketing Officer Nir Mazor said in a statement.
According to Mazor, the company will begin to market vacation packages to those Israelis already allowed entrance to the UAE by special visas as early as the Jewish High Holidays that take place starting mid-September. Once the treaty is signed, he said, the company will begin to market the package to the general public in Israel.
The price for a five-day family package, which includes return flights operated by Turkish Airlines from Tel Aviv to Dubai or Abu Dhabi, will stand at $1,389-$1,639 per person.
"United Arab Emirates" Tourism Dubai "Abu Dhabi"