Teva stock plummets by double figures on back of U.S. government kickback lawsuit
The Department of Justice accuses Israeli drugmaker of using kickbacks to boost sales of its multiple sclerosis drug Copaxone, as well as causing the submission of false claims to Medicare
An investigation against Teva Pharmaceutical Industries Ltd. that began in 2017 became an official lawsuit on Tuesday when the U.S. government sued the Israeli drugmaker, accusing it of using kickbacks to boost sales of its multiple sclerosis drug Copaxone, as well as causing the submission of false claims to Medicare.
The complaint was filed in a Boston federal court, with the Department of Justice saying that Teva covered payments to Copaxone patients between 2006 and 2015 reaching a total of more than $300 million by transferring money to two seemingly independent charitable foundations. The payments were meant to cover the patients from a quadrupling of Copaxone's price to $73,326 a year.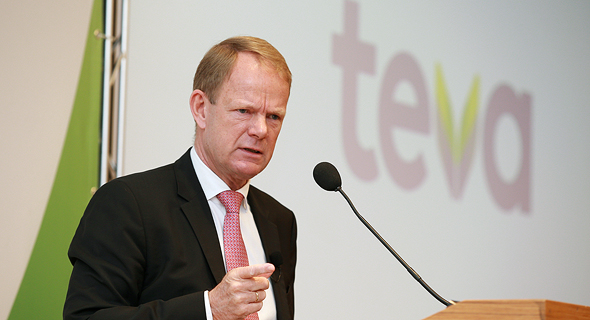 Teva CEO Kåre Schultz. Photo: Avigail Uzi
Teva has mentioned the investigation in its quarterly reports over recent years but has yet to officially set aside funds for a possible fine. Teva's stock on the New York Stock Exchange plummeted on the news, falling by more than 14% at one stage and being traded under $10.
"Unbound by any market check on pricing due to its payment of illegal kickbacks, Teva left American taxpayers to shoulder the high prices that Teva set for Copaxone, while Teva reaped for itself the resulting profits," the complaint said.
The government is seeking triple damages for violations of the federal False Claims Act.
"The company has always been committed to the health of the patients and to make drugs accessible, including ensuring accessibility to treatments for patients suffering from multiple sclerosis," Teva said in a statement. "The charity program to assist multiple sclerosis patients was meant to support the patients requiring different treatments, doing so by giving to independent charity organizations that helped patients get access to drugs they were prescribed by their doctors. This lawsuit filed by the Justice Department regarding these charity donations is only trying to limit even further the accessibility patients will have to important drugs and health services. The company will vigorously defend itself against these claims."