Diagnostic Robotics partners with Mayo Clinic to implement AI-based triage tools
The automated predictive patient triage system helps speed up patient intake and doctors' decision making
Diagnostic Robotics Ltd. has announced a new collaboration with the world-renowned Mayo Clinic, a U.S.-based nonprofit academic medical center. The collaboration will implement Diagnostic Robotics' AI-driven prediction and triage platform in the clinic's campus in Rochester, Minnesota.

The automated predictive patient triage system uses AI alongside a questionnaire to perform clinical intake of patients who are visiting emergency rooms, care clinics, or who are restricted to their home. The staff can then review the self-reported conditions and suggest different diagnosis depending on the risk score for each patient. The process is expected to help physicians with their decision-making and optimize emergency room visits.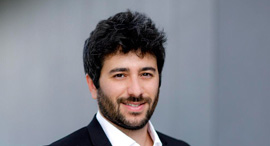 Yonatan Amir, co-founder and CEO of Diagnostic Robotics. Photo: Omer Hacohen

"Our mission at Diagnostic Robotics is to improve patients' experience and support healthcare providers by creating seamless, data-driven interactions that reduce administrative burdens and curb the costs of care," Yonatan Amir, co-founder and CEO of Diagnostic Robotics said in a statement. "We are excited to collaborate with Mayo Clinic and implement our triage platform, this collaboration reflects the synergy between our technological vision and Mayo Clinic's cutting-edge medical expertise."

Mayo Clinic has three locations: Minnesota, Jacksonville, Florida; and Scottsdale, Arizona. Its focus is on patient care, education, and research. Diagnostic Robotics was founded in 2017 by Amir alongside Kira Radinsky, Moshe Shoham who also serve as Director of Data Science and CTO. To date, it has raised $24 million in series A funding.