Swimming in cash: These socialist millionaires make robots to clean the pools of the world's wealthy
Maytronics, a pool cleaning robot company owned by a communal kibbutz, recently became one of the strongest companies on the Tel Aviv Stock Exchange
In recent months, Israel has seen its share of protests. From demonstrations calling on Prime Minister Benjamin Netanyahu to resign after being prosecuted on several corruption charges, through a social workers' strike, and up to restaurant and club owners fighting to keep their businesses alive amidst the constantly changing anti-coronavirus (Covid-19) regulations, it appears Israelis have taken to protesting as part of their weekly schedule.

One of the hottest protests of late, quite fittingly to Israel's summer climate, is the fight to open up the Amal River (also known as the Assi River) to public access, specifically the part that runs through the gated Nir David kibbutz. The protests reignited old feuds within Israeli society, including those accusing kibbutzim of racism, elitism, and the taking over of public property.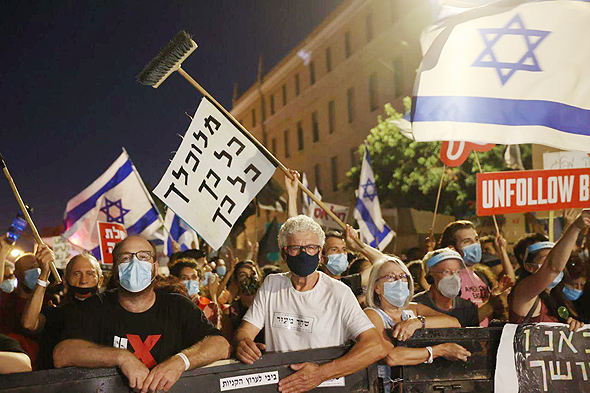 Anti-Netanyahu protests in Jerusalem. Photo: Amit Shabi

In an interview in the early 1980s, then-Israeli Prime Minister Menachem Begin, known for his criticism of what he perceived as the old left-wing elites, described kibbutzim members as acting "like millionaires lolling around their swimming pools."

This same sentiment is the main fuel behind the Nir David protests. Unlike Nir David's members, the residents of neighboring kibbutz Yizre'el are in fact millionaires but in their case, the swimming pools belong to other people around the world. The kibbutz is just making money off of them and a lot of it.

Yizre'el is home to Maytronics Ltd., which serves as its main source of income. Maytronics produces the robots that clean around half of the private pools that are not cleaned manually around the world and more than a third of public pools worldwide.

Earlier this month, Maytronics became the first kibbutz owned company to be listed on the TA-35 Index, which lists the 35 largest companies on the Tel Aviv Stock Exchange (TASE). Yizre'el holds a 60% stake in the company, whose market capitalization reached NIS 5.5 billion (approximately $1.6 billion) this week.
A factory worker constructs Maytronics' cleaning robot. Photo: Elad Gershgoren

In other words, the 293 kibbutz members have, between them, an asset worth around NIS 3 billion (approximately $882 million). The kibbutz also enjoys a dividend in the form of rent for the structures used by the company and salaries to the 37 members who are also among Maytronics' employees.

Still, Yizre'el is one the last kibbutzim to stay true to their socialist ideology and maintain a communal economic model. Every kibbutz member—whether they are company executives, dairy farmers, or a manufacturing line worker—gives their entire paycheck to the kibbutz and receives a stipend.

In addition to local workers from within the kibbutz, Maytronics employs people from neighboring towns, including Beit Shean, whose residents are leading the Nir David protests. This is worth mentioning because Yizre'el presents a different angle on the relationship between the kibbutzim and the rest of Israel's society.

It offers an additional perspective through which to examine separatism, integration, private water, and public companies. It is an example of extraordinary success outside the business centers of Tel Aviv or Jerusalem, of a way of life that insists on remaining modest, even in light of great capital, and the everlasting tension between ideologies when it comes to money.

"It's great that 99% of the people in the world are capitalists," Shimon Zelas, formerly the general manager of the Kibbutz and currently a board member at Maytronics, told Calcalist in an interview. "They have their private pools and they buy this product from the socialists," he added.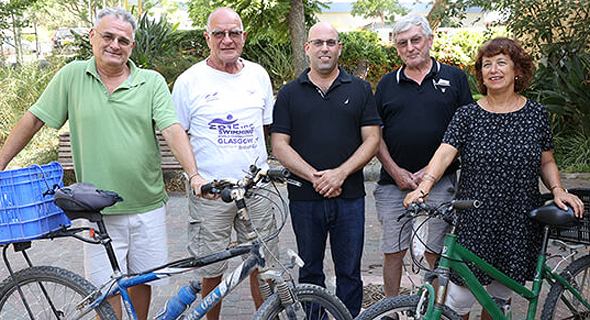 Members of Kibbutz Yizre'el. Photo: Elad Gershgoren
Summer is always a busy time for Maytronics' manufacturing lines as it correlates with an increase in private pool sales. This year brought another boost as Covid-19 sent everyone to shelter at home, driving those who can afford it to get a backyard pool. According to Reuters, during the pandemic, demand for pools skyrocketed, reaching unprecedented demand in warm areas around the world.
Maytronics also enjoyed this wave as sales of Dolphin, its pool cleaning robot, soared. If you are so inclined, you can watch Dolphin in action at the testing facility adjacent to Maytronics' manufacturing plant. With an array of pools and smaller water containers, set between already-yellowing fields, the testing facility is a sight to behold in the burning heat of August.
One of the pools holds a Dolphin—a small colorful box that slightly resembles a toy tank and has a long electric cord tail hanging behind it.
When, as part of the demonstration, sand is introduced into the pool, the Dolphin begins to move through it intently—vacuuming, filtering, and climbing the walls. A little bit like schoolchildren on summer vacation. The other containers hold robots manufactured by Maytronics' competitors, to see how well they hold up against the Dolphin.
While the Dolphin is Maytronics' flag product, the company also offers automatic water-powered pool covers and an anti-drowning alarm system. The company has additional plants at the Dalton Industrial Park in Northern Israel and La Ciotat in southern France.
The Dolphin comes in different sizes to accommodate various pools and is priced at $500-$1,500. Hundreds of thousands of units are sold every year in Europe (which accounted for 45% of sales in 2019), the U.S. (39%), Australia and New Zealand (11%), and around the world. As of now, most private pools do not have a cleaning robot, so the market's potential for growth is massive.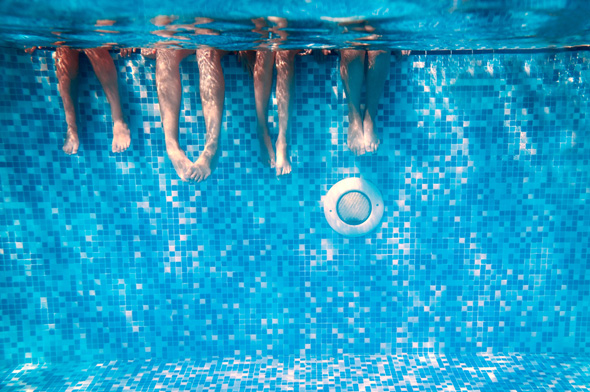 Priavte swimming pools are gaining in popularity. Photo: Shutterstock
When Yonatan Bassi joined Maytronics as chairman about 10 years ago, its market cap was just NIS 230 million (approximately $60 million at the time). Last week, he pushed the virtual button to start the trading day on TASE to mark the company's listing on the TA-35 Index.
Bassi, 72, resides in neighboring religious kibbutz Ma'ale Gilboa. He has a long career behind him, serving as a military officer, an editor of the writings of Italian Jewish scholar and poet Samuel David Luzzatto, the manager of the industrial area of the kibbutzim in the Beit Shean Valley, the director-general of the Ministry of Agriculture, and chairman of both Tel Aviv-listed citrus company Mehadrin Ltd. and Israel's statutory authority on chicken farming.
Yet, Bassi, who also chairs the Kibbutz Industry Association (KIA), is best known for heading the administrative division entrusted with compensating Israeli Gaza Strip settlers that were relocated during the Israeli disengagement from Gaza in 2005. His involvement in the operation made Bassi a target of criticism within the religious Zionist community, including in his home kibbutz Sde Eliahu.
According to Bassi, he joined Maytronics out of curiosity. "I wanted to understand how the combination between a public company and a kibbutz company works, how a communal organization composed of people making decisions together can also hold an incorporated public and hierarchical company," he told Calclaist.
And, how does it work?
"In the past, Kibbutz members were completely unaware of what happens on the stock exchange, but now they know more and are more involved. They are very proud of Maytronics and its achievements. When someone asks them where they are from they say 'Maytronics' kibbutz.' Still, the two entities are run separately.
"We don't ask what the kibbutz does with its dividends and the kibbutz does not interfere with the company's rhythm. We are a hierarchical company, run according to the relevant regulation, and not a cooperative. The decisions are business-oriented, even if that means firing one of the kibbutz members.
"That aside, when the owners of the company are not the rich but the dairy farmer, the chicken farmer, and the crop farmer, it is a much better feeling to help them enjoy the fruits of the company."
Dividing the fruit is the easy part but including the farmers in the decision-making process is another thing. Bassi, on the other hand, looks at the big picture and the future.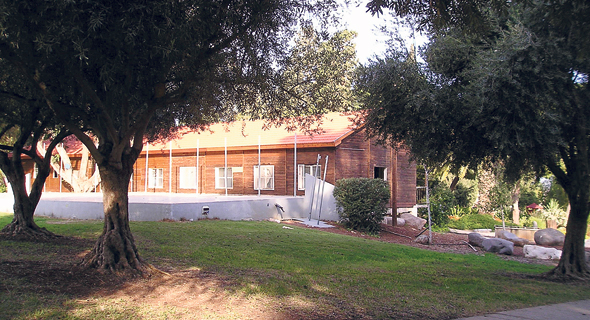 Kibbutz Yizre'el. Photo: PR
"We have a lot of room to grow," Bassi said, "and not just at the expense of our competition. Right now, there are cleaning robots in 4 million private pools worldwide and 20 million additional private pools have no robots. This means we are looking at an open ocean, a market of unlimited size. Today, pool owners are the ones cleaning the pool, removing leaf after leaf that falls in. Either them or their employees, for example in southern U.S. states it's mostly workers from Mexico doing the cleaning. So, we have where to grow. Instead of cleaning out leaves manually, just throw a robot in it once a week."
Maytronics' CEO Eyal Tryber is also optimistic about the future. "We haven't even started yet," he said in an interview with Calcalist. "What you are seeing now is nothing compared to this company's potential. It is a market that is lacking in terms of technology, it lacks automatic cleaning and smart water management systems," he said adding the magic number already mentioned by Bassi: "20 million pools have no robots at all."
So, the dream is a dolphin in every pool?
"We won't rest until every pool owner in the world will no longer ask themselves why they need a robot, just like you don't ask why you need a cell phone or a refrigerator."
Tryber, 55, is very enthusiastic. "I have the energy of a small child left in a room full of toys and it just makes me so excited to have so much more to do," he said.
Tryber, who has led the company since 2015, was born and raised in a kibbutz in the area, Beit Alfa, and currently lives in Shimshit, a village near Nazareth.
The company went public in 2004 and Tryber views its listing on the TA-35 Index as just another landmark. "It's not like I got up in the morning five years ago and asked myself how I can turn the company around to get into the index," he said. "I'm not inflating a balloon here and am not selling us as anything other than who we are," he added. "We do the work, we do it right, and we set our sights high."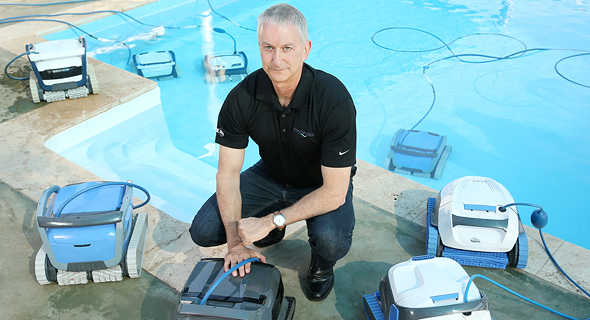 Maytronics' CEO Eyal Tryber/ Photo: Elad Gershgoren
In 2011, as Maytronics' vice president of sales and marketing, you saw the kibbutz turn down a NIS 350 million (approximately $90 million at the time) offer to sell its stake in the company to American pool equipment giant Hayward Industries Inc.
"It was not an obvious decision to make. Maytronics was in the middle of a crisis because of an investment in a French water company that did not go well, but the kibbutz put the decision to a vote. In the end, it's a company that was established in its own backyard and has been paying the bills even when the kibbutz didn't have many other assets.
"Not everyone has the knowledge and the ability to analyze market trends, this decision was more about gut instinct and confidence in the team leading the company."
Looking back, it seems to have been the right decision but getting to this point was difficult and one of the company's major challenges is having owners that don't come from the business world.
"We are physically situated in the kibbutz but we are almost completely detached from it," Tryber said, "and, yet, its members are the owners. Some kibbutz members, who have a background in finance and management are board members and some decisions are made in the kibbutz's general assembly.
"At times, the average kibbutz member finds it difficult to wrap their heads around the company's development and pace. By the time the kibbutz approves one thing, we are already at a different place.
"Sometimes members also have a problem with the number of outsiders here who dine in their communal mess hall or take up parking spaces. We also had a problem finding enough employees in the area and, for all these reasons, we opened our next factory in Dalton."
Despite the hardships, this kibbutz-public company hybrid seems to be working.
"It has a lot to do with the people here and the kibbutz's DNA. Everything is done at eye level, without any aggressiveness or ego. Everyone is sensitive to the needs of the other side. We reached a very beautiful and balanced formula here that I view as a case study for proper management."
Needless to say, it works better when kibbutz members also make a lot of money.
"Maytronics pays two-thirds of its annual profits as dividends to shareholders, so Yizre'el gets several tens of millions of shekels a year."
To be exact, for 2019, the kibbutz got NIS 43 million (approximately $12 million) and for the first half of 2020, it got NIS 17 million (approximately $5 million).
"These numbers are on top of the rent the company pays the kibbutz for its facilities and the salaries paid to employees that are also members," Tryber said. "All in all, Maytronics is the kibbutz's main source of income."
Out of the nearly 500 Maytronics' employees in Israel, there are almost 40 kibbutz members who work for the company in various roles, from manufacturing line to management.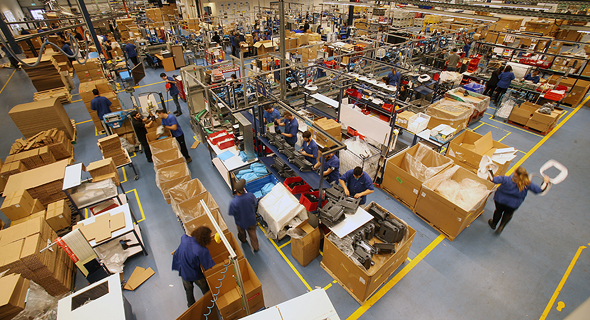 Maytronics's manufacturing facility. PHoto: Elad Gershgoren
They are, in fact, millionaires, yet they show up for work like any other person?
"They are millionaires on paper. It is still a kibbutz and it is not like all of the money goes into members' packets. At the end of the day, you wake up in the morning, you have your coffee, and you go to work."
Every once in a while, the kibbutz rakes in a handsome sum. In 2017, Yizre'el sold 5% of Maytronics' shares to Israeli institutional investors and a part of the sum was handed out to members, according to seniority. Some got as much as NIS 200,000 (approximately $50,000 at the time), but those are also the people who have been with the kibbutz the longest and remember the road it took to get the company to where it is today.
The story of Maytronics, as they tell it, started in 1983 with a kibbutz member called Lenny Hirsch who saw a commercial for pool cleaning robots in South Africa and convinced the kibbutz—which was at a very difficult financial situation at the time—to buy the patent and develop it further. The 38 years that passed were not easy and Hirsch eventually left the kibbutz.
Like Hirsch about a third of the early members of Yizre'el immigrated from Anglo-Saxon countries, mainly South Africa, Australia, and New Zealand. Since then, there have been several waves of immigration from these countries directly to the kibbutz. The members who spoke to Calcalist came in one of these waves in the early 1980s. This period, the early days of Maytronics, was rough.
Jeremey Furling, 60, is a native of South Africa and the former business manager of Yizre'el. He was among Mytronics' founders and headed its development efforts for 16 years. Now, he is a member of the company's board and is responsible for solar power at the kibbutz.
When he first came to Yizre'el the kibbutz was in so much debt—around NIS 120 million-NIS 130 million—that its entire cash flow didn't even cover the interest on it, Furling said.
"These were the darkest years for the kibbutz, Ruchale Matalon, a 59-year-old teacher and former kibbutz secretary, said. "Anyone who could leave did," she added. Dozens of members left at the time, she said, and those who stayed were motivated by ideology.
And yet when Hayward's offer came, you refused to sell Maytronics.
"The amount they were offering seemed astronomical to us at the time," Matalon said, "but the members still voted—and with a big majority—against selling."
"If Hayward would have been willing to settle for just 50% of our stake, I think the members would have voted yes," 73-year-old Peter Pezaro, former head of acquisitions at Maytronics, said. "The members did not want to give them 100% because it was our baby."
"The decisions at the kibbutz are not just financial, this isn't Tel Aviv," Furling said. "We let people work on things that help them fulfill themselves," he said. "We even tried hot stone healing. It brought in very little revenue but people were happy about it."
Is that why you still have a dairy barn?
"It's true that it doesn't bring in too much money, especially not compared with the company," Matalon said, "but there are some things you just need to have."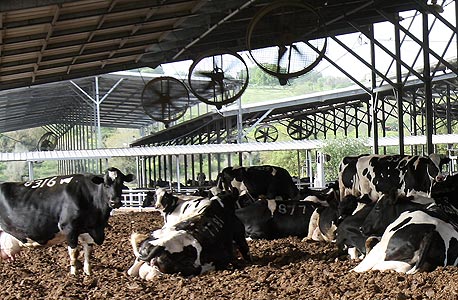 Dairy cows on a Kibbutz. Photo:Nadav Glickman
Zelas, who was quoted earlier about capitalists buying socialist robots, mentioned the location of the dairy barn—right outside Maytronics' facility, "complete with all the mud and the smell." According to him, you can't take the dairy barn out of Yizre'el, "there is just no way."
And what if someone offers to buy the kibbutz's stake in Maytronics' for 10 billion?
"If we're talking dollars, we'll consider it," Furling said, "at least I will. But when we put it to a vote in assembly and everyone gets a vote, in the purest form of democracy, with 70% of them voting emotionally—I'm not sure it would make the cut. It comes from the heart, would you sell your baby for that sum?"
Wouldn't each member start to fantasize about how much they would make from such a sale?
"We are a communal community," Pezaro said. "Each of us might be worth something on paper, but not one of us could monetize it. You can't just sell your part, it's of the kibbutz and we are of the kibbutz."
But why would an exit be so horrible for the kibbutz?
"We are not a venture capital fund," Furling said. "With Maytronics, we get security, he explained, "if you butcher your cow you'll have good steaks that day, but you won't have any milk for your children and grandkids."
According to Furling, most of the money from Maytronics doesn't reach the personal pockets of members. "It goes towards the development of the kibbutz, towards infrastructure, we are now building a new residential area," he said. "We can't have one generation make an exit and leave the next generation in the mud. They shouldn't have to start over again."
According to the company's current market cap, each one of you is worth around NIS 10 million (approximately $2.9 million).
"Who cares," Pezaro said, "it's just on paper." "Also," Furling added, "20 years ago, each of us had NIS 1 million (approximately $294,000) in debt."
Not much has changed in 20 years, according to Matalon.
"People still get up in the morning and care about what they do for a living," she said. "We live communally and our personal allowances have not grown dramatically, our houses didn't get much bigger, and our standard of living is a bit better than in other kibbutzim, but not by much. We might end up as the last communal kibbutz, but we're hanging in there."
There was a time when privatizing kibbutzim was very trendy, Furling said. "Most of the people here did not want that," he said. Those who felt they should get more because they contribute more, in their eyes, went to wherever it is you get more when you contribute more, he added.
"We maintained about the same standard of living," he said, "with a monthly allowance of NIS 5,000 (approximately $1,500) for each couple. The Mytronics' dividends add an average of NIS 5,000 a month per household."
Also, Pezaro said, 10% of the plant's net profits are divided among all employees no matter their rank. "I am very happy about this socialist approach," he said.
The kibbutz members also get an occasional bonus, the sums of which they refuse to disclose. The bonuses Yizre'el members who are also Maytronics' employees receive are put into the kibbutz's treasury and distributed among all members, Pezaro explained.
Furling is also very proud of the way the company operates. "There aren't too many companies out there that take some of the money that would have otherwise reached the owners' pockets and divides it among employees," he said. "It's a practice that we brought to the company from our own way of life, and I am proud of it."
And what does the kibbutz do with all the money it makes from Maytronics?
"We are now investing NIS 3 million (approximately $880,000) in our music house," Zelas said. "We are the state champions in Rugby, Anglo-Saxons' favorite sports, so we are investing in playing fields, it's important to us. We use it for nice things that are more than just a house, a fridge, or a television set."
"Our standard of living is not very high," Matalon said, "but our quality of life is. I come home and I don't need to do the laundry or make dinner. I have time for hobbies, for doing whatever I want to do, and that, in my eyes, is the best reason to live here in the kibbutz, that and the quality of education."
So, the communal concept is actually a privilege reserved for the rich?
"Yes," Matalon said, "but we are relatively liberal. Some communal kibbutzim are very strict but we knew how to adjust to the times."
All of a sudden, Matalon stops the interview. "I am sorry, I have to go," she said. "We are celebrating the kibbutz's 72nd anniversary with a Zoom cooking workshop," she explained. "We got a big basket with all the ingredients."
Aren't you celebrating the listing on the index?
"I don't think most of the members have any idea about the index," Furling said. "It is very interesting for people out there, in the capitalist world, but, here, they don't care about that. The bonuses only come from profits and not from market caps anyway."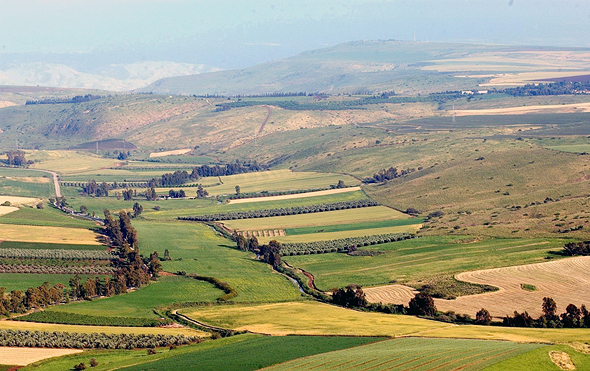 The Yizre'el Valley in northern Israel. Photo: Elad Gershgoren

A communal kibbutz is somewhat like a retirement home. Yizre'el's communal mess hall, for example, serves three meals a day, every day. That is, normally. Now, with Covid-19, it hands out prepackaged individual servings three times a day. The kibbutz also handles the laundry and most other chores people in other communities have to worry about when they get back from work.

As such, it is no wonder that life there is very convenient for older members. Younger ones, who did not necessarily choose to live there for ideological reasons, tend to find some aspects more difficult.

Anat Fridman, 41, for example, is a relatively new member. She came from a town in the Haifa area and moved to Yizre'el just six years ago when she got a job at Maytronics' human resources department.

"Before, I was working to bring money home," Fridman told Calcalist. "Now, I do the same thing but differently," she said. "I have peace of mind here, there is high-quality education for the kids, a lot of freedom, and a very strong sense of friendship and community, the importance of which became evident with Covid-19," she explained.

But, Fridman said, this structured way of life is not for everyone. "If you want to study at a university, for example, you need to get the kibbutz's approval," she explained.

"We feel rich thanks to where we live," Shahar Sfadia, who married into Yizre'el, told Calcalist. Sfadia is in his forties and works as a product manager for Maytronics. "The wealth here is not made of money, it is made of people and their surroundings," he said.

"My family and I, my kids, we feel safe here," Sfadia said. "I love this place and these people and it's the way we chose to live our lives," he added. "All this talk of millionaires is just words to me, he said. "If they sell we might see some of it but people stay here for the way of life," he added.

Living in Yizre'el is a dream come true, sixty-year-old Albert Rosillio, who heads the training program at Maytronics, told Calcalist. "To wake up every morning and see hot air balloons from your window, to see this beautiful valley," he said.

"Living in Tel Aviv or Ra'anana doesn't do it for us. We have a mess hall, great education, excellent conditions for soldiers and for people who want to go to the university," Rosillio explained. "The kibbutz supports us," Rosillio said, "there is no way I would leave a place like this."

Rosillio has one daughter who got married and left for Australia but his two sons are still in Yizre'el "and are loving every minute."

This type of local patriotism is a recurrent subject in my conversations with Yizre'el members. "Look at this pool," Ariel Brin Dolinko, CEO of the kibbutz's holding company Yizrael Holdings Ltd., said.

Is Maytronics spoken about in the kibbutz? Are there arguments concerning, for example, the management, executive salaries, or the way dividends are distributed?

"No. There are arguments about the grocery store's opening hours. It is closed on Tuesday but sometimes you just need milk or eggs so some people want to extend the opening hours. There are also arguments about dogs, whether it is acceptable to let them run about without a leash, or say your dog pooped in my garden, we can fight over these things for years."

And nobody wants to leave?

"If someone wants to leave, it would be for social or familiar reasons. Most of the people here would make higher salaries outside the kibbutz. We have members that were Maytronics' CEOs and they would make a lot more on the outside.

"But, here, nothing belongs to a single member. Whoever leaves will have nothing but the shoes on their feet and a severance pay calculated as if they were employees. A couple in their forties with two children, for example, if they leave after 15-20 years of membership, the whole family would get just NIS 250,000-NIS 300,000 (approximately $7,350-$8,820)."

So, it's a honey trap. Here you are worth NIS 10 million (approximately $2.9 million) and out there you would have nothing. You can't really choose to leave.

"You can, just not for the money."

Members aren't really enjoying the money right now.

"We don't get a Ferrari in the garage, hardly even a Kia Picanto and the head of community services always says there isn't enough money. But we invest in education, in academic tuition for members, in new housing, in pensions, in expanding the dairy barn, in solar power—half our electricity is solar—and in establishing new companies for future revenue."

Why would you need a bigger dairy barn when you have tech?

"A dairy barn is a source of pride. We have an excellent barn, one of the best in the country."

Just as we discuss the possibility of me joining the kibbutz, Uri Gilad, who heads the acceptance committee, passes us by. "There are no apartments available now," he said. "There is a waiting list of people looking to join but construction will take a few years. We already have members living in apartments that are too small. The last time we accepted a family from the outside was 18 months ago. We want to accept new members, but it is hard."

What's the process?

"There is an acceptance committee. Even the grown offspring of members need to go through a two-year process at the end of which members vote whether they are compatible with our DNA and our approach," Brin Dolinko said.

"All that glitters is not gold," he said, "and living in a communal kibbutz is not that simple. We live with each other and decide things for each other. Academic studies, setting up a porch, everything requires the approval of other kibbutz members in various committees. So, we are looking for partners, people who would help us carry the load for another 20 years. If you know anyone like that, please send them my way."

Even younger members, like you, are not tempted by the possibility of an exit?

"I think it would be very difficult to pass such a proposal. People here don't look at the market cap. They see it as our workplace, our pride, our rent. It is the source of everything we have here and it would be difficult to give that away, even at a very high price."

And privatization is out of the question, even for the younger members?

"We choose, again and again, to remain communal. As a community, we develop assets and enjoy their fruit and that is part of my job. We don't make exits, we don't exercise, we don't let ourselves get blindsided."

So, it seems, privatization is not an option and neither is an exit and Yizre'el and Maytronics intend to continue their peculiar dance, complete with the tension between ideals and a public company, at least so long as both parties are happy with the arrangement.

The kibbutz has five board members at Maytronics and the members' assembly does not discuss anything that has to do with the company's operation, Zelas said.

Still, the lines are sometimes blurred. "Over the years, there were some amusing anecdotes of kibbutz members going to the CEO and offering their advice," Matalon said. "Some executives found it amusing, chuckled and moved on, but sometimes members confuse having voting rights with being able to tell the manager what to do," she added.

One source of continued tension is that, per Maytronics' policy, vice presidents get a car, but Yizre'el members don't, because any bonus goes back to the kibbutz. "Quite a few younger members left because they were not allowed to take the car," Matalon said.

Where does the company end the kibbutz start?

"When, on Saturday evening, you come to vote at assembly you are a kibbutz member," Zelas said. "On Sunday morning, as you go up the stairs to the plant, you're an employee."