Jerusalem-based BrainsWay receives FDA clearance for magnetic stimulation system to help smokers quit
TMS treatment involves sitting in a chair and wearing a helmet containing a patented H-coil for 20-minutes. The coil stimulates the brain by creating a temporary magnetic field that generates excitation or inhibition of neurons deep inside the brain
BrainsWay Ltd., which develops advanced non-invasive treatment of brain disorders, announced on Monday that it has received U.S. Food and Drug Administration (FDA) clearance for the company's deep transcranial magnetic stimulation (Deep TMS) system aimed at helping smokers quit.

TMS treatment involves sitting in a chair and wearing a helmet containing a patented H-coil for 20-minutes. The coil stimulates the brain by creating a temporary magnetic field that generates excitation or inhibition of neurons deep inside the brain.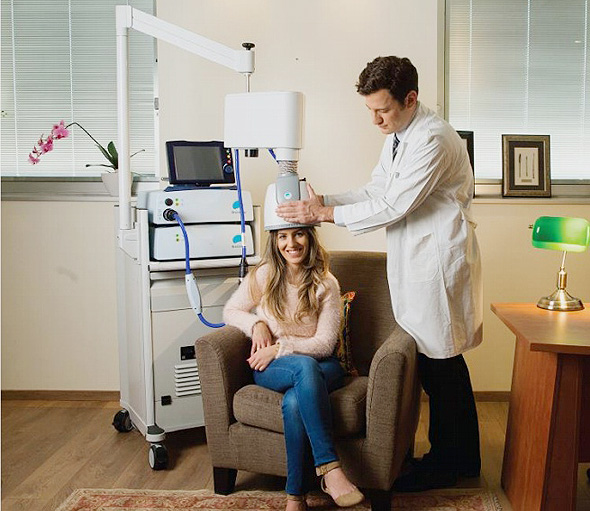 BrainsWay Deep TMS in action. Photo: BrainsWay
"Smoking is one of the leading causes of death in the U.S. and also leads to other serious conditions, such as lung cancer and heart disease. While other therapies are currently available, a substantial medical need continues to exist for treatments that can increase the continuous quit rate among smokers," stated Christopher von Jako, Ph.D., President and CEO of BrainsWay. "Based on the compelling data from our large, randomized pivotal study of 262 subjects, we are confident that our Deep TMS technology can play an important role in treating cigarette smokers who seek to quit. We look forward to executing a controlled U.S. market release of our newly cleared and proprietary H4 Deep TMS coil for this indication early next year."
According to von Jako, this is the first FDA 510(k) clearance in the addiction space for any TMS device, and it represents BrainsWay's third FDA-cleared coil and indication, following the clearance of the H1-coil for patients suffering from major depressive disorder and the H7-coil as an adjunct therapy for the treatment of OCD.
"This latest clearance cements BrainsWay's status as an industry leader, and further demonstrates our commitment to leveraging our platform technology to advance innovative therapeutic solutions across multiple patient populations," he added.