Analysis
Israeli-Emirati agreement could give ZIM's IPO some backwind
On Monday, it was reported the Israeli shipping company is considering to go public in 2021 and, according to several people who spoke on condition of anonymity, it is aiming for a $1 billion valuation
If and when Israeli shipping company ZIM Integrated Shipping Services Ltd. starts its initial public offering (IPO) roadshow in London or New York—as reported Monday—the planned normalization agreement between Israel and the United Arab Emirates (UAE) will likely play a significant role in it. This is due to the international status of Dubai's port as a global logistics center.

ZIM has been active in this port in recent years but has done so covertly. Peace with the UAE is expected to accelerate this activity and bring it out in the open. ZIM hopes the agreement will help it land collaborations with major shipping companies and deals with large international companies.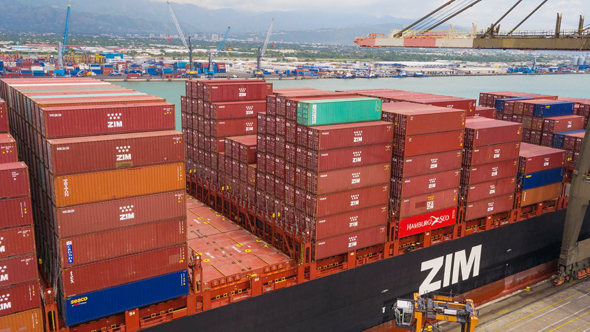 a fully loaded ZIM cargo ship. Photo: ZIM
So far, being an Israeli company has interfered with ZIM's business more than once, as some international companies were wary about openly working with it.
Emirati cargo and port logistics company, Dubai Ports World (DP World) is considered one of the largest in its field in the world, operating 82 terminals in 40 countries with a capacity to move between 70 million and 80 million cargo containers around the world every year.
ZIM has good ties with DP World and this could help it secure new routes to Africa and East India through the Persian Gulf. On its end, the Dubai-headquartered company is also interested in ZIM's cargo container monitoring technology.
Over the past few years, under CEO and President Eli Glickman, ZIM has made significant efforts towards the development of technologies, including in the fields of marketing and cybersecurity, that may have a positive impact on its performance.
While ZIM's issuance value is yet to be seen, several people familiar with the company who spoke on condition of anonymity told Calcalist it is aiming for north of $1 billion. This valuation for a company that has been on the brink of bankruptcy and has gone through two restructuring processes took investors by surprise, sending the stock of New York and Tel Aviv-listed Kenon Holdings Ltd.—which owns a 32% stake in ZIM—up 8% by market open Tuesday.
Now, it is left to be seen whether this time, unlike its two previous attempts, ZIM will go through with the IPO and become a public company. Another alternative could be a merger with a large international company.