Analysis
Airbnb charging ahead with IPO despite disastrous timing
Airbnb was valued as high as $31 billion at its peak but arrives at the stock market having to deal with the challenge posed by coronavirus as well as the increased hostility and question marks around the Gig Economy
It seemed that the disappointing tech IPOs of 2019, led by Uber and Lyft, and the collapse of WeWork, had calmed the IPO market and made investors more skeptical. The outbreak of the Covid-19 pandemic then completely cooled the market, but before we even managed to get used to this new reality, the cheap and carefree money celebration was already back underway. The first and most anticipated upcoming IPO is that of American vacation rental online marketplace Airbnb, which filed its application with the U.S. Securities and Exchange Commission last week.

The Airbnb IPO has been talked about for over a year, but was postponed due to Covid-19 and the serious blow the company suffered along with the entire vacation sector. In addition to the problems posed by the pandemic, Airbnb is also the last of a select group of companies like Uber, Lyft and WeWork, that rose out of the 2008 crisis and the recession that followed, that pushed the masses to a different kind of economy - the infamous Gig Economy. Airbnb was valued as high as $31 billion at its peak but arrives at the stock market having to deal with the challenge posed by coronavirus as well as the increased hostility and question marks around the Gig Economy.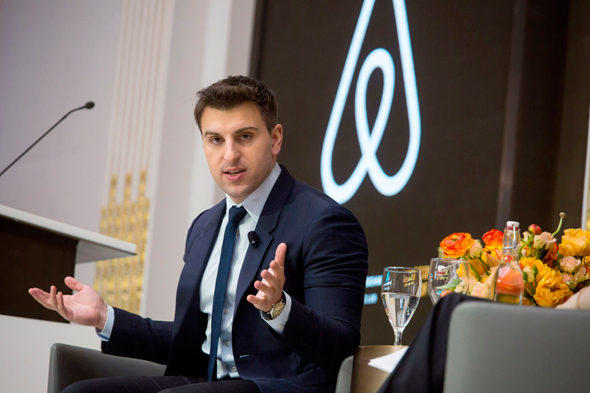 Airbnb CEO Brian Chesky. Photo: Bloomberg

1. The stock market's separation from reality

As opposed to the human and economic devastation that Covid-19 has brought to millions of people across the world, the U.S. stock market has seemingly recovered unscathed. Wall Street isn't Main Street and the S&P 500 and Nasdaq are already back scaling their pre-pandemic heights. Most of the momentum has been provided by the tech stocks, which surged more than usual due to the work from home economy and became a safe harbor for investors. That resulted in Apple becoming last week the first company to reach a value of $2 trillion, completing a rise of 120% since the start of the pandemic in the U.S. In that same time Tesla stock rose 470% and tech giants Amazon, Microsoft, Alphabet and Facebook all climbed by between 49% and 100%.

On the backdrop of these increases and investors being attracted to anything that has any connection to technology, several startups announced their plans for an IPO. These companies include the likes of Snowflake Computing, food delivery app DoorDash, work management software company Asana, supermarket delivery provider Instacar, and Peter Thiel's software company Palantir. It is estimated that over the coming months, while the U.S. is still battling the pandemic and its ramifications, another $80 billion will be making its way to America's stock markets.

This sum is still nowhere near the magnitude of the dot.com bubble, and obviously, the world isn't required to remain at a standstill during a pandemic, but there is still something jarring about these IPOs during a time in which the economic and social reality is so delicate. Not only are none of these companies profitable and there is no way of knowing when they might be, but many of them are also operating in regulatory uncertainty, whether it be the lack of a worker-employee relationship at DoorDash and Instacart or the question marks and limitations hovering around Airbnb's model.

2. Unstable regulatory environment

Airbnb is a very non-intuitive candidate for an IPO. The company operates in a market that has been almost completely paralyzed due to Covid-19 and it has been making an effort over recent months to cut its workforce and become more efficient. But it is pretty hard to feel bad for Airbnb after a long list of studies have shown time and again the devastating impact it has had on local communities in which it rents apartments and rooms, including harming the supply of apartments in the U.S., hurting the affordable housing market, pushing up prices and making it increasingly difficult for young people to find housing in big cities.

These negative ramifications have pushed regulators in many countries to place heavy taxes on such companies and ban short-term rentals. And all of this is happening while the company is facing difficulties in maintaining the guests' and the hosts' safety and seeing its name pop up in numerous cases indicating systematic fraud and discrimination against renters.

And amid all of this, Airbnb is heading to an IPO. It is one thing to manage a large number of court cases across the world trying to avoid paying taxes and to act under regulatory uncertainty, after all that is a risk every Gig Economy platform accepts while spending a fortune on an army of lobbyists. But what about the new reality of Covid-19 which has completely shaken its activity, limiting tourism travel and resulting in an 85% drop in new orders on the platform (according to analytics company AidDNA)? And what about the decision of many countries to ban short-term rentals in order to prevent the spread of the virus? How is Airbnb daring to embark on an IPO in these conditions when the failed IPOs of other Gig Economy unicorns are still fresh in the memory of investors?

3. Waiting for the storm to blow over

The answer, according to many investors and analysts, is the belief in the market's long-term health. That isn't a completely wrong answer. At its base, Airbnb is a stable and attractive business, regulators are acting slowly and the customers love the product. But mainly, it is those who rent out properties, the people who make Airbnb such an attractive asset, who don't really understand what business they are operating. If your business depends on a specific platform, you don't actually have a business. The property owners are living in a fantasy world that they are in control, but just as Uber drivers charge according to the prices dictated by the company and the same way Amazon can remove or hide products on its platform, renters on Airbnb are also at the mercy of the company's whims.

When the pandemic started Airbnb decided to allow cancelations without charge without even addressing the matter with the renters. At the same time, it fired 1,900 employees, raised $1 billion and cut its expenses to enter something of a coma as it awaits to return to real activity. In the meantime, many renters are suffering after being tempted to invest in their asset in a belief that they would be making money off Airbnb. Now these clients have no way to return their investments and some of them have found themselves in what they are calling the Airbnb apocalypse. According to a study conducted by GlobalData, many renters have already moved to a long-term or monthly-based rental model, which may be less profitable but are more secure. As long as the renters have to deal with the risk by themselves while Airbnb is left with all the glory, the company's IPO may seem odd, but is nevertheless an opportunity for early investors to realize profits.