Koch's tech investment arm leads $45 million funding round in ProteanTecs
The Israel-based electronics health monitoring services company aims to use the capital to expand its business activities
Israeli startup ProteanTecs Ltd. announced Thursday that it has completed a $45 million financing round. The round was led by Koch Disruptive Technologies (KDT), a subsidiary of Koch Industries, one of the largest private companies in the world, alongside investments from Atreides Management, Valor Equity Partners, and other previous backers.

ProteanTecs develops deep data solutions for monitoring the health and performance of electronics and said the new capital will go towards expediting its market penetration and expanding its business activities. The company had raised a total of $50 million before the current round. It employs 75 people in Israel, New Jersey, and San Francisco.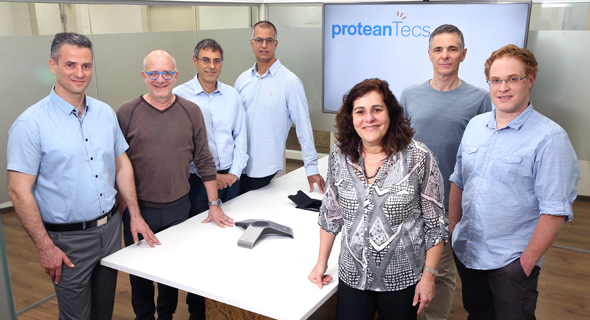 The PrteanTecs team. Photo: Elad GershgThe ProteanTecs team. Photo: Elad Gershgorenoren

Among the company's founders are Shai Cohen, Evelyn Landman and Roni Ashuri, who previously co-founded Mellanox Technologies, alongside three additional entrepreneurs: Yahel David, an expert in AI and machine learning; Yuval Bonen, VP of software development, and Eyal Fayneh, an expert in the field of silicon technologies.

"ProteanTecs introduced a new category of electronics' health monitoring to the market," CEO Shai Cohen said. "We are experiencing significant growth in the demands coming from the market, whether it is from chipmakers, systems integrators, or service providers. The current financing round will allow us to accelerate bringing our solutions to the market and expand our global deployment.

ProteanTecs' solution addresses the challenges currently facing the advanced electronics industry, resulting from the increase in production volumes and complexity. The technology enables "visibility from within" by allowing digital systems to report on their own health and performance, throughout their lifecycle, using universal chip telemetry. With its machine learning capabilities and the advanced analytics it provides, manufacturers can improve production quality, while service providers can optimize the management of their electronics network, and receive fault alerts before they become malfunctions.

"The increase in the complexity of chip design and system performance requirements requires new ways of monitoring performance, especially in a world that is developing an increasing dependence on electronics," explained Eli Groner, managing director at KDT Israel.

Among ProteaTecs' clients are global electronics providers from the fields of cloud technology, data centers, artificial intelligence, and communication.