Startups
250 companies and $6.5 billion: An in-depth look at Israel's healthtech industry
Israeli healthcare startups are no longer relying solely on technology, clinical data, or IP to generate value. They are reinventing business models and elevating the industry.
Since the Covid-19 outbreak in January, hardly a week goes by without an Israeli healthcare breakthrough making headlines. The healthcare ecosystem has been on the rise long before Covid-19, and we at Pitango's HealthTech fund decided it is time to analyze the scale of innovation closely. Our main points of interest: Just how big the ecosystem is, which areas it excels in, and which factors drive its growth.

The end result is a first-of-its-kind map of the Israeli healthcare startup industry, and it showcases an impressive and diverse landscape.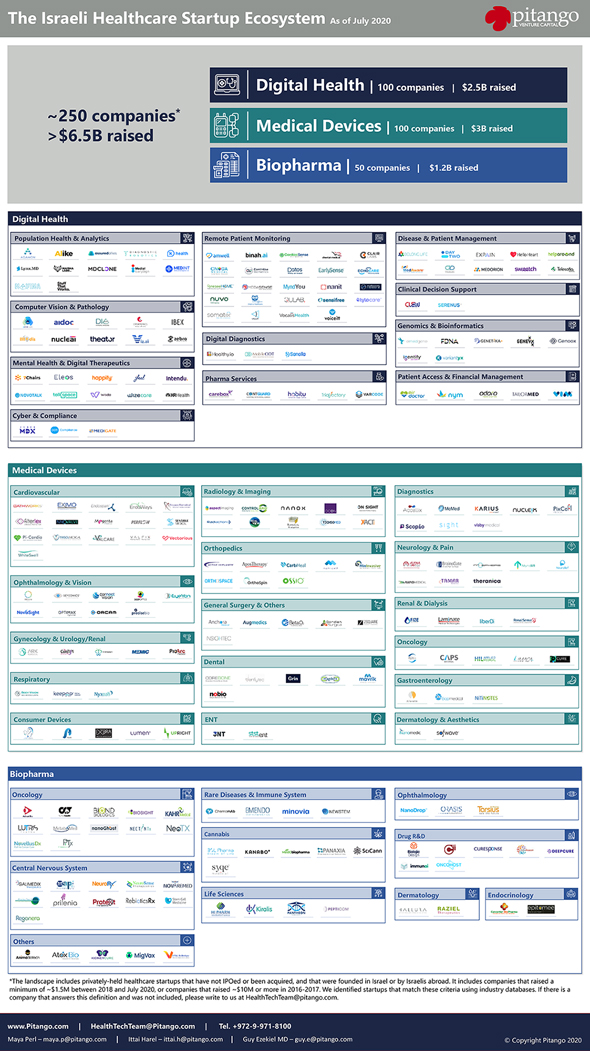 The Israeli Healthcare Startup Ecosystem. Photo: Pitango Healthtech Fund

We began by examining Israel's 1,500 healthcare companies and narrowed that number down to around 250 of the most active startups in the three main categories: Digital Health, Medical Devices, and Biopharma. We then cataloged these startups across 35 industry segments for more precise analysis and added up their combined funding since being founded— A whopping $6.5 billion.

Our key conclusion: Israeli healthcare startups are no longer relying solely on technology, clinical data, or IP to generate value. They are reinventing business models and, as a result, are elevating the industry.

Digital Health

Although Digital Health has been on a steady rise, Covid-19 has launched it into the stratosphere with an unprecedented demand for virtual care. Our map identifies nearly 100 Digital Health startups across 11 segments with a combined $2.5 billion raised.

In Israel, Digital Health's claim-to-fame has long been its technological advantage. Startups make use of technologies originally developed outside of healthcare and cleverly adapted to solve clinical problems. For example, IoT is used to monitor elderly falls at home, computer vision is used to find anomalies in biopsies, and Natural Language Understanding is used to mine medical data.

These days, however, Digital Health startups are undergoing a strategic shift. Their customers—Major healthcare players in the US—are looking to acquire end-to-end solutions, rather than standalone technology. In the past, it was sufficient to make a sensor that registered a patient's pulse or breathing rate. Now startups need to get that data to healthcare providers via their preferred interface, and sometimes even hire healthcare providers of their own to perform medical interventions based on the data received.

The fastest-growing players in Digital Health (like Livongo and One Medical) employ this 'tech-enabled healthcare services' business model, and Israeli startups that dream big and want to scale are quickly following suit.

Medical Devices

The largest category on our map—with 100 active startups across 16 segments and $3 billion in funding—Medical Devices is also undergoing a business model evolution.

In the past, medical device startups quantified their value based on the income doctors could expect to generate from procedures using their devices. Generally, more procedures meant more income, which resulted in a higher price for the manufacturer.

Nowadays, the U.S. healthcare system is shifting toward a Value Based Care (VBC) model, in which hospitals and doctors are being compensated not only according to the volume of patients or procedures but also by their direct improvement to patients' quality of life. As a result, medical device manufacturers find themselves required to show long-term efficacy and cost-savings to healthcare purveyors and patients in addition to clinical results to their direct users (hospitals and doctors).

Over the last decade, medtech startups were already becoming less likely to get acquired based solely on clinical data, and were expected to grow their commercial operations and scale. The shift to VBC means that moving forward, these companies will need to adjust their value propositions, pricing, and sales pitches to align with this trend and reach sales.

Biopharma

With more than 50 startups across 10 segments and $1.2 billion raised, Israeli Biopharma is a growing industry.

The traditional industry model is a conceptually simple one: targeting one type of cell or molecule for the purpose of curing one type of disease. This is of course an extremely difficult (and high-risk) exercise, but also a high-reward one. Global pharmaceutical companies spend billions on acquiring new drugs, especially in high-value therapeutic areas like Oncology and Rare Diseases - areas where we also see the highest numbers of startups on our map.

An additional business model in Biopharma is that of Drug R&D startups—unique hybrids combining computational expertise with cutting-edge biology. These companies create discovery platforms, tools that help other companies develop their drugs. These allow Pharma companies to test molecules before selecting one to fully develop, or determine the effectiveness of an existing drug on a specific type of patient. Known as Precision Medicine, this key global biotech trend is meant to increase the chances of treatment success—and ultimately of producing revenue.

The most successful Israeli Drug R&D startups use proprietary sequencing methods or assays to generate the most granular individual biological data, thereby differentiating their way of finding targeted treatments. Together with traditional Biopharma startups, these companies are propelling the Israeli industry forward.

As investors in early-stage healthcare companies, we at Pitango are excited by these numbers and trends. We look forward to seeing the ecosystem continue to grow and to the creation of large, standalone healthcare companies in Israel. If you are a team with a vision of building the next healthcare unicron, reach out to us.

Our analysis included privately-funded Israeli-founded startups that raised a minimum of ~$1.5M between 2018 and July 2020, or at least ~$10M in 2017-2018.

Maya Perl is a Principal, Ittai Harel & Guy Ezekiel M.D. are Managing Partners at Pitango HealthTech Fund.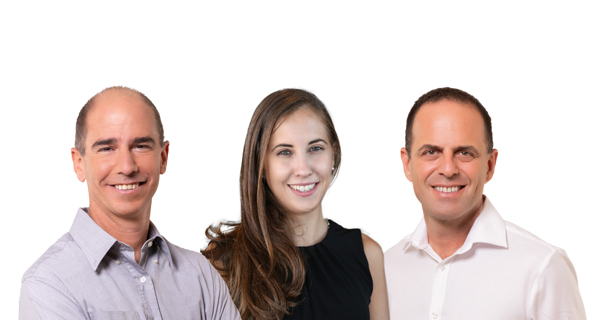 Pitango HealthTech Fund: Ittai Harel (left), Managing Partner; Maya Perl, Principal; Guy Ezekiel, M.D., Managing Partner. Photo: Yoram Reshef