Hands Free: Transportation ministry details regulations for autonomous vehicle experimentation
In the case of a "serious safety event," the experiment will be immediately frozen, says ministry document
Future experimentation of autonomous vehicles in Israel is set to be accompanied by a series of reservations and special definitions, including specific reference to what the Ministry of Transportation calls a "serious safety event," according to draft legislation distributed by the ministry.

Two weeks ago the ministry announced its plan to regulate the experimentation in law due to the fact that there are dozens of companies developing solutions for autonomous vehicles in the country.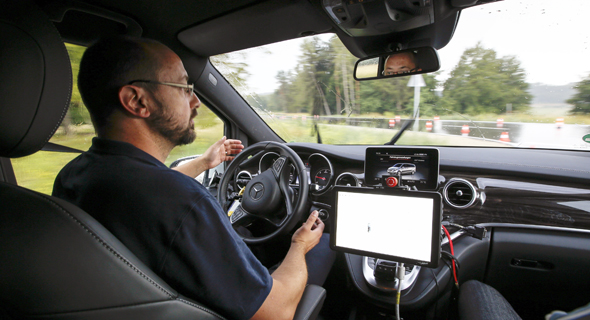 A driver lets go of the steering wheel in an autonomous vehicle experiment. Photo: Bloomberg

Though a special autonomous vehicle testing ground is set to be established in the coastal city of Ashdod, the draft legislation addresses experiments set to take place on public roads. The definitions in the draft reveal that not all the vehicles taking part in the experiments will be fully self-driving, but rather split into four categories depending on the level of vehicle autonomy.

The most autonomous vehicles, those that come from the manufacturing plant fully self-driving, will be defined as "independent vehicles" and receive a note to that effect in the vehicle license issued by the ministry.

The regulations detail for the first time the prerequisites for conducting tests. The list of requirements includes details of ways to communicate with the vehicle, ways to contact emergency services in case of an unexpected problem, compliance with the rules of the National Cyber ​​Center that will prevent attempted hacks of the vehicles' computer system, compliance with appropriate law enforcement agencies and precise definition of the area where the vehicle will be tested. Participants will also be required to obtain appropriate insurance coverage.

The Ministry of Transport thoroughly addressed the possibility of autonomous vehicle testing going wrong. The document says that in the case of a "serious safety event," the experiment will be immediately stopped. In the case that the freeze on experimentation last longer than 10 days, the experimenters will be able to submit an appeal to the ministry.