Rights activist petition court to block Cellebrite export of spy tools to Hong Kong
The petitioners claim that Cellebrite's technology is being used to violate human rights due to the political unrest in the former British colony
A petition filed with the Tel Aviv District Court last week is demanding that the Ministry of Defense block Cellebrite Mobile Synchronization Ltd. from exporting its products to Hong Kong. The petitioners claim that Cellebrite's technology that enables its clients to access data, analyze, and manage evidence for complex digital investigations, is currently being used to violate human rights due to the political unrest in the former British colony which was transferred to China in 1997.

The lawsuit focused on Cellebrite's UFED product which is capable of "breaching defenses of cellphones and collecting data from them," according to the petitioners. They noted that in 2019 Hong Kong effectively lost its status as a special administrative region as well as its independence and became a part of China. The U.S., for example, has stopped its defense export to Hong Kong.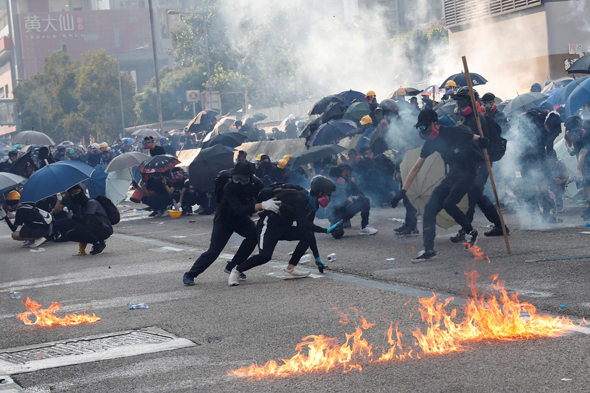 Protests in Hong Kong. Photo: Reuters
The petitioners go on to claim that "during the past year alone Cellebrite's system was used to break into 4,000 cellphones of citizens and pro-democracy activists who were arrested."
Adv. Itai Mack filed the petition, which he also signed together with 60 other social and political activists.
The petition claimed that Cellebrite only works with policing bodies across the world and thus has never received a license from the Israeli defense ministry to export its products. It also explained that the new national security law for Hong Kong introduced by China limited the freedom of speech and freedom of protest in the country and defined political protests as an act of terror, while also forbidding citizens from sending information to foriegn entities. Due to the change in the political climate and the U.S. embargo, the petitioners claim that Cellebrite is required to apply for an export license from the defense ministry but has failed to do so.
Cellebrite was founded in 1999 and is based in Israeli central town Petah Tikva. Last year, Calcalist reported that mobile data and entertainment company Sun Corporation sold a 25% stake in Cellebrite to Tel Aviv-based Israel Growth Partners (IGP) Ltd. for $110 million.