Homeward bound: Israeli tech companies are downsizing their office space
As companies shift to work from home, property owners are being forced to lower rents and offer creative solutions for the lucrative tenants
Tech companies have in recent years become the prized tenants of Israel's office towers, from Rehovot in the south to Haifa in the north. Companies like Gav-Yam Bayside Land Corp. Ltd. and Amot Investments Ltd. have traditionally taken pride in their reports that their buildings are mostly populated by the highest quality tenants - tech companies of all types and sizes. The coronavirus (Covid-19) crisis, however, risks turning their focus on tech firms into a real-estate liability and strike a blow to the most popular buildings, like Ramat Gan's Atrium tower or the Alon Towers in Tel Aviv.

Somewhat surprisingly, real estate companies have so far refrained from carrying out revaluations that would reduce the value of assets in their second-quarter reports, presumably on the assumption that the technology sector has not been hit by the crisis and is even thriving. On the surface, the layoffs in the sector have ceased and many companies have even begun recruiting new talent, however, the change brought about by the pandemic is far more substantial than assumed. The vast majority of companies, particularly tech companies, have discovered the work from home (WFH) model and do not plan on returning to the previous work practices, even if and when Covid-19 disappears.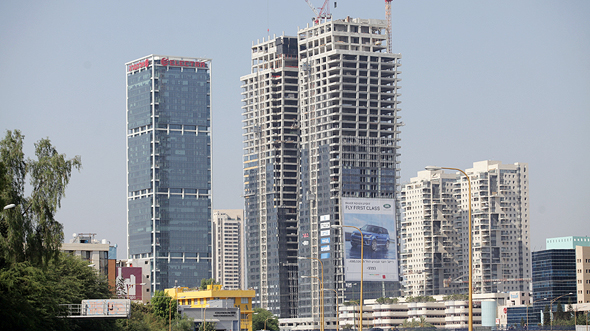 The Alon Towers in Ramat Gan. Photo: Orel Cohen
The growing and flourishing companies are the ones that pose the greatest risk to the office towers. While a young startup that runs out of money usually only occupies a small space that is pretty insignificant in the wider scheme of things, the established companies that employ hundreds of workers constitute "the meat" of the real estate market, and there are hundreds of them currently operating in Israel. Those companies are not short on cash and aren't expected to run dry anytime soon, but they are currently motivated by two primary considerations. First, they want to reduce expenses to adjust to the new reality; and second, they care about bolstering their employees, and those people don't want to come to the office anymore.
Most of the tech companies have carried out internal surveys in recent months which resulted in definitive answers — everybody desires hybrid work conditions. This means employees prefer to only come into the office two or three days a week and work from home for the rest of the time, which in turn means that there won't be a situation in which all the company's employees come to the office simultaneously, except for on very rare occasions. As a result, the buzzword at these companies is "downsizing" — with the common scenario being a switch from renting two floors to one or from three floors to two.
Examples of this are big data company Sisense Ltd. and cybersecurity company Checkmarx Ltd., two of Israel's most prominent unicorns, employing hundreds of people in the Atrium Tower, who plan to reduce one floor each.
"Under the current work procedures we will clearly not require all of our real estate," Sisense told Calcalist. The company also plans to cut back on its office space in San Francisco, after informing their employees that they are free to relocate to anywhere they want in the U.S. to avoid the bloated cost of living in Silicon Valley, provided they can come into the office for a week every now and then. Sisense employs 900 people globally.
Not far from there, at the Paz Towers in Ramat Gan, sits video creation and distribution company Kaltura Inc., one of the oldest privately-owned tech companies in Israel, which employs hundreds of people in the country.
The Covid-19 pandemic has led to it blossoming over recent months, but following an internal survey it conducted that found that the vast majority of its employees prefer to only come to the office two days a week, it too is examining decreasing its office space.
Another large company, eTeacher Group Ltd., which employs 300 people not far from there, plans to forego its offices altogether and transition fully to WFH.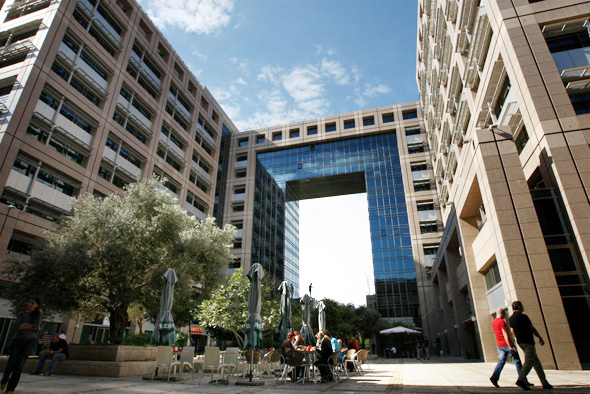 Ramat Hachayal is home to numerous Israeli tech companies. Photo: Amit Shaal
Tel Aviv-based on-demand delivery management startup Bringg Delivery Technologies Ltd. is also considering a major change in their office management. The company employs 100 people in its Ramat HaChayal office and is recruiting 30 more people, but only 20 percent of them ever physically enter the building. "Clearly we will reduce our office space, but we will also rearrange our internal layout to meet the needs of our new organizational culture," Guy Bloch, Bringg's CEO told Calcalist. "It is clear to us that the offices no longer need to be built as separate rooms, but rather as spaces that are suitable for meetings. Once every week or two we will invite everyone in for a day at the office, and then what we'll need is large lounges with bean bags and a whiteboard."
Another example is web traffic analytics company SimilarWeb Ltd., which employs 300 people spread out over two floors of the Azrieli Sarona building. It too realizes that it won't require all that real-estate, because for the foreseeable future only 20 employees will work on location. Calcalist has learned that the company has signed a 10-year contract with Azrieli so if it wants to reduce a floor, it will be no easy task.
One such struggle, between LivePerson CEO Rob LoCascio and the Tidhar Real Estate company from which it rents its Ra'anana offices, has already received some attention. At the beginning of July, LivePerson — which employs 350 of its 1,300 workers in Israel — announced it would be transitioning to a full WFH model until a vaccine is found for Covid-19. As a result of its decision, the company did not renew its lease that expired in July and exited the three floors it had rented in the building. According to LivePerson's management, even though it had evacuated the premises, it was subject to unreasonable pressure to prevent them from leaving, including the forfeiture of guarantees worth NIS 2.3 million (approximately $700 million). The company said it had heard of similar pressures placed on other tech companies. As a result, LoCascio called for a protest against the real-estate companies, similar to the one run by tenants of shopping centers. Tidhar, meanwhile, claims that LivePerson, which is a successful and profitable company, is trying to piggyback on the crisis and is violating agreements that it had signed.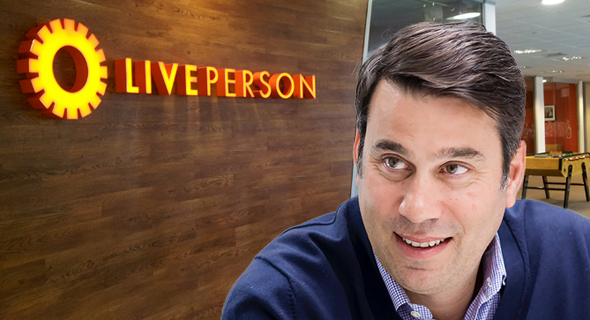 LivePerson CEO Rob LoCascio. Photo: PR
The circumstances are different for the large publicly-owned companies, such as CheckPoint, Amdocs, or Wix since most of them are located on campuses and buildings that were built for them and which they own. That said, some of the big companies that had expanded beyond their campuses, to neighboring buildings, won't be requiring them anymore. CheckPoint CEO Gil Shwed said upon the release of the second quarter reports that the company was also interested in downsizing its real-estate after reports last year that it owned several floors in the Alon Towers, that neighbors its headquarters.
What will be the snowfall effect of these trends on the office real-estate sector? No catastrophe is expected to befall the industry, more likely a redshift in power, like the one that took place in the commercial real-estate industry opposite the retailers. If anything, the change will likely be even smaller since LoCacio's call wasn't exactly rallied to and since the property owners' dependence on a single tech company is lesser than its dependence on a retail chain with multiple store locations and various subsidiaries. That is also the reason why contrary to expectations, real-estate companies did not report major devaluations in Q2.
How vital is the Israeli tech sector, which employs 300,000 people, to the Israeli real-estate market? It depends on geography. The tech sector is very important for the center of Israel and its importance diminishes as you go south of Rehovot, where there is a major tech park, or north of Haifa, which is home to major corporations like Intel and Microsoft.
The main towers that are under the gun because of the high concentration of tech companies they host are Amot's Atrium Tower in Ramat Gan, which was always marketed as a green building suitable to tech companies, and the relatively new Alon Towers in Tel Aviv, which were built by a consortium of buyers led by tech favored insurance companies, Migdal and Harel. Further down the street is Amot's newly built TOHA tower, which rents out six floors to WeWork and a handful of local tech companies. Azrieli's Sarona Tower is nearly completely occupied by tech companies, with the two main anchors being Facebook and Amazon.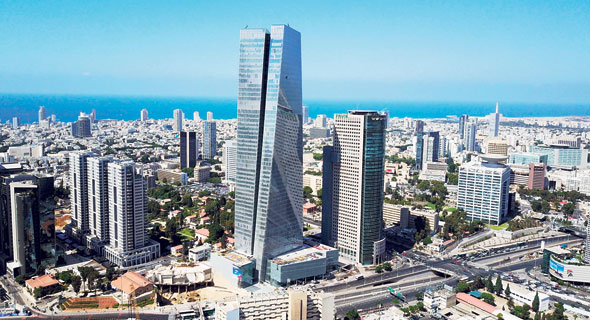 The Sarona Azrieli Tower in Tel Aviv. Photo: Yair Sagi
So far, the major multinational companies who have announced that they won't be returning to work from the office for the next year are not reducing their real-estate. In fact, both Microsoft and Facebook have recently announced they are expanding their offices.
According to research firm Czamanski Ben Shahar and Co., the annual demand for tech company office space ranges from 150,000 sq/meters to 170,000 sq/meters based on a calculation of 15sq/meters on average per worker. A standard office tower floor works out to around 3,500 sq/meters. The company's research found that 70% of the tech companies were located in Tel Aviv and its immediate suburbs, with recent years showing a gradual exodus to neighboring cities like Petah Tikva, Ramat Gan, and Bnei Brak.
"Real-estate companies have already realized that flexibility on their part can help solve or even prevent disagreement with tenants," a person familiar with the industry told Calcalist on condition of anonymity. "Office buildings are receiving a lot of requests to reduce a floor or shrink the office space, and the solution is two-fold. The first is lowering the price of rent, often in exchange for extending the lease, which grants the property owners more stability over time. There are practically no buildings in central Israel that have not lowered their prices. The second and more interesting solution involves changes within the buildings, whereby instead of renting out full floors to single companies, the building offers shared floors for several tenants with conference rooms, lounges with pool tables, and even coffee shops."
According to the same person, the renters no longer want to carry the burden of the high ongoing cost of renting things like a conference room that stands empty for much of the time. The same goes for other amenities that aren't considered essential by the companies. The new vision, he said, is the establishment of "business lounges" that the companies can rent out on a per-need basis. In situations where a creative compromise can't be found, the answer generally lies is sublets, where renters find alternative tenants and the property owners are apathetic to the rental payments' source.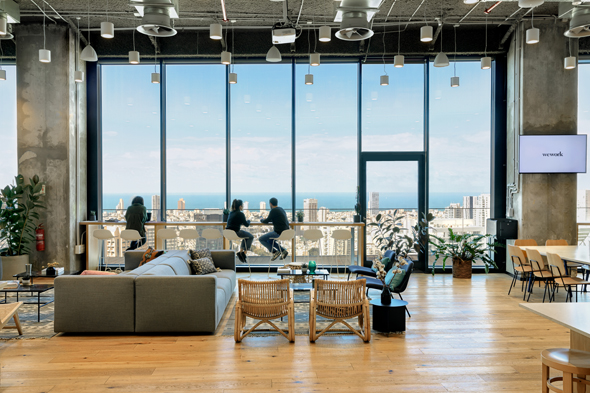 A shared WeWork office space in Tel Aviv. Photo: Udi Idan
Israel is no different to other countries in this regard, apart from one point — it is a tech-driven economy. That's good news for the economy as a whole, which is expected to be less negatively impacted relative to economies that are based on more traditional sectors, but not as good for the real-estate companies, because tech firms can more easily make the transition to WFH.
"We are definitely seeing a shift to a hybrid work model all over the world," Santiago Ferrer, a managing partner at strategic consulting firm BCG told Calcalist. "If prior to the pandemic five percent of the workforce worked from home after the vaccine is found, things will stabilize and the number may double to 10 percent."
Ferrer predicted that soon we will witness a bigger split between headquarters located in city centers and satellite offices that are located closer to residential areas. This is where the good news rests for a sector that has been raising a lot of questions— shared office space providers. "Contrary to initial expectations, shared workspaces are expected to experience a rise in popularity because companies on one hand want to keep their real-estate costs flexible, and on the other, don't want all their employees to gather in a single spot. Such a trend will make WeWork and its competitors hot commodities, but they will have to re-arrange their internal division design so that each company has its own permanent office instead of a big shared, open space," Ferrer explained.
BCG estimates there will be a global decrease of 8%-10% in office rent over the short term. One factor that may offset the negative effect of the crisis is the need for more space between workstations, which will create more demand for the same number of employees.