Covid-19 cutbacks? No one told the software industry, salaries see a boost despite the pandemic
Tech job recruiting company See.V reveals which professions saw the highest salary bumps and suggests the balance of power still leans in employees' favor
The average tech industry salary in Israel may have dropped by 10 percent in June, compared to March, as revealed in a recent report by the Central Bureau of Statistics (CBS), but there are some positions in which salaries didn't drop and even rose amid the Covid-19 crisis.

In February, just before the crisis reached Israel's doorstep, the Israel Innovation Authority published figures on personnel shortages in tech-related industries that indicated that the Israeli tech sector was missing 18,500 workers. The most in-demand roles were for software professionals. Similarly, according to CBS data recently published, the supply/demand ratio among software developers in the first quarter of 2020 was 0.5, meaning the supply of job vacancies was twice as large as the number of job seekers in the field.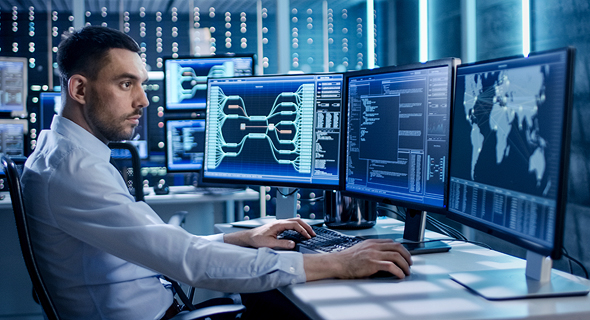 Software jobs see high demand in Israel. Photo: Shutterstock

According to figures released by software position recruiting and placement company See.V, the demand for software developers is still high. "Though we did register a decrease in the job supply since March and a lot of people entered the job-seeking market after being laid off from tech companies, in our estimate, many of the dismissed workers were not directly involved in software development but rather in various supportive roles, such as sales, marketing, events, and the like. The sectors that were in high demand before the crisis continue to suffer from employee deficiencies, with the average salaries for some of the roles even climbing compared to last year," Ronen Engler, CEO of See.V told Calcalist. "In addition, even if we see an increase in active candidates, it correlates to a significant decrease in passive candidates, who made up the majority of candidates prior to the outbreak. The reason is that nowadays people are more afraid to leave their workplace. And the result is that there is still a huge shortage of candidates for software positions.

One position that has seen a huge average rise in the last few months is DevOps engineer. The average monthly salary for the role at the end of Q2 2020 was NIS 32,840 ($9,728), a 13% increase compared to Q4 2109.

"DevOps engineers have been topping the charts of most in-demand positions, both in Israel and internationally, for several years already," Engler said. "In 2018, for example, DevOps engineers led the salary rankings in the U.S., the U.K., India, and Germany (according to information on industry website Stackoverflow). We witnessed a slight decrease in the rate of DevOps engineers' salary increases, but in 2020, the Covid-19 crisis shot it back to the top of the chart.

Another field which has become extremely popular, according to See.V figures, is anything related to data. "Data-related roles made up 16% of our total positions in the second quarter, compared to 11% at the end of 2019," Engler said. "These, too, are professions that have led the salary rankings in recent years with an average salary of about NIS 32,000 a month, while data scientists and big data developers can also reach a salary of NIS 40,000 a month. Demand is also rising for data analysts and BI professionals. Data analysis to help companies make business decisions in this ever-changing reality has become an integral part of the survival of many businesses' survival strategy."

Yet another example of a position that has seen an increase in demand is Node.js developers. The average salary for those positions increased by 5% and currently standing at NIS 32,000 a month.

"Digital acceleration and the need for remote access created a huge demand for developers who can build remote access systems for employees and customers alike," Engler said. "We are seeing an increase in demand for Node.js developers because at this time the speed in which versions of the product are developed is particularly important, and this is a technology that makes it possible to shorten development processes. In addition, companies are trying to save costs - and instead of investing in professionals specific to each field, they prefer to hire one professional with knowledge of all the systems."

According to See.V, demand is high across the entire spectrum of software jobs. "We saw almost no salary cuts in the second quarter, with salaries either rising or remaining the same. At the start of the crisis, there was a lot of uncertainty about the tech sector and many companies froze their recruitment efforts fearing what was to come. In the last month, things have begun restabilizing. Companies are beginning to recruit again and the supply of open tech positions is rising accordingly.

The figures indicate that there has been a change in the length of time it takes job-seekers to land a job. In the first quarter of 2020, 80% of job-seekers found jobs within two months of starting their search. In the second quarter, only 66% of job-seekers landed jobs in that time, with the rest taking longer.

"It's a period of uncertainty, which is characterized by uncertainty on behalf of candidates," said Engler.

"More candidates are choosing to take their time looking for the next job. They examine the potential workplace more carefully than before, even when the offers they get are great," Engler said. He explained that the difference was in the candidates' behavior, not that of the company because according to See.V's figures the average recruitment period from first seeing the resume, til onboarding the new employee has remained constant at 3-6 weeks.

"Even if there was a reversal in the power relations between workers and employers in the general economy, this isn't evident when it comes to the software professions," Engler said, adding that experienced workers who were laid off from their previous positions are taking longer to close the deal with a new employer due to uncertainty about the market.