Get to know the Israeli startup that raised $144 million under the radar
Israeli B2B payments company Melio completed its latest round at a valuation of $700 million and has seen payment volumes increase by 700% from March to August of this year
Israeli B2B payments startup Melio announced on Tuesday that it has raised a total of $144 million, including $80 million in a Series C round last month at a valuation of $700 million. Melio aims to expand its services for small businesses across the U.S. as they shift to digital solutions to help manage the economic effects of Covid-19.

Founded in April 2018, Melio has attracted an all-star team of investors with Accel, Aleph, Bessemer Venture Partners, Coatue Management and General Catalyst all leading rounds, with participation from LocalGlobe, Corner Ventures, and American Express Ventures. Since it launched to customers in May 2019, Melio has processed multi-billion dollar payment volumes per year, with payment volumes increasing by 700% from March to August of this year.

Melio was founded by CEO Matan Bar, CTO Ilan Atias, and COO Ziv Paz.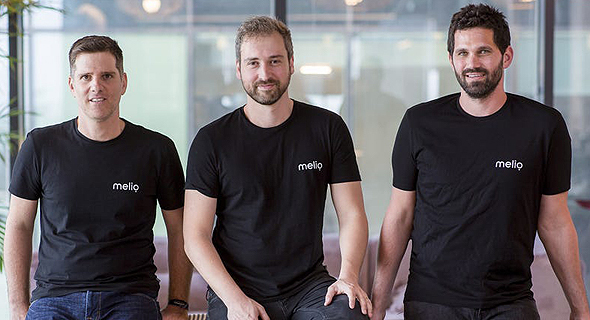 Melio founders Ziv Paz (from right), Matan Bar and Ilan Atias. Photo: Melio

"At a time when small businesses need the most flexibility, they have the least," said Bar, who previously led Consumer P2P Payments at PayPal. "Our mission is to keep small businesses in business. We do this by allowing small businesses to manage payments remotely, paying when and how they want, giving them more control and helping businesses manage cash flow. Business payments shouldn't be more complicated than paying a friend with your phone."

According to the company, Melio's digital accounts payable and receivable dashboard provides an integrated tool that allows small businesses to transfer and receive payments in a faster, easier way, giving oversight and control over cash flow, and reducing or eliminating late payment costs.

Melio also serves as a payments platform, recently partnering with Intuit QuickBooks to provide its bill payments capabilities.

Melio, which has increased its workforce from 35 to 125 employees since the start of the year, said it plans to use its fundraising to accelerate growth and reach more customers. It will also support the company's plans to provide B2B payment capabilities to third parties, mirroring the development the tech industry has seen with B2C payments.

"We are living in unprecedented times. Small businesses are the backbone of the U.S. economy, yet they are under intense pressure in the current environment. They require as much flexibility and control over their cash flow as possible to persevere. Melio provides the tools to achieve both and will play a critical role with small businesses and vendors to continually adapt, develop, and persist," said Ken Chenault, former Chairman and CEO of American Express and now Chairman and Managing Director of General Catalyst.

Melio raised $80 million in Series C in August, on top of the $48 million raised in Series B in March of this year and the $16 million in Seed and Series A, bringing total fundraising to $144 million.

"I've been doing this for 25 years and I've never seen growth like Melio. They understand the needs of small businesses - needs that no-one else is properly addressing," said Michael Eisenberg, co-founder and Partner at Aleph and Melio board member. "Before launching, Melio set up their own bookkeeping firm in New York to get under the skin of small businesses. It is a substantial market and Melio can be a giant."

"Melio is firmly on the side of every small business owner in the US," added Adam Fisher, Partner at Bessemer Venture Partners and Melio board member. "By smoothing out the volatility businesses are experiencing during this challenging period, Melio is helping businesses stay in the black and avoid predatory loans."