Mystery Meat: MeaTech to acquire unnamed company that manufactures synthetic animal fat
Israel-based MeaTech is set to pay $17.5 million for the target company's technology, management expected to remain in place for two years after the signing
MeaTech Ltd. the Israeli startup that is developing technology for bioprinting meat using stem cells announced on Wednesday that it had signed a memorandum of understanding to acquire an unnamed international company active in the field of manufacturing cultured fat tissue derived from animal stem cells for a sum of $17.5 million.

The acquired company has developed unique technology enabling it to produce beef, chicken, and goose fat, which can be combined with cultured meat, giving it the texture of real animal meat, resulting in products like goose pâté without the need to slaughter any poultry.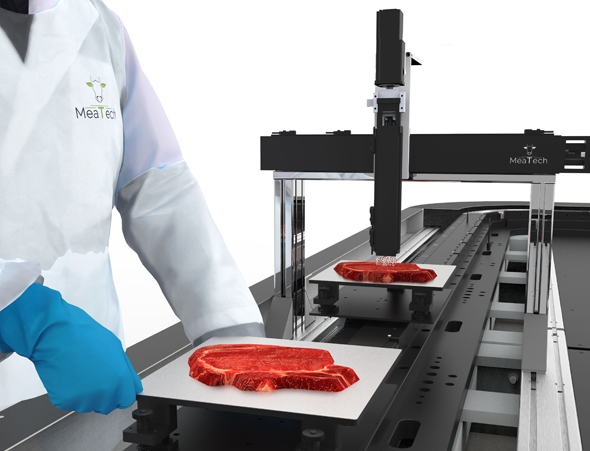 MeaTech's 3D meat printer. Photo: PR

Part of the payment will be made through the transfer of MeaTech shares, with the price of the shares calculated according to the average price in the 30 trading days prior to the signing of the final agreement.

The management of the acquired company is expected to remain in place for at least two years in order to enable it to continue to develop its technology and combine it with that of MeaTech.

The two sides will complete due diligence and sign a final agreement by the end of the month. Due to the limitations put in place around the world amid the Covid-19 pandemic, the parties will be able to extend this period by mutual agreement.

This week, MeaTech's daughter company Chicken Meatech, began developing a process to manufacture cultured chicken meat without the need for live animals. The company plans to produce lab-grown chicken meat to create hybrid products combining animal and plant-based materials. This move will enable MeaTech to expand its basket of products and entrench it deeper in the food production market.

In August, MeaTeach announced that it had reached a substantial product milestone. The company said its scientists had successfully printed a layer of meat combining both muscle and fat cells that successfully fused.

MeaTech added that reaching the strategic milestone ahead of its pre-set schedule means they are well on their way to hit the next milestone, which is printing a 100-gram (quarter pound) steak, without harming any animals.

As part of the experiment, dubbed "Project Carpaccio," MeaTech researchers were able to print a thin slice of meat consisting of muscle and fat cells extracted from stem cells. The company developed the entire growth process of the tissue components and then performed the 3D printing using a dedicated printer, developed in house.