Israel's Inthegame invites television viewers to play along with the sports pros from home
Its technology can provide interactive polls, quizzes, and marketplaces for live and pre-recorded content on digital platforms
Inthegame, an Israeli startup and recent graduate of the Techstars Israel accelerator program, hopes to revolutionize broadcasting with its 'interactive viewing' technology. The AI-powered platform can help create unique and interactive experiences by adding 'layers' to broadcast television to include things like polls and quizzes in sports events and game shows.

The company has raised a total of $1.2 million so far and recently signed a collaboration project with NAB, an American event producer in the broadcast industry.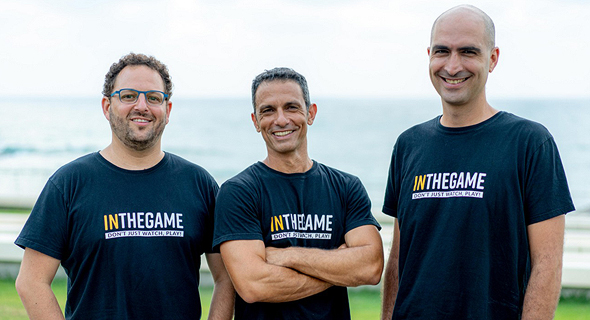 Inthegame's Team with CEO Aviram Sharon (center). Photo: Hanna Tayeb

"Broadcasting was invented in the 1920s, and since then it's always been the same," explained Inthegame CEO Aviram Sharon. "We just consume what we're given. For the first time, viewers can be a part of a broadcast."

Inthegame's technology will be featured in U.S. Open Golf Tournament, starting Sept. 17, with millions of viewers able to vote, chat, poll, and generally interact with each other via the engagement layers on the screen. At the same time, the software collects data to help broadcasters better understand the needs and wants of their viewers.

The technology is seen as the next generation of broadcast engagement after previous methods failed to adopt widespread use. For example, broadcasters and channels found that viewers generally rejected the call for a 'second screen,' such as an additional mobile app to download to engage in social interactions alongside regular programming. Attempts to engage viewers via social media platforms like Twitter ultimately encouraged too much toxicity or lacked the proper ability to filter messages.

By integrating the software directly into the broadcasting channel, it can keep viewers engaged internally for longer.

At a time where many sports events were restricted or canceled entirely due to the coronavirus (Covid-19) pandemic, Inthegame's technology is a way to help people feel involved or united in the games they watch from home. This way, Sharon says, viewers can still "cheer remotely" while watching at home.

Inthegame started as a collaboration with the gaming platform Twitch but can expand to anywhere audience participation can enhance the experience. While its main focus started in sporting events, the same technology could be used for game shows, reality shows, news broadcasts, or presidential elections.