Covid-19 ushered in fintech's golden era
The changes brought to the industry by the pandemic were at the center of the Google and Calcalist Startup Week panel
Fintech is experiencing a golden era, that was the clear sentiment in Monday's fintech panel hosted by Sophie Shulman as part of the Google and Calcalist Startup Week.
Keren Ran, Industry Head, Fintech at Google, mapped out the search trends during the Covid-19 lockdown period. "There was a peak of searches in regards to financial guidance. People are looking for tax and mortgage benefits for example. There has been a 300% increase in searches in the sector in all. Even six months after the lockdown, the number of searches in connection with fintech are higher than they were previously. There are also many searches regarding the stock market. People want to know how to invest. The third trend we are exhibiting is related to payments and searches for remote payment solutions."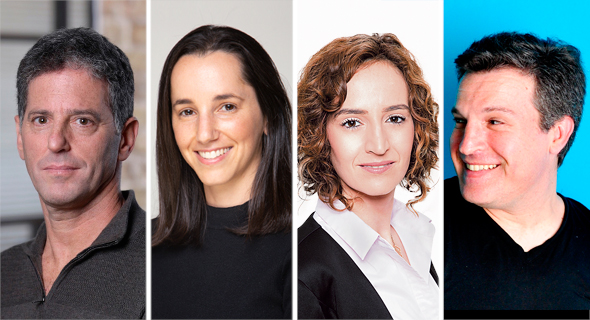 Alon Huri (from right), Eynat Guez, Keren Ran and Eitan Bek. Photo: Courtesy

Alon Huri, co-founder and CTO at Next Insurance, explained the incredible blossoming in the valuation of insurtech companies headlined by the likes of Lemonade. "Covid-19 strengthened the sentiment towards online services in many sectors, which has had a major impact on insurtech. Even my Dad moved online. It was just a question of overcoming a technological barrier. We experienced a dip in policy purchases at the start of the crisis, but there was a quick recovery as people moved to online insurers at the expense of traditional agencies. You need to remember that the insurtech revolution has only started."

"Fintech is experiencing its golden era, and not just in Israel," added Eitan Bek, co-founder and managing partner of VC TLV Partners. "This is a global market with local characteristics due to regulation."

Eynat Guez, co-founder and CEO of Papaya Global, spoke of the hiring trends at fintech companies. "We initially saw recruitments being stopped and salaries being cut and of course employees being sent on leave without pay," she said. "The initial reaction was that of panic, but we have seen opposite trends since. A startup can't just stop everything. Its investors are expecting it to grow and that is why we have seen companies recruiting employees. One of the trends we are seeing is recruiting employees in other countries. 2020 and 2021 aren't going to be years in which companies send people abroad to support clients so they are recruiting people who are already there. This will have an effect on roles that are travel-focused and those will certainly suffer a blow in Israel."