Israel's JFrog targeting $475 million at $4 billion valuation in Nasdaq IPO
The DevOps technology company increased the range of the 11.6 million shares on offer to $39 to $41 from a prior $33 to $37
Israeli DevOps technology company JFrog Ltd. has increased the proposed price range for its initial public offering on Nasdaq and is planning to raise up to $475.6 million at a valuation of $4 billion, double the amount stated in its registration statement filed less than a month ago. The company increased the range of the 11.6 million shares on offer to $39 to $41 from a prior $33 to $37. JFrog, which likely raised the range due to the interest its IPO has received in recent weeks, applied for the ticker "FROG".

According to the company's filing, at the end of the second half of 2020 JFrog had more than 5,800 clients, including all 10 leading tech firms, eight of the leading financial services organizations, nine of the largest retail organizations, and eight of the leading healthcare organizations.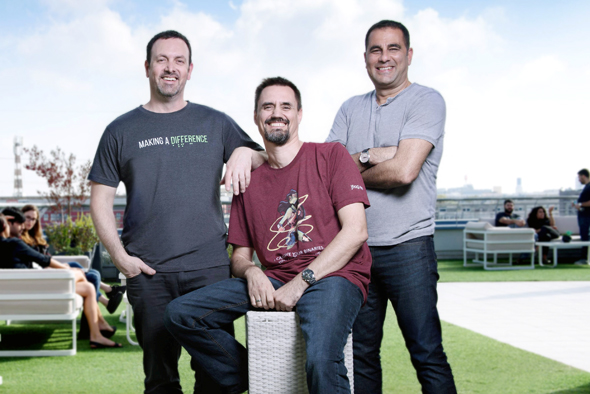 JFrog co-founders Shlomi Ben Haim (from right), Fred Simon and Yoav Landman. Photo: Shachar Maor

JFrog reported on sales totaling $128 million in the 12 months ending on June 30th, 2020.

The company was founded in 2008 by CEO Shlomi Ben Haim, Yoav Landman, and Frederic Simon. JFrog develops tools designed to streamline the coding process and automate software updates. Its technology is currently involved in most of the world's software updates.