BMW to incorporate Israel-based Tactile Mobility tech in all new models
Tactile Mobility develops technology that analyzes data from car sensors and enables autonomous vehicles of different levels to get a feel of the road, using tactile data and artificial intelligence
German car manufacturing giant BMW will incorporate in its future vehicles technology developed by Haifa-based autotech startup Tactile Mobility, the companies announced on Tuesday. Tactile Mobility develops technology that analyzes data from car sensors and the collaboration with BMW will see the implementation of sensory and data analytics technology in BMW cars for the first time, helping improve the driving experience and identifying road conditions. The technology will be included in a total of more than 2.5 million BMW vehicles from 2021.

Founded in 2012 and incorporated as MobiWize Solutions Ltd., Tactile Mobility has so far raised $18 million, including $9 million last October, with Porsche and Union Tech Ventures leading the round. The company has 30 employees in Israel, as well as representatives in Germany, U.S. and Singapore. Tactile Mobility's CEO Amit Nisenbaum recently stepped down and the company is currently operating without a replacement.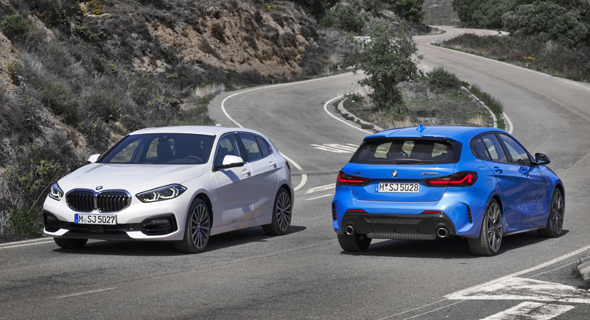 All BMW models from 2021 will include tech developed by Tactile Mobility. Photo: BMW

Tactile Mobility announced a similar collaboration with Porsche in May of this year.

Tactile Mobility develops technology that analyzes data from car sensors and enables autonomous vehicles of different levels to get a feel of the road, using tactile data and artificial intelligence. The company's system can also provide information about the vehicle's condition, including engine and brake efficiency. The real-time data is generated from the car's non-visual, existing sensors and turns it into actionable insights such as road quality, tire grip and vehicle weight.

The company's VehicleDNA model represents the unique attributes of each vehicle's engine efficiency, braking efficiency, tire health, weight, fuel consumption, and more. Data is downloaded back to each relevant vehicle, ensuring that the embedded software has the most updated and accurate context available, for improved ongoing calculations and performance.

"The implementation of our technology in BMW's smart vehicles, and in the future in its autonomous vehicles, is very significant and we are happy to be the first company that is realizing the economic potential of advanced technologies in the car sector," said Boaz Mizrahi, co-founder and CTO.

The collaboration between Tactile Mobility and BMW began at the BMW Startup Garage, the German manufacturer's accelerator.