Interview
"We're not yet seeing millions of delivery drones take to the skies, but we're taking giant strides to get there"
Flytrex CEO Yariv Bash talks about his company's pilot program with retail giant Walmart and taking on Google and Amazon
American retail giant Walmart has announced that it is piloting a grocery and household essential item delivery service using automated drones. The service will be provided by Israeli delivery company Flytrex Aviation, Ltd. which is headquartered in Tel Aviv. By doing so, Walmart hopes to boost its delivery business that in these post-pandemic days appears more vital than ever.

According to Wallmart's announcement, the pilot is beginning in Fayetteville, North Carolina, using drones controlled over the cloud that will deliver select goods to consumers' homes.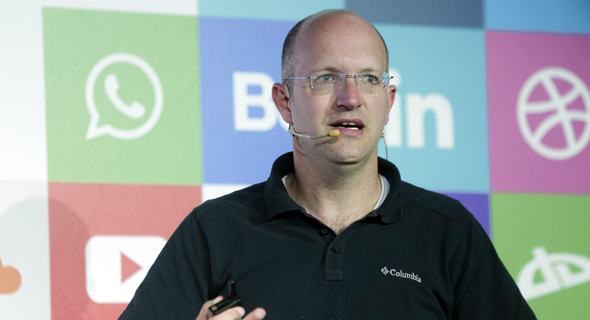 Flytrex co-founder and CEO Yariv BAsh. Photo: Amit Shaal
"We know that it will be some time before we see millions of packages delivered via drones. That still feels like a bit of science fiction," Tom Ward, Senior Vice President, Customer Product at Walmart said in a statement, "but we're at a point where we're learning more and more about the technology that is available and how we can use it to make our customers' lives easier."
The pilot was launched on the heels of the company expanding its pickup and delivery services amid the Covid-19 outbreak, realizing that customers prefer to receive items directly to their homes in order to reduce exposure to the virus in public spaces.
FlyTrex was founded in 2013 by Yariv Bash and Amit Regev. "We entered the drone industry and gradually realized that the bonanza would come from the delivery sector, even if it will take some time to get there. We brought in an experienced CEO and I gradually faded out of SpaceIL and into the startup," Bash said in an interview with Calcalist.
Covid-19 on one hand boosted online shopping, but on the other halted the field tests of delivery drones. Now, with the general improvement in health conditions, the testing can be expedited.
This is the first partnership for Flytrex and Walmart. "We know that it will be some time before we see millions of packages delivered via drone. That still feels like a bit of science fiction, but we're at a point where we're learning more and more about the technology that is available and how we can use it to make our customers' lives easier," said Tom Ward, senior vice president for customer products at Walmart.
"Unfortunately, we are not yet seeing millions of packages flying over every city, but we're getting there in giant strides. Regulation, which normally holds things back, is moving ahead pretty quickly, so we expect to see many packages flying overhead in the years to come. We are part of the FAA's regulation process," Bash added.
Bash is also the man behind the ambitious SpaceIL project, aiming to fly an Israeli spacecraft to the moon. A skiing accident in 2017 left him in a wheelchair paralyzing his lower body, but not dampening his entrepreneurial spirit. He shifted gears in Flytrex while continuing to handle the journey into space.
"I still have a passion for space, but for now I am focusing on changing the world from 300 feet in the air."
Bash spoke about the positive and negative effects of the coronavirus outbreak. "The negative side is that the FAA stopped conducting field tests. The positive side is that since they're at home, they have more time, and instead of one weekly call, I am now holding several calls a week with them, so things are moving much more rapidly on that front."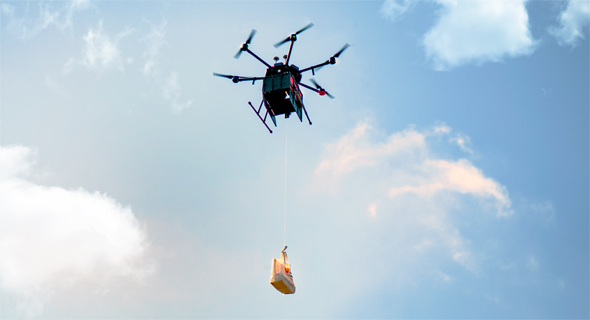 A Flytrex drone delivering a package. Photo: PR
Bash said that while Covid-19 didn't lower the FAA's safety standards, "they are willing to move ahead with you more rapidly. Another positive effect we're seeing is a clear rise in online shopping in the U.S. People who never ordered anything online are beginning to and it's probably here to stay. People get addicted to convenience," he said.
How is your U.S. pilot project advancing?
"We began a pilot in North Dakota in which we are delivering products from Walmart and meals from a fast-food chain. At the moment it is limited to several houses and we conduct a handful of deliveries every day. Our goal is that once approved, we will expand to several hundred households. We are currently offering the service at the cost of the products and it is cheaper than any alternative," Bash said.
What can Fltrex's drone do and what is its potential?
"It can deliver a 6.5 pound package, let's say a meal for four people, a distance of 1.8 miles and return to its base. Ninety percent of the packages deliverd by Amazon fall under that weight class or lower and today they are delivered by trucks. The potential is not just restaurants or grocery stores. We can deliver the next iPhone, or even Playstation in this way. The potential is the entire retail market."
Is there no concern that a drone like that will fall on someone's head because of a malfunction?
"The chances of a drone falling and hitting a person are very low. Apart from having six engines and a GPS system, it also has an independent system that operates a parachute and a siren, so that even if a drone goes totally whacky, we have a response mechanism. The chances of a drone falling on your head is smaller than a passenger jet falling on your house. The alternative is a person who drives on the road for hours a day, perhaps driving while tired, perhaps stealing a red light, drone deliveries will only lower the rate of traffic jams and road accidents."
When will we be able to order sushi or a hamburger delivered by a drone from an app?
"By the end of the year, the FAA is expected to grant nationwide permission to conduct deliveries. If it happens by the end of the year, we will become a fully functional business. We will see companies who received permits for operating drone stations begin to move from pilots to going operational, generating larger volumes. In Israel, testing will begin in a limited fashion in private homes in the central region, homes with large yards, like the ones we want to service in the U.S."
On Facebook, you wrote "First we take Netanya." What happened to that?
"We had planned a pilot in (the coastal city of) Netanya, but it was unfortunately postponed. I hope to be able to announce another very interesting pilot with a significant retailer in the near future."
Taking on Amazon and Google, isn't that a bit pretentious?
"It's part of the fun. The market is so big that there is room for everyone alongside those giants. According to Uber's public reports, the food delivery market is a crazy, $800 billion market. If we expand that to the entire retail market, I think we're dealing with trillions of dollars, adding a zero or two to Uber's estimates."