Tech experts agree: Covid-19 created growth opportunities for those who were quick to adapt
Israeli tech executives took part in a panel discussion on the future of Software as a Service
The fourth meetup of Google and Calcalist's Startup Week was dedicated to the Software as a Service (Saas) sector. A panel of experts that included Einat Nitzan, head of Tech and E-commerce at Google; Irit Kahan, managing director and head of DTCP Israel; Eran Bielski, general partner at Entree Capital; and Itzik Elbaz, co-CEO of Artlist, said they felt the shockwaves at the beginning of the Covid-19 outbreak, but now say the world of cloud-based software is blooming.

"We track search trends and are seeing that businesses are shifting from looking for immediate solutions to looking for strategic solutions," Nitzan said. "In the beginning, most companies were looking for tools to help them solve their immediate operational needs. We witnessed a rise of hundreds of percent in searches for video call solutions, tools that can help people work together, and anything that can keep the enterprise going. More recently we find that companies are searching for solutions that are more foundational, including a 30% increase in searches for SaaS solutions to help boost companies' sales or client management."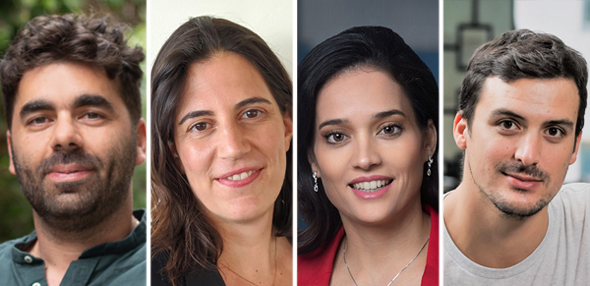 Itzik Elbaz (Left), Einat Nitzan, Irit Kahan, and Eran Bielski. Photo: Calcalist

Do businesses realize that they are in coronavirus mode for the long term?

"Not only do they realize it, but the tools they are purchasing are tools for the long term that will remain with them even after the crisis is over. In Israel, there are many companies that can provide solutions to these organizational transitions: Gong, which helps in the sales process, Monday, which offers the building blocks from multiple processes and there are many more," said Nitzan.

Itzik Elbaz, the founder of Israeli startup Artlist Ltd., exposed some lesser-known details about the company. "We are a creative technology company. We operate in the digital media sphere and grant licenses for things like music, stock video clips, and sound effects. We aim to continue our expansion into other digital fields. Every video you upload has a preview with music and effects. Each one needs a license, which we provide via our cloud-based software as a service. Our clients are all YouTubers or new media producers and we are constantly growing. Covid-19 may have caught everyone unprepared, but we have seen sales of some of our products double. We put out a new product in April to ride our positive momentum. It was a product we had worked on for a year prior to the outbreak. We expanded our creative and original content offerings, recruited new workers, and opened new offices."

Kahan, who is a partner in late-stage VC firm DTCP, believes that now is the time for tech companies to rush ahead. "In March, we were all still in shock and preparing for the most extreme possible scenarios, but we saw that the ability to cope had a lot to do with what state your company was in. Technology enables companies to continue functioning and keep on growing. At DTCP we saw cyber companies grow in particular. The transition to working from home required major changes and companies were looking for ways to protect their remote workforce. Many opportunities came out of the crisis and many tech companies benefitted from them."

Bielski, whose VC firm Entree Capital specializes in early-stage companies, believes the companies he's investing in now, have better chances of successfully adapting to the changes. "Companies who have sales of $10 million or $20 million and employ hundreds of people had a much harder time adapting than a startup that has raised $1 million and has yet to write a line of code," he said. "We invested in a startup that develops security tools for organizations and it was clear, back in March, that we wouldn't be able to put them in a room with clients for at least the next year. Our focus, therefore, became the ability to install the product without physically meeting the clients. I think that development will prove to be the most significant factor for the company in the next two years. Take Monday, for example, we were their first investors and still have a seat on the board. It is a company that only sells remotely. Looking at Monday, and others, it is clear that while Israel took a blow, it was less than in other places. Our American colleagues are used to crossing the street and finding a client, but at a time when everyone is stuck at home, it makes no difference if you are in New York or in Tel Aviv. Young companies' ability to adapt to the new reality is immeasurably greater than that of mature companies."

"During this period we raised a new $100 million fund and not only did we not freeze anything, we even expedited our investments. Crises offer opportunities despite the uncertainty. If you don't know how to navigate amid uncertainty, you're in the wrong business," Bielski added.

Kahan noted that contrary to expectations, companies' valuations didn't drop. "There is a lot of money looking for investments. We were very active and managed to invest in every opportunity we wanted to this year."

"We are seeing rises of hundreds of percent in searches for launching virtual enterprises. Behind every search is a human being that made the first step in building up their digital presence," Nitzan said.