Israeli cyber startup Hysolate raises $10 million for development of remote work security solution
The company announced a new product that will allow organizations to create complete separation between the office workspace and the private workspace to ensure safer and more productive work from home
Israeli cybersecurity company Hysolate announced on Thursday a $10 million funding round led by Planven, with participation from existing investors Bessemer Venture Partners, Innovation Endeavors and Team8.

The company was founded in 2016 by Israeli cybersecurity startup foundry Team8, Tal Zamir and Dan Dinnar. It operates out of Tel Aviv and New York and employs 40 people. This latest injection of capital brings the total investment in Hysolate to $33 million, with its previous round of $18 million coming in 2018.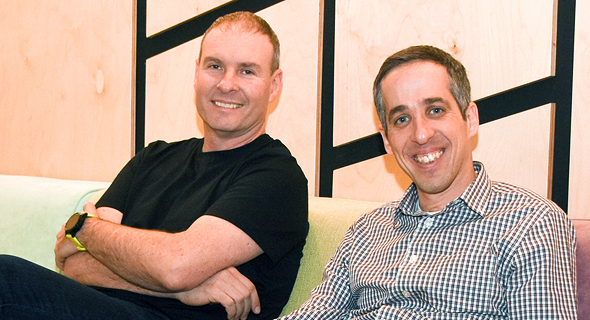 Hysolate co-founder Tal Zamir (right) and chairman Marc Gaffan. Photo: Hysolate

Hysolate also announced on Thursday a new product that will allow organizations to create complete separation between the office workspace and the private workspace to ensure safer and more productive work from home. The Workspace-as-a-Service (IWaaS) solution which allows to deploy local, OS-isolated environments on user endpoints and manage them from the cloud, has already been sold to several organizations prior to Thursday's announcement and is being tested by Fortune 500 companies, including top tier banks.

Hysolate IWaaS enables companies to protect their corporate endpoints with an isolated workspace for high risk activities and secure corporate access from unmanaged devices with a VM-based, isolated workspace. The virtual and isolated environments deployed on users' endpoints are fully managed remotely with a fine-grained set of networking, clipboard and data security policies such as access control, application management and insights across the entire workforce.