Tel Aviv set to ban entry of polluting vehicles
Municipality and Ministry of Environmental Protection plan to ban the entrance of polluting cars to Israel's commercial capital within a year
The Tel Aviv Municipality and the Ministry of Environmental Protection are promoting a program to reduce air pollution from transportation that will see Israel's commercial capital ban the entrance of polluting vehicles within a year. Tel Aviv isn't the first city in Israel to adopt such a program, but those currently existing in Haifa and Jerusalem are of a very different magnitude.

It is no longer possible to enter Haifa or Jerusalem with old diesel trucks and vehicles unless they have been installed with a specific filter. Tel Aviv, however, plans to completely ban the entry of cars and vehicles, unless they are entirely non-pollutant, such as electric vehicles.

The minister of Environmental Protection Gila Gamliel told Calcalist that a memorandum of understanding will be agreed upon with the Tel Aviv Municipality and additional organizations over the coming weeks and it is estimated that polluting vehicles will not be allowed into the city one year after the agreement is signed.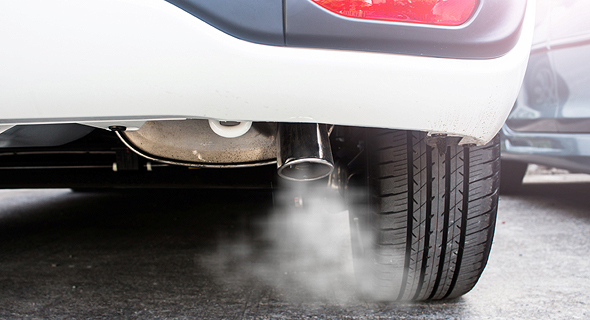 A polluting car. Photo: Shutterstock

"During that year we will begin a process of electrification of public transport in order to reduce the use of fuel. The results will be felt mainly in the south of Tel Aviv, and together with the clearing of the central bus station, will solve the air pollution problem in the area," added Gamliel.

According to the plan, the city will initially ban polluting vehicles that don't meet the Euro 4 emissions standard, which essentially only includes commercial vehicles manufactured prior to 2006. The next stage will have far greater implications considering the city's Ayalon Highway is used by 850,000 vehicles every day. According to the plan, certain areas in the city will only be open to vehicles who meet the Euro 6 standard, which was implemented in cars manufactured after 2014. The final stage will see entire areas closed to every car other than electric vehicles.

While the program looks promising on paper, it doesn't include many important details that are set to affect the lives of the millions of Israelis living in Tel Aviv and neighboring cities, who may end up having the polluting cars parked in their streets while the drivers continue into Tel Aviv on public transport.

"Right now there is an agreement that we need to reach a situation in which there is clean air, meaning implementing limitations on polluting vehicles," said Amir Zalzberg, head of the transportation and fuel department at the Ministry of Environmental Protection. "It has yet to have been agreed when exactly this will happen. The plan for now is to limit the entry of polluting vehicles, but there is no timetable."

According to Eitan Ben-Ami, the Director of the Environment and Sustainability Authority in Tel Aviv, the municipality has no intention to focus on any particular neighborhood but on the city as a whole.

"All the neighborhoods must be clean. That is our goal," he said. "Air pollution doesn't differentiate between cities and neighborhoods."