Medtronic investing $20 million in Israeli insulin pump startup Triple Jump
The Israeli startup small insulin pump patch has mobile connectivity capabilities and will be included in a future artificial pancreas system
Medical device giant Medtronic is continuing to collect Israeli innovation in the battle against diabetes, investing $20 million in Israeli startup Triple Jump with the option of acquiring the entire company, a source with knowledge of the deal told Calcalist under the condition of anonymity.
According to the Israeli Corporations Authority, the investment was made via Covidien, which Medtronic purchased in 2015. Triple Jump is developing a unique small insulin pump patch that is placed on the patient's body. The patch has mobile connectivity capabilities and will be included in a future artificial pancreas system.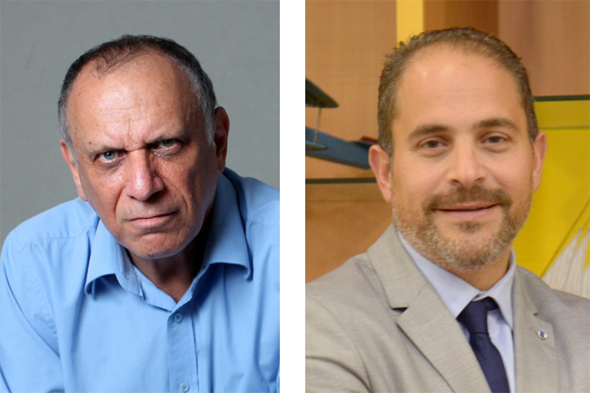 Medtronic Israel CEO Yaron Itzhari (right) and entrepreneur Dov Moran. Photo: Amit Shaal and Liat Mendel
Earlier this week, it was revealed that Medtronic invested $4.5 million as part of Israel-based BioProtect's $25 million series D. Proceeds of the round will finance the ongoing multicenter FDA clinical trial of BioProtect's lead product, the ProSpace balloon spacer, which protects prostate cancer patients undergoing radiation therapy
Triple Jump, which is based in the northern town of Yokneam, was founded in 2015 by CTO Guy Shinar and Ofer Yodfat. Shinar was the CEO of X Technologies that was sold to Guidant for $200 million in 2003. Yodfat was also one of the founders of Medingo, which developed an insulin pump and patch and was sold in 2010 to pharma giant Roche for around $170 million. In 2012, Roche shut down Medingo's operations in Israel and fired all 150 employees. The CEO of Triple Jump is Assaf Guy, a former executive at Medtronic.
Among Triple Jump's additional investors are Elixir Medical Corporation, Hong Kong investment fund Wealth Strategy Holding and veteran entrepreneur Dov Moran.
"I am one of the company's founders as part of a process that began before the founding of VC Grove Ventures," Moran told Calcalist. "I really value Triple Jump, its potential and the vision of the people leading it."
Medtronic acquired Israeli AI-powered nutrition platform Nutrino for $100 million two years ago. Medtronic's largest acquisition in Israel to date was the $1.6 billion it paid for Mazor Robotics in 2018.
Triple Jump did not respond to a request to comment.